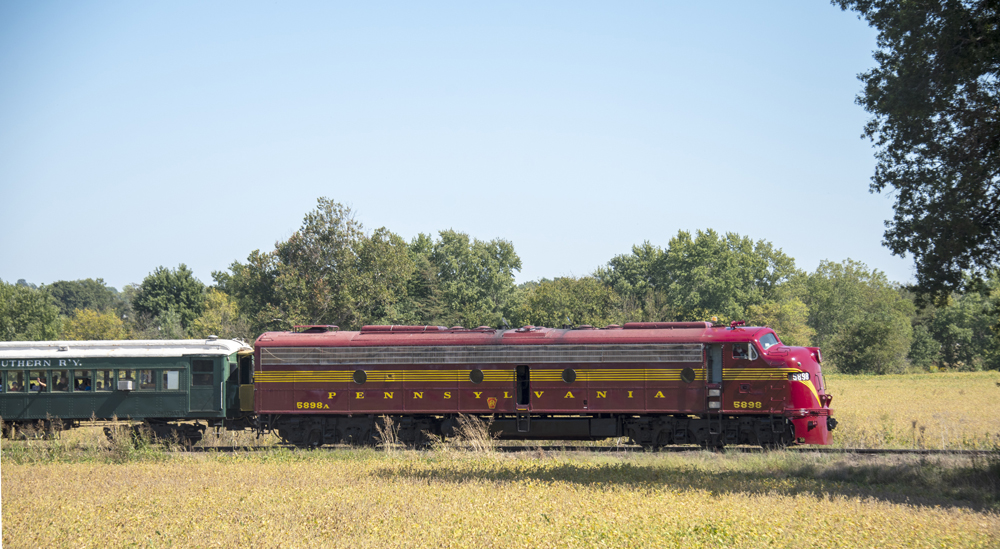 ---
JACKSON, Mo. — Tourist operator St. Louis Iron Mountain & Southern Railway has repainted its former Pennsylvania Railroad E8, No. 5898, in the classic Pennsy pinstripe livery.
The locomotive, built by EMD in La Grange, Ill, in 1951, was purchased from the Reading Blue Mountain & Northern Railroad in 1998.
Since 2020, the engine has been stripped and repainted after hours of sanding and body work. A template for a new Pennsy nose emblem has been made and will be hand-painted in the near future, and new number boards are being fabricated. It has been repainted using Imron paint, which is expensive but tends to hold up better than other paints.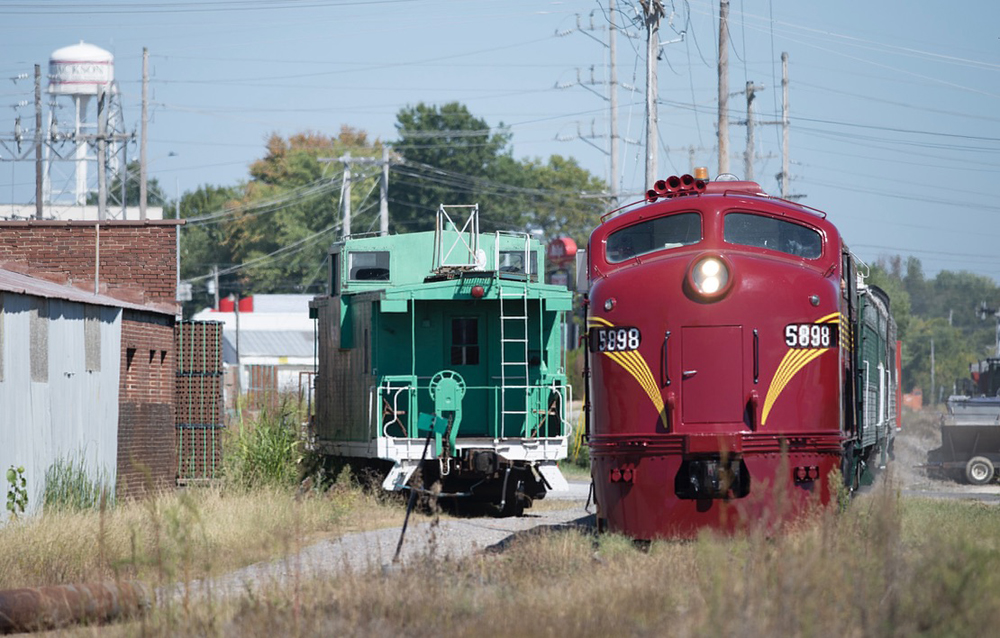 The 2,250-hp passenger locomotive has two 567C prime movers and six axles in an A1A-A1A configuration, with center idler axles to provide a smoother ride. It is not out of place in Missouri, since the PRR operated passenger trains into St. Louis Union Station in the pre-Amtrak era.
The 5-mile-long tourist line, about two hours south of the St. Louis metropolitan area, is an all-volunteer operation operating on the Jackson branch of the original SLIM&R, which hauled ore from mines to the St. Louis area. Founded in 1874, it merged into the Missouri Pacific Railroad in 1971.
The current tourist line began operation in 1986 and runs themed events year-round. Engineer Jim Greathouse of Belleville, Ill., celebrated his 66th birthday Saturday by operating two trips with No. 5898. The first featured a James Gang train robbery, followed by a picnic where passengers could visit with the robbers; the second was a 6 p.m. Murder Mystery train.
More information on the railroad is available at its website.
— Updated Sept. 27 at 7:50 a.m. CDT with re-edited video.