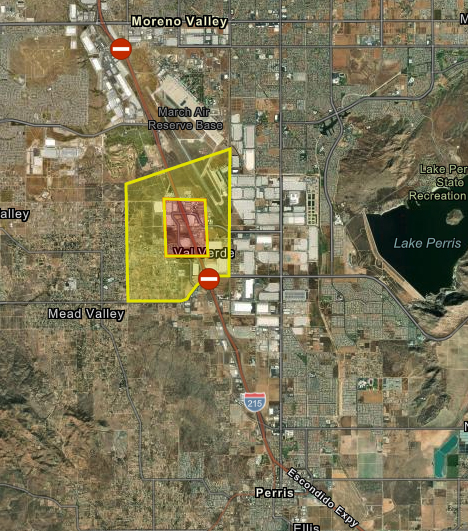 PERRIS, Calif. — A spill from a tank car carrying the chemical styrene has closed Interstate 215, disrupted Metrolink service, and led to evacuation of more than 100 homes near the Riverside County community of Perris, and the situation could last for two to three days, according to fire authorities.
The Riverside Press-Enterprise reports the situation began Thursday night about 7:40 p.m. near Harvill and Oleander avenues and involves a chemical reaction involving the styrene, a highly flammable material used to make plastic packaging, insulation, and other products. While the material should normally be kept at about 85 degrees, it was reported at 323 degrees as of Friday morning, Cal Fire Division Chief John Crater said at a Friday morning press conference. That led to the evacuation within a half-mile radius.
"This could resolve itself in two days, but it could get worse before it gets better," Crater said, saying that the heat could lead to an explosion.
An official later said the car had cooled to 304 degrees and was "trending in the right direction." Because the situation is too unstable to approach the car, authorities have been using drones to monitor it.
The car is located on an industrial spur off Metrolink's 91/Perris Valley line. Metrolink service been halted between the Perris-Downtown and Moreno Valley-March Field stations.
BNSF Railway provides freight service on the line, which is owned by Metrolink's parent organization, the Southern California Regional Rail Authority.
— This is a developing story. Watch Trains News Wire for more information.