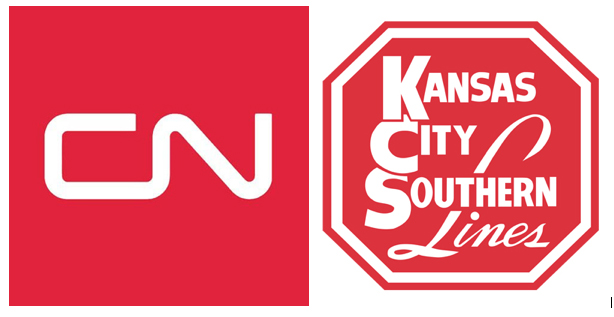 MONTREAL — The battle for Kansas City Southern appears to be over.
KCS on Thursday accepted Canadian National's $33.6 billion bid to create the first railroad linking Canada, the U.S., and Mexico. KCS said it would break the $29 billion merger agreement it reached in March with Canadian Pacific in favor of CN's "superior offer."
CN offered KCS investors $325 per share, which includes $200 in cash and 1.129 shares of CN common stock for each share of KCS. KCS shareholders would own 12.6% of the combined company. CN also agreed to pick up the tab for the $700 million KCS must pay CP as a breakup fee.
Canadian Pacific, which has five days to respond to CN's offer, said Thursday evening it would do so in the allotted time. At the same time, CP reiterated earlier comments by CEO Keith Creel that the railway would not engage in a bidding war, as well as its oft-stated contention that a CN-KCS union faces significant regulatory hurdles.
CN CEO JJ Ruest said in a statement that "We are delighted that KCS has deemed CN's binding proposal superior, recognizing the many compelling benefits of our combination and expressing confidence in CN's ability to obtain the necessary approvals and successfully close the transaction."
CN is still awaiting Surface Transportation Board approval for its request to place KCS into a voting trust while the merger is under regulatory review. CP last week received STB approval to put KCS in a trust should its merger deal go forward.
After KCS is placed in trust, KCS investors would receive their payment from CN. The STB will judge the CN-KCS deal under its tougher 2001 merger rules, which require the combining railroads to show that the merger enhances competition, is in the public interest, and to consider how it could prompt other Class I railroads to seek merger partners.
CP has said that a CN-KCS combination would eventually force it to seek a merger partner because it would be the smallest Class I system and would be dwarfed by the combined CN-KCS.
The new STB merger rules are untested. The CN-KCS deal would be the first to be reviewed under the rules that have stymied Class I consolidation for two decades.
CN expects to gain STB approval for its voting trust proposal and, in the second half of 2022, approval for the merger itself. Analysts expect regulators to approve the deal.
CN has said KCS would retain its corporate identity, with the U.S. headquarters of the combined railroad based in Kansas City, Mo.
Canadian Pacific's statement said the increased CN offer "only highlights CN's recognition of the significant regulatory risk/challenges associated with its anti-competitive bid. … this doesn't make it any more likely that the CN proposal can close into a voting trust." CP also said its offer "is the only true end-to-end Class I combination that is in the best interests of North American shipper and communities. … Our mutually negotiated agreement with KCS represents compelling short-term and long-term value for shareholders that is actually achievable."
— Updated at 8:20 p.m. CDT with Canadian Pacific reaction. Trains editor David Lassen contributed to this report.