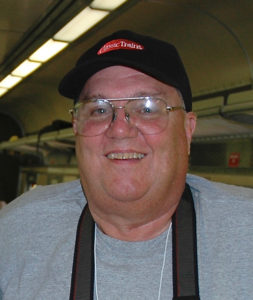 Longtime Trains and Classic Trains staffer J. David Ingles died Oct. 4 near his home in Waukesha, Wis., after a short illness. He was 79.
The son and grandson of railroaders, Ingles was a lifelong rail enthusiast. He grew up in Homewood, Ill., and Dearborn, Mich. After college and a stint as a newspaper reporter in Springfield, Ill., he joined the Trains staff in 1971 as associate editor. In 1987, upon the retirement of David P. Morgan, Ingles was named editor of Trains, a post he held until 1992, when he became the magazine's senior editor. He retired from Trains as senior editor in 2005, but continued in that role for Classic Trains until 2018, when he transitioned to contributing editor, the position he held at the time of his death. At 47 years, his tenure is thought to be the longest of any Kalmbach Media employee.
Dave Ingles — "J.D.I." — possessed a boundless curiosity about all facets of railroading. His thirst for knowledge was matched by a remarkable ability to retain what he learned. Decades after the fact, he could recall the layout of a certain junction or the sequence of moves made by a particular train. His ever-present pocket notebooks seemed merely to verify what he carried around in his head.
Dave's particular interests were diesel locomotives (early on, he acquired the moniker "Diesel Dave") and the geography of railroading. Along with a handful of others who eschewed the prevailing early-1960s view that railroading's appeal had vanished with the end of steam, he saw that diesels could be as fascinating to observers as they were important to the industry. Two of his early major features — "Christine and the Mongeese," about the Rock Island's eclectic diesel fleet (December 1965 Trains) and "Salute to a Different Diesel," on Alco's PA (November 1966) — stand as landmarks.
Dave's command of the North American rail network, past and present, was second to none. He came by much of it firsthand, through a lifetime of riding scheduled and special passenger trains to nearly every corner of the U.S. and Canada. Always up for a new adventure on trackage he'd never ridden before, he was a preeminent "mileage collector." Those who traveled with him shared his infectious enthusiasm for the journey; those who weren't along could read about what they missed in his exhaustive trip reports. Although he made a point of visiting famous places like Tehachapi Loop and Horseshoe Curve, Dave knew it was all important, from branch lines in Iowa to secondary mains in Georgia. Significantly, there was no one railroad he called his favorite, and the ones he was partial to — Wabash and Gulf, Mobile & Ohio, to name two — were not marquee carriers.
Dave's passion for documenting the railroad scene extended beyond notebooks and countless magazine articles. His collection of 35mm slides — most his own work, but many acquired in trade from other fans — ranks among the largest and most complete in the country.
At his place of employment for nearly five decades, Dave Ingles is remembered as a big-hearted mentor, not just in matters of railroading, but also in the art and craft of magazine editing. The staffers — and readers — of Trains, Classic Trains, and the other Kalmbach rail titles, will benefit from his influence for years to come.
Information on services is pending.