Notable developments that may not received their due because of the pandemic: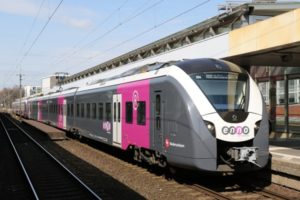 Plans were announced or trials began for automated trains, especially in Europe
While multiple subway and airport people-mover systems around the world use driverless trains, mainline operation without drivers has until now been restricted to Western Australia, where heavy iron ore trains operate on a 1,050-mile line without drivers in the largely uninhabited Pilbara region. During 2020, trials in France saw an electric locomotive work autonomously, and Alstom — which was involved in the French trial — has announced plans for unmanned operation of switchers in the Netherlands in 2021, and passenger-carrying commuter-rail EMUs in Germany in 2023.
Europe adopts automatic digital couplers for freight cars
A September 2020 decision of European Union transport ministers to adopt digital auto couplers for freight cars across Europe should see all cars on the continent's rail network converted by 2030, at a cost of around $8 billion. Currently most freight cars in Europe use screw couplings; some specialist cars use a version of North America's knuckle coupler. Trials of several types of new auto couplers, including not only air brake systems but also digital communication links, have been underway in Germany and Switzerland in recent years.
Pandemic or not, multiple new lines open
In Switzerland, the 9.5-mile Ceneri Base Tunnel opened in December, completing the plan — endorsed in national referendums in 1992 and 1998 — to create a mostly level, high-capacity rail route across the country using base tunnels under the Alps. The longer 35.7-mile Gotthard and 21.6-mile Lötschberg tunnels opened in 2016 and 2007 respectively; most of the finance for the new railway came from taxes on fuel used by road vehicles.
Multiple new subway (metro) and light rail systems opened worldwide in 2020, in some cases with literally no ceremony and with the public told to stay away! The first subway line in Pakistan opened in Lahore in October; Guadalajara, Mexico, gained a third line in September; while in China, multiple cities gained new lines. In Europe, cities including Warsaw, Minsk, Sofia, Istanbul, Bucharest, and Copenhagen all gained new subway lines. In both Berlin and Paris, sections of new subway line opened after up to a decade of construction, while in London the new Crossrail line under the city was delayed until 2022 (probably).
French, Russian, and Chinese companies consolidated their hold on the rail equipment market
French rail engineering company Alstom took over the Berlin-based rail business of Canadian company Bombardier, meaning the new Alstom is now the largest European-based rail equipment maker, offering everything from high speed trains to streetcars. Russian firm Transmashholding, itself 20% owned by Alstom, took over rail shops in multiple countries, including Argentina and Hungary. At that site in Budapest, the company is building hundreds of new passenger cars for Egypt. Chinese rail conglomerate CRRC bought the medium-sized German diesel builder Vossloh Locomotives, and as a result now has a manufacturing base within the European Union.
High speed projects took big steps forward
In the UK, construction of the new 225-mph "HS2" London-Birmingham/Crewe line began in April. In Italy, construction began between Bari and Naples. In Germany, the route for the new Frankfurt-Mannheim route was published, and construction was largely completed on the new Stuttgart-Ulm route that opens in 2022. In Spain, a 69-mile section of new high speed line serving the city of Zamora opened in October.
Outside Europe, contracts for high speed rail construction were awarded in India, and in China several new lines opened during 2020. with the new 387-mile Yinchuan-Xi'an line opening in December.