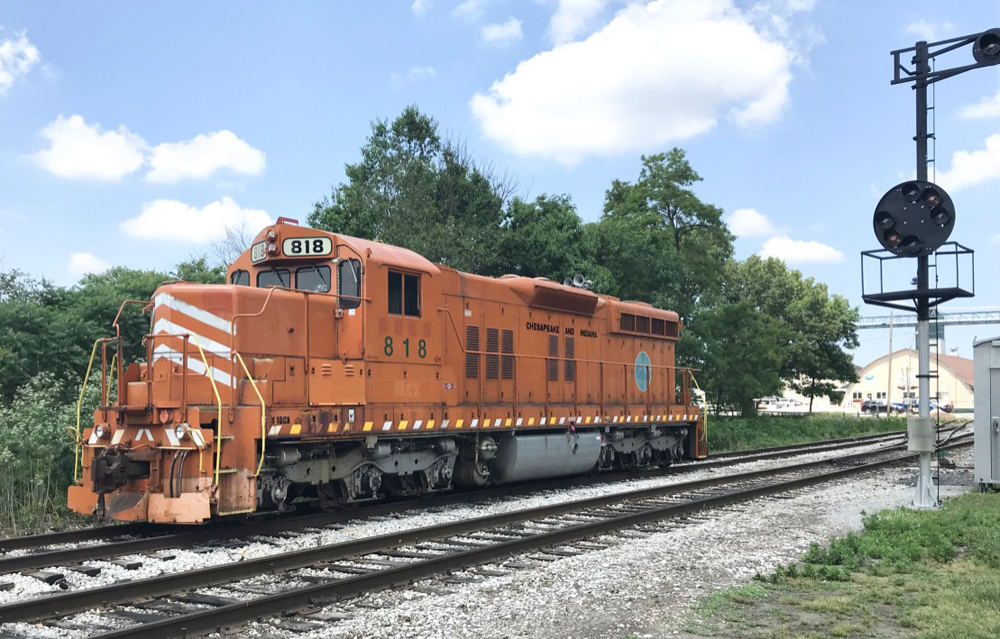 NORTH JUDSON, Ind. — The Hoosier Valley Railroad Museum will receive a rebuilt former Elgin, Joliet & Eastern locomotive, originally an SD9,  from its current owner, the Chesapeake & Indiana Railroad, the museum has announced.
The locomotive is currently operational and will continue to be used by the Chesapeake & Indiana until it is ready for delivery to the museum.
"We're very excited to accept this locomotive," museum president Todd Flanigan said in a press release. "This is a big donation, and it illustrates the renewed spirit of cooperation we have with the Chesapeake & Indiana. We are so happy to be partnering with them to preserve this piece of railroad history."
Built in 1959 by EMD for the Duluth, Missable & Iron Range as its SD9 No. 192, the locomotive was rebuilt by the DM&IR in 1990, with its original 567 prime mover replaced by a 645 engine, plus other updates. It emerged as SD-M No. 318, and went to the EJ&E in 1998 where it was renumbered to 818. It and other former DM&IR units were purchased by shortline company Indiana Boxcar in 2010 and it has worked on the Chesapeake & Indiana until thus summer, when it was deemed surplus. Current owner Midwest & Bluegrass Rail then offered to donate the locomotive to the museum, where it will be the first former EJ&E diesel to be preserved as well as the museum's first six-axle unit.
The donation comes shortly after the museum and Chesapeake & Indiana announced a new agreement for the museum to operate and maintain 5 miles of track between North Judson and English Lake, Ind. [see "Indiana museum, short line sign new operating agreement," Trains News Wire, Aug. 17, 2021].
"It's awesome to see everybody working together," said Flanigan. "We both want our respective operations to be successful, and we're doing everything we can to make that happen. It really is an exciting time for everybody involved."