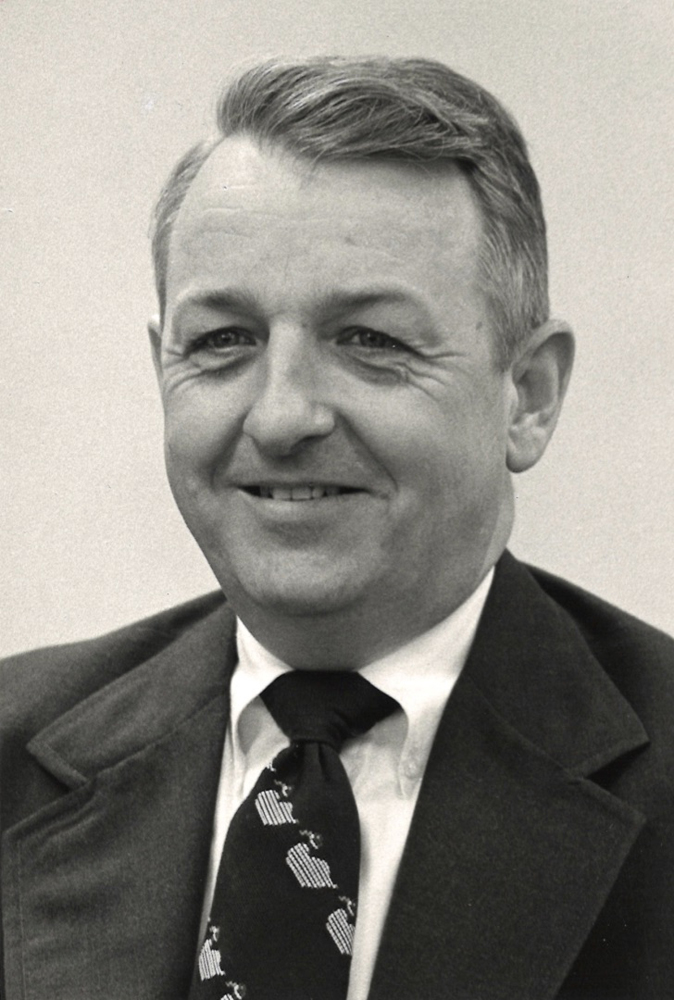 Throughout much of its 23-year history as a Class I trunk carrier, Conrail made steady, some might even say historic, progress toward becoming the model of a profitable, efficient, customer-oriented railroad. Much of the credit for that transformation must go to Richard B. "Dick" Hasselman, former senior vice president-operations for the company's first 13 years.
Hasselman died peacefully on Sunday, December 5. He was 95.
Hasselman had a long career with New York Central and successor Penn Central, both of which put him in an ideal position to help lead Conrail upon its inauguration on April 1, 1976. Later in life, he would say he was especially proud of his Conrail years, during which he worked hand in glove with the railroad's legendary chairman, L. Stanley Crane.
Born in Jersey City, N.J., on Nov. 28, 1926, Hasselman later moved with his family to New Haven, Conn., where he developed a keen interest in railroads and electric traction through his activities in a local model railroad club. His interest in trolleys drew the interest of Connecticut Company motormen, who occasionally would allow him to man the controller when he commuted to high school.
After graduating from high school, Hasselman attended Yale University in the Naval ROTC program and graduated in 1947 with a degree in mechanical engineering. He then hired on with New York Central in 1947 in New York City and soon after met his future wife, Mildred E. Schaber. They were married in 1954 and remained together until her death in 2018.
Hasselman's first job with NYC was in the inspecting engineer's office, where he trained on the operation of rail detector and clearance cars. He later held various jobs in what now would be called marketing and sales, but eventually he was drawn to operations.
In 1952, Hasselman became a freight brakeman on the Hudson Division, switching cars in yards, loading car floats, and serving industries located between Manhattan and Croton, as well as working through freight trains to Selkirk Yard near Albany. When he got laid off during the slow season, he worked in towers at nine locations between Albany and Fonda, N.Y., and also served as freight agent at Fultonville, N.Y.
As Alfred Perlman's tenure as NYC president began in 1954, the railroad promoted Hasselman to trainmaster, first at Syracuse, later at several other locations on the railroad. Just three years later he was named superintendent of the Boston & Albany Division across Massachusetts, then to the post of regional superintendent-transportation at Cleveland. In 1961, he became general superintendent-yards and terminals for the entire NYC system.
Other senior management positions followed: general manager of the Indiana Harbor Belt, then general manager posts for NYC at Detroit, Indianapolis, and Cleveland. In 1967, Hasselman was named assistant vice president-transportation. Upon the Penn Central merger in 1968, he became vice president-transportation, followed by his last position with Conrail in 1976.
Encomiums for Hasselman come from railroaders he worked with, as well as from observers who admired him. One of the latter is Fred Frailey, former Trains columnist and a frequent reporter on the Conrail beat.
"I first met Dick in January 1980, as I was reporting about the travails of Conrail, which was still losing almost 400 million bucks a year," Frailey recalls. "At the end of an hour-long interview, he said, 'Now Fred, don't write everything you've learned about us.' I thought that was odd and asked why. His reply was pure Hasselman: 'Because I want you to have something left to say about us when we succeed,' which of course the railroad soon did."
Frailey adds: "One other thing about the man's talent and tenacity. Can you name anyone else in Class I railroading who went from freight brakeman to VP-transportation in 16 years? And think about it: Dick presided over one of the great rail turnarounds of all time. I can think of several railroads that could use his wits today."
One Conrail manager who appreciated Hasselman's nuanced grasp of railroading was Frank Tatnall, in the late 1980s a veteran of Conrail's marketing department. As part of his duties, Tatnall frequently drew up itineraries for Office Car Specials (OCS), some of which could become elaborate and all of which required Hasselman's imprimatur.
"I think Dick was sympathetic to these OCS requests because he regarded them as educational experiences for those people who otherwise spent much of their time in the 'ivory tower,'" says Tatnall. "I was aboard several OCS movements with Dick himself presiding, and it's absolutely true that he knew the railroad like the back of his hand; we used to say he could identify every switch on the system. The industry of today could certainly profit from his expertise."
That's a conviction echoed by former Conrail Chairman James A. Hagen, who became the railroad's third chief executive in 1989. "Dick's background and knowledge of the Eastern railroad system was a large part of Conrail's success," says Hagen. "This is the passing of a real railroader."
For most of his retirement years, Hasselman was a resident of Sanibel Island, Fla., and Martha's Vineyard, Mass. Each February he hosted an annual Conrail retirees' reunion at Punta Gorda, Fla. His love of streetcars continued with his support and annual visits to the Branford Electric Railway Association's Shore Line Trolley Museum in East Haven, Conn.
Hasselman is survived by his sons and their wives, Richard and Wendy Hasselman and James and Amy Hasselman, two grandchildren, and two great-grandchildren.
— Revised and expanded version published at 7:10 a.m. CST on Dec. 7.