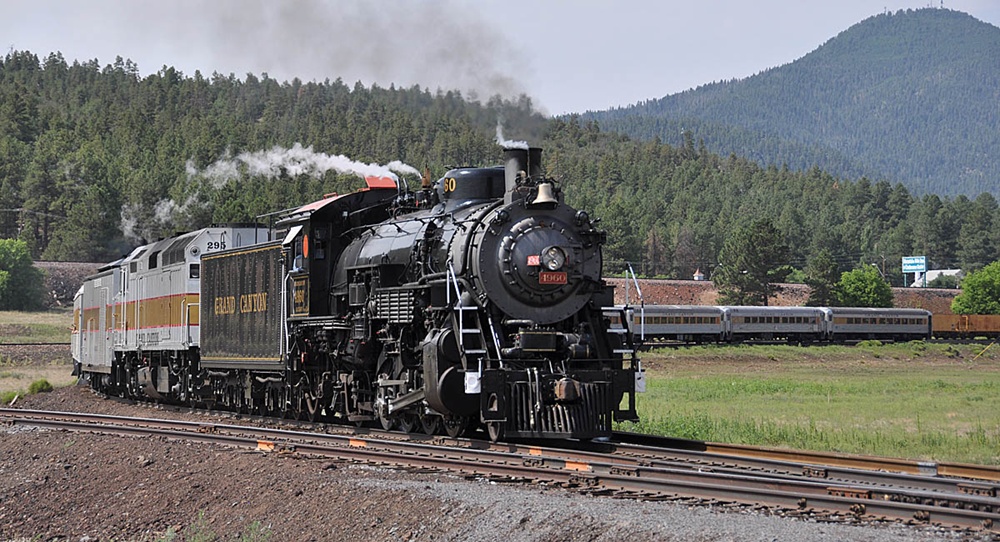 ---
WILLIAMS, Ariz. — As part of the 2023 steam schedule of operating the "First Saturday" excursions, Grand Canyon Railway and Hotel's 2-8-2 No. 4960 was fired up for the special occasion. The former Chicago, Burlington & Quincy Railroad locomotive, with assistance from F40 diesel No. 4128, headed the railway's round-trip excursion train from Williams to the south rim of Grand Canyon National Park on May 6.
"No issues were reported," said Eric Hadder, chief mechanical officer of Grand Canyon Railway. "Only routine servicing will be required before the next trip."
The next steam-powered excursion between is set for June 3. This is part of the railway's steam season, operating the first Saturday of each month along with additional dates for special occasions. No. 4960, which will turn 100 this year, is scheduled to operate that day.
The 2-8-2 was built in 1923 by the Baldwin Locomotive Works for the ex-CB&Q. In the late 1950s, it was selected to pull "fan trip" trains on the railroad until the end of the steam excursion program in 1966. Purchased by Grand Canyon Railway in 1989, the locomotive has been in active service since 1996 after undergoing an extensive rebuild and being converted to burn oil.
Over the years, No. 4960 has received multiple modifications to make it both economically efficient and environmentally friendly. According to a GCRY social media post, the railway "harvested enough snow melt from the Winter to cover the entire 2023 Steam Season." The post also states that 12,000 gallons of water and 1,200 gallons of waste vegetable oil are used per trip.
For more information, visit the Grand Canyon Railway and Hotel website.