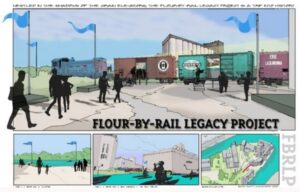 BUFFALO, N.Y. — Northeastern railroads' role in transporting flour will be commemorated as part of the reimagining of a former industrial section of Buffalo. Planners anticipate that residents and visitors in the city's "Silo City" neighborhood will be able to see a locomotive and three railcars used in the movement of flour from Buffalo's mills. The cars are expected to house interpretive exhibits of the industry that once was an essential part of Buffalo's economy.
Leading the Flour-by-Rail Legacy Project is C. D. "Charlie" Monte Verde, now a Buffalo resident, who is senior director of strategic planning for Genesee Valley Transportation. This endeavor is separate from his role at Genesee Valley, and he has started a GoFundMe account to move the project forward.
For many years, Buffalo had been the second largest rail hub in North America, according to Monte Verde. Much of this rail business resulted from Midwestern grain arriving in the city on Great Lakes "Laker" ships. Prior to completion of the St. Lawrence Seaway, which allowed vessels to have year-round access to the Atlantic Ocean and reach East Coast ports beginning in the 1950s, most grain arriving in Buffalo would be ground and processed into flour before continuing its journey to eastern American destinations. "This was devastating to Buffalo," Monte Verde says. Thousands of stevedores, mill workers, and railroad employees lost jobs. Although the flour industry has been gone for a half century, some of the large mills and their many tall concrete silos remain intact and silent along Buffalo's waterfront.
The Silo City neighborhood, located along a bend in the Buffalo River just south of downtown Buffalo, is seeing renewed interest as part of larger proposals to open up access to sections of Buffalo's Lake Erie waterfront. A restaurant and bar already are open in the former industrial area, and a large mill is being converted for residential use.
Tracks still remain from the railroads that served the flour mills. Monte Verde has arranged for space to display historic equipment as part of the legacy project. Most of the Northeast's trunk lines served Buffalo: Erie; Delaware, Lackawanna & Western; Lehigh Valley; Pennsylvania; New York Central; and Baltimore & Ohio. Smaller local roads also switched the industrial region, including the Buffalo Creek Railroad — owned jointly by Erie and Lehigh Valley and probably best known across America because of its fleet of "flour bag"-logo boxcars.
Forty-five years after Buffalo Creek was merged into Conrail, the first freight car that will arrive at the new Silo City exhibit will be a former Buffalo Creek 40-foot boxcar. Monte Verde has been working with CSX Transportation to identify older freight equipment that escaped scrapping and been used in maintenance of way and storage functions for decades. Remarkably, a gray storage car in a Rochester yard had been built as Buffalo Creek no. 3424. Monte Verde says that CSX has donated the car to the Flour-by-Rail project, and made a $10,000 community service grant to the Rochester & Genesee Valley Railroad Museum, which will use the funds to prepare the car and have it moved by highway to Buffalo. Monte Verde expects that the car will arrive this spring. A former New York Central box car in Rochester lost its roof to scrappers before it could be moved. Monte Verde says that he is hopeful that parts from the NYC car will be used for other cars coming to Buffalo. He describes a three-phase approach for the locomotive and three cars that will make up the display: acquire and preserve, relocate, and restore and maintain.
Buffalo is New York's second largest city, and is the home for National Football League and National Hockey League teams. Light industry and manufacturing, health services, education, and financial services long ago filled the void left by the loss of the flour business. General Mills still produces Cheerios at a mill not far from Silo City, offering a glimpse of Buffalo's heritage, but Monte Verde hopes that the Flour-by-Rail Legacy project will continue to educate the public on the city's industrial history.
More information is available here.