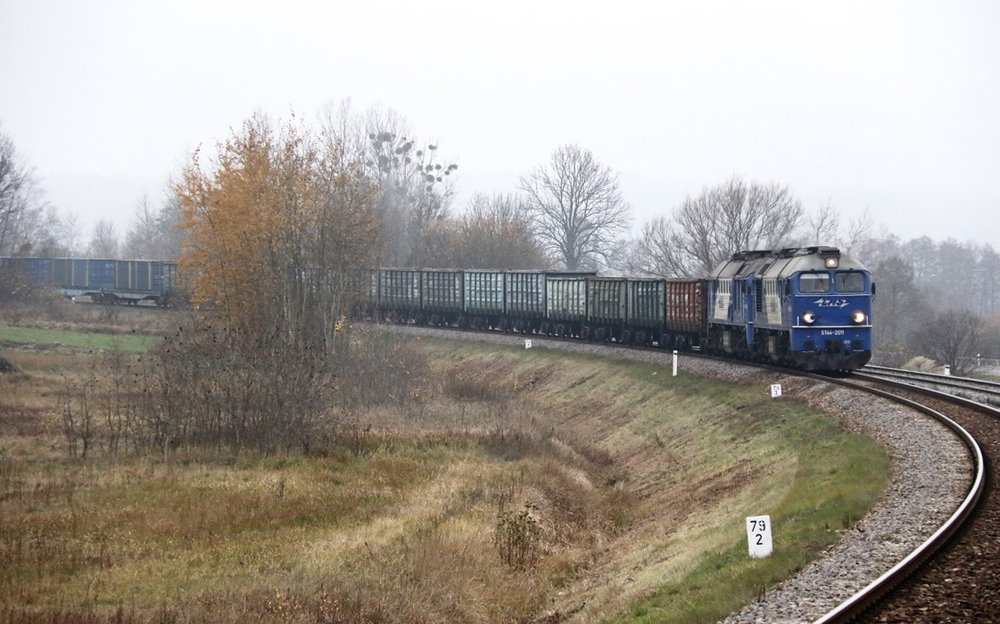 ---
Ukraine's railways have been vital to the country's war effort since the Russian invasion in February, moving refugees west, away from the fighting, and taking troops and equipment east to the battlefront. In addition, national rail company Ukrzaliznytsia (UZ) has been trying to help keep the country's economy running by enabling exports by rail.
In particular, UZ has taken on a much greater role in handling the country's grain harvest, moving it to European ports for export with assistance from a number of European nations. To do this, old rail lines have been re-opened across international borders, and new equipment or methods of operation have been required.
Naval blockade prompts move to railways
Pre-war, Ukraine was one of the world's biggest producers of grain and cereals, producing around 45 million tons annually. Much of this was exported, but mostly by ship.
The Russian invasion in February led to the closure of Ukraine's Black Sea ports, as the Russian Navy began a blockade of those ports, and Ukraine retaliated by mining the sea to deter Russian warships. With the ports closed, most of Ukraine's 2021 harvest of grain and corn was held in silos and could not be exported, leading to a rapid rise in food prices in many parts of the world.
In July, the United Nations and Turkey brokered a deal between Russia and Ukraine to allow merchant ships carrying grain to service Ukrainian ports, and by late August, the first ships had arrived in ports in Africa and elsewhere. By then, the operation of grain trains to western European ports had been underway for months; the capacity of that operation is now being increased.
This spring, the European Union and multiple European rail freight companies set up a "grain export corridor" from Ukraine to ports in Poland or Germany. This has succeeded in doubling the amount of grain moved by rail since March, with over a million tons shipped in August alone.
In July, three of Europe's biggest rail freight firms — Germany's DB Cargo, Austrian state rail subsidiary ÖBB Rail Cargo Group, and PKP Cargo in Poland— came together to offer technical and operational support to UZ and its grain export operation. ÖBB Rail Cargo Group has since also helped promote a free online electronic marketplace called "Grain Lane." This allows Ukrainian producers to be contacted by buyers from anywhere in the world, with ÖBB Rail Cargo acting as the transport coordinator from the grain silo in Ukraine to the final customers, wherever they may be.
Moving the grain is not as simple as it would be in North America or Western Europe. The Ukrainian grain hopper car fleet is relatively limited in size, because most exports previously were by sea, and are built for 5-foot gauge track standard to the former Soviet Union. Once  these cars get to the border with neighboring EU countries, the grain has to be transferred to standard-gauge cars. In some cases, their trucks can be changed from 5-foot to standard gauge — but as most Ukrainian grain cars are physically bigger than their western European equivalents, they cannot travel very far into the standard-gauge EU network before encountering restrictions.
To address the problem caused by change in gauge at the border, movement by container has been tried, with containers fitted with special bags or liners inside to hold the grain. This makes the transhipment process at the border simpler, as containers are swapped from 5-foot gauge cars to standard-gauge ones. A shortage of 5-foot container flat cars initially held back the program, but UZ has at least partially overcome this by buying cars built since the invasion by Ukrainian companies.
There are two lengthy 5-foot gauge routes from western Ukraine into the EU, built in the 1960s and '70s to transport iron ore to steelworks in Katowice, Poland, and Košice, Slovakia. Neither line is of real use for freight from Ukraine that is headed to a port, as the freight cars would still need a change of trucks to reach a port, and the facilities for such changes are at border locations, not inland. These lines, especially the one into Poland, might be more useful for the containerized grain traffic, as the container transfer requires little infrastructure. So far, this has not happened, although other freight in containers has used the line for several years.
In theory, grain movement by container and rail means ports much further from Ukraine than neighboring Poland can be used. In mid-August, Spanish state rail freight company RENFE Mercancías announced test trains from Ukraine to Barcelona, with grain in 25 40-foot containers. The journey from the Ukraine/ olish border at Chełm to Barcelona is around 1,500 miles; for export by sea, Barcelona is considerably nearer North and West Africa than any Black Sea port.
Links to neighboring countries rebuilt

To enable Ukrainian grain and other exports to head west by train, Ukrainian Railways (UZ) has reopened several lines to its western borders that had been out of use since the 1990s. In neighboring Moldova and Romania, lines have been upgraded or re-equipped with 5-foot gauge track. Moldova, as a former Soviet state, uses the same 5-foot gauge as Ukraine; in Romania, standard gauge is used.
Aug. 22 saw the reopening of the only line connecting Ukraine and Moldova that does not pass through Moldova's Transnistria region, which is controlled by a pro-Russian government and houses a garrison of Russian troops. This line had been closed for 25 years, during which time some of the track had been illegally removed by scrap-metal thieves. Regular freight service on this route, between Berezino, Ukraine, and Basarabeasca, Moldova, will begin in early September.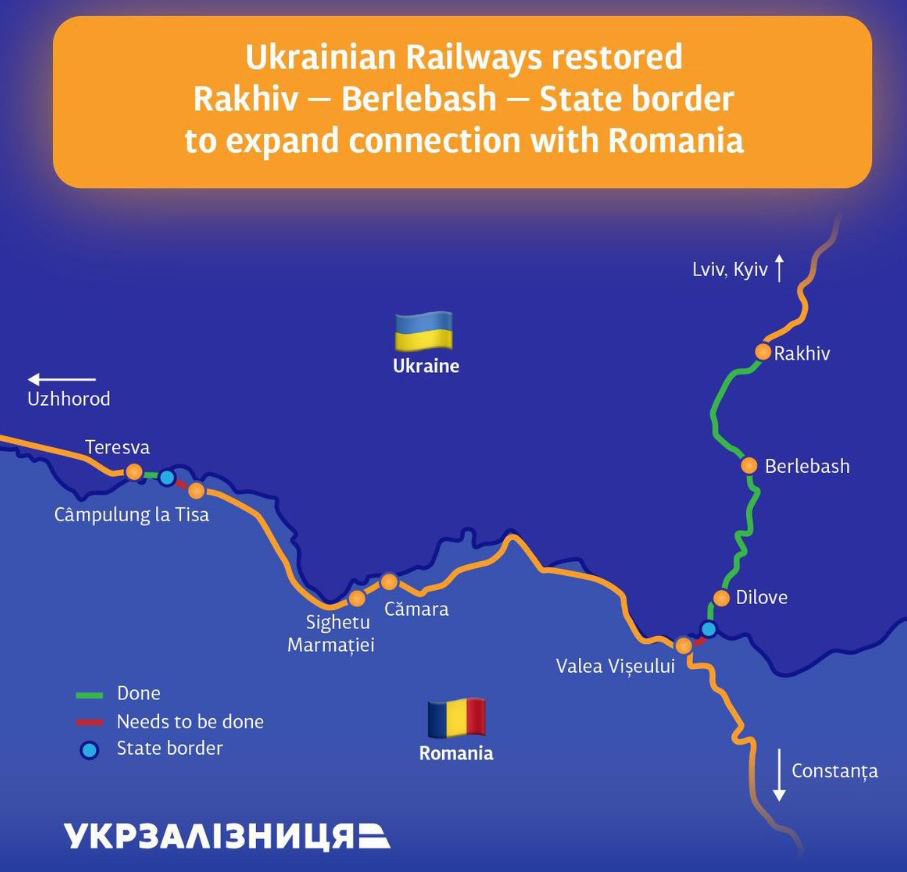 The railway line east from Berezino to Odesa passes over the Pidyomnyy Mist bridge that was the target of repeated Russian missile attacks in May and June, leading to serious damage on its single rail line [see "Russia steps up attacks …," Trains News Wire, May 4, 2022].
In early July, the existing short rail line connecting the Moldovan network to the major Danube river port in the Romanian city of Galati was rebuilt with dual (standard and 5-foot) gauge track in Romania, which will allow freight cars from Ukraine to reach the port without the need to transfer goods or containers.
Two more lines have been rebuilt in Ukraine to the Romanian border this summer, but so far nothing has been done on the other side of the border. Alexander Kamyshin, CEO of Ukrainian Railways, even went as far as posting on Twitter a map — in English — showing these lines on Twitter and asking the Romanian government to act, although nothing is currently planned. Kamyshin says that increasing the number of rail border crossings between the two countries could allow at least 3.5 million more tons of freight to be moved by rail.