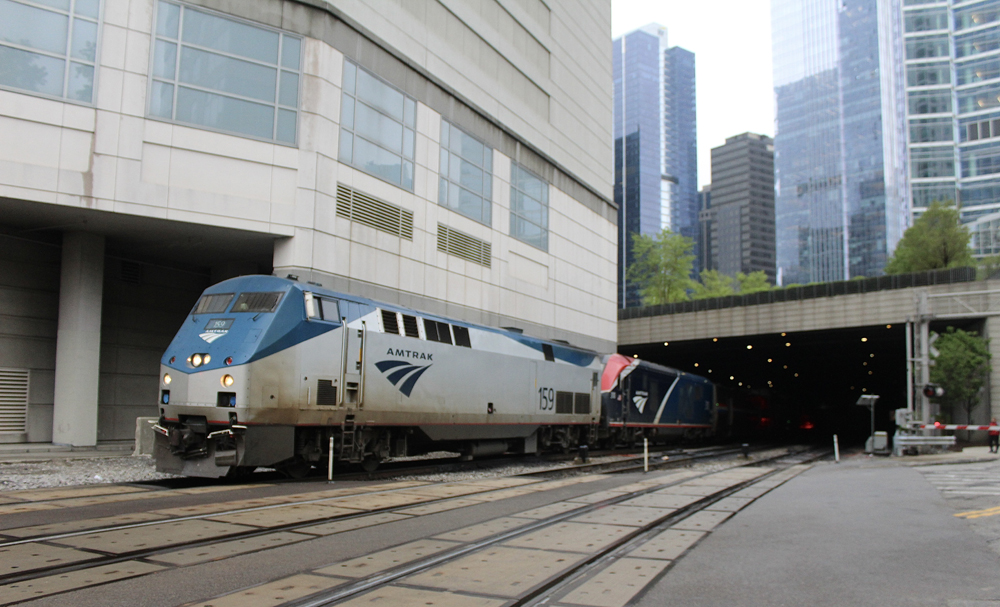 ---
CHICAGO — With horns blaring while track crews working in the tunnel at the scene of Sunday afternoon's derailment stepped safely out of the way, the westbound Empire Builder emerged from the north side of Chicago Union Station this afternoon (Monday, May 8) with an extra coach and two additional sleeping cars compared to its normally shortened consist.
Adding a sleeper and coach to the Seattle section and another sleeping car bound for Portland avoids downgrading sleeper passengers and turning away delayed coach patrons.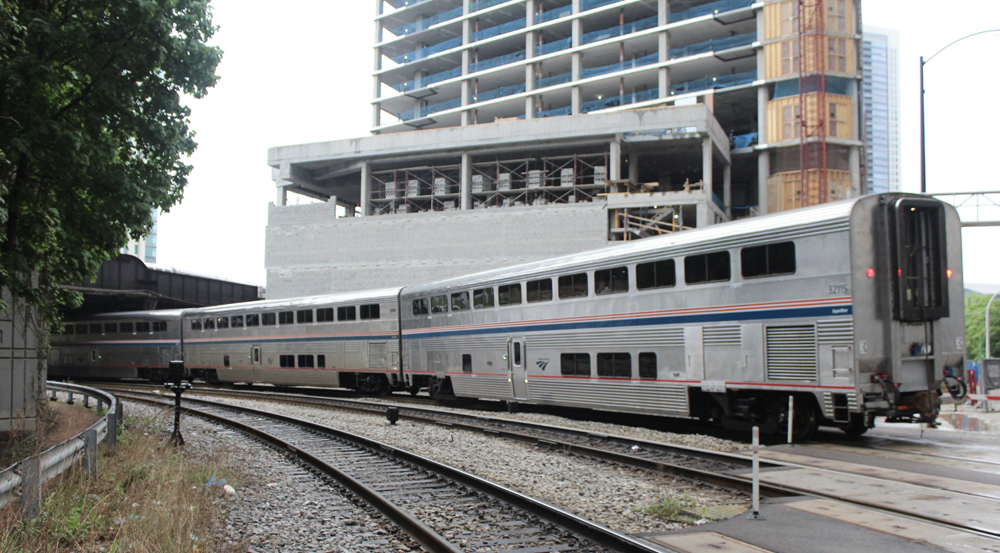 Sunday's westbound Builder derailed as it departed Union Station. Before that happened, today's train out of Chicago was originally set to go only as far as St. Paul, Minn. It then would have returned on Tuesday, filling a gap created because Sunday's eastbound departure from the Pacific Northwest was cancelled because of late-arriving inbound equipment [see "Weekend disruptions hit VIA, Amtrak long-distance trains," Trains News Wire, May 8, 2023]. Now the expanded consist will go all the way through.
Amtrak spokeswoman Beth Toll tells News Wire that when two cars left the rails Sunday as the train departed Union Station, there were no injuries among the 196 passengers aboard. After safely exiting the train, "customers were provided snacks and food, as well as hotel rooms for the evening and were accommodated for the next scheduled departure today," she says.
The derailment led to issues that also cancelled half of today's Chicago-Milwaukee Hiawatha round trips, as well as some Metra operational problems.
The addition of the cars today makes the Empire Builder's capacity resemble that of the train in the summers of 2019 and 2020 before management began sidelining Superliner equipment.
Today's consist included: