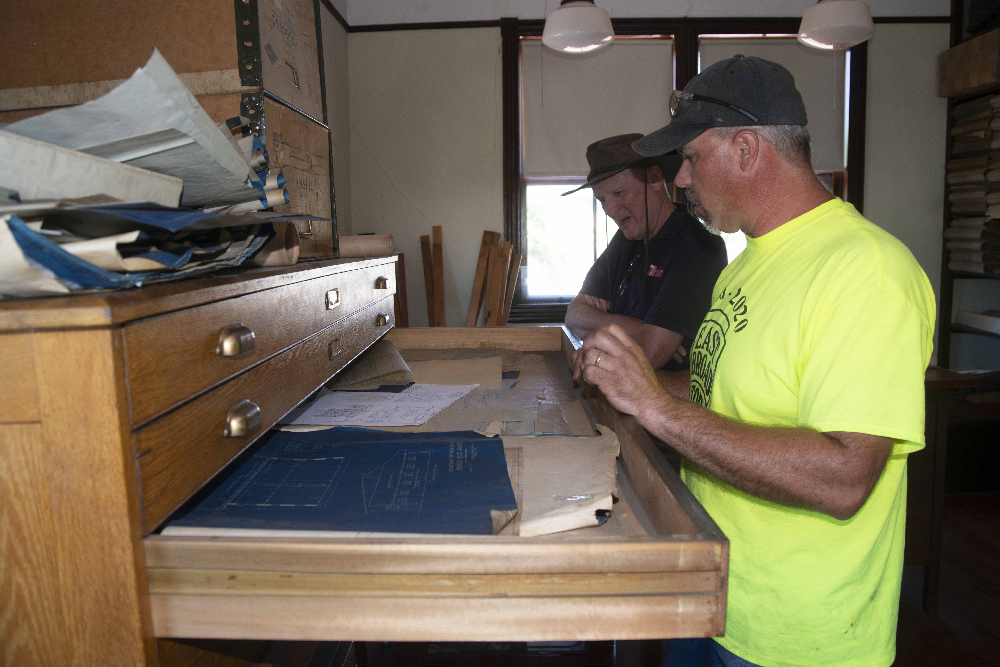 ---
ROCKHILL FURNACE, Pa. – The East Broad Top Railroad has won a $10,000 grant from the National Endowment for the Humanities to fund an 18-month program for long-term protection of the road's thousands of maps, drawings, photographs, and artifacts.
The grant is one of 280 awarded nationally in the August round of NEH funding, totaling $41 million.
A National Historic Landmark, the narrow-gauge EBT hauled coal, ore, and timber over its 33-mile line in Central Pennsylvania until closing as a common carrier in 1956. A short portion was revived as a seasonal steam tourist line from 1960 to 2011. Following an 8-year shutdown, the EBT Foundation was formed to buy, preserve, and restore the railroad, including its circa-1900 shops complex. EBT resumed scheduled tourist passenger service in 2021 and returned one of its six Baldwin Mikado steam locomotives to operation earlier this year. [see "East Broad Top steam returns to revenue service," News Wire, Feb. 20, 2023.]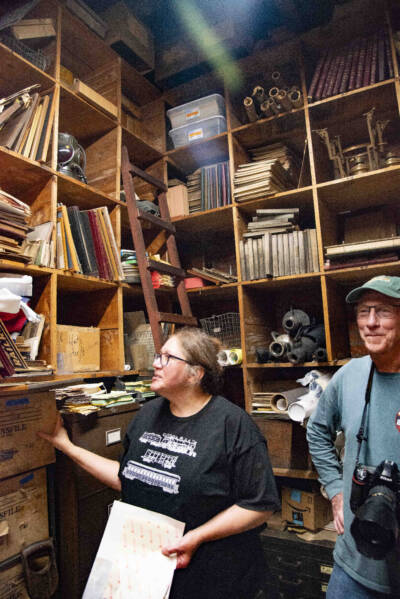 Among the railroad's treasures are 5,000 linear feet of records for the EBT and its affiliated coal-mining and branch-line companies. Extending back 150 years, these include blueprints, correspondence, car-tracking journals, and board of director meeting minutes.
The station houses three vaults, none of them equipped with temperature or humidity control. Many records are stored flat in map drawers, but hundreds of others are rolled and tied with twine.
In 2021, the EBT Foundation and a nonprofit auxiliary group, Friends of the East Broad Top Railroad, began cosponsoring and jointly funding an Archives and Special Collections program. Since then, the group, working under archivist Julie Rockwell, has inventoried 4,800 maps and drawings. By the time of this year's FEBT Fall Reunion on Oct. 6-8, she said, the program will have made 2,500 catalog entries that include materials from various collections at its online page.
Gathering data
Part of the NEH funding will place temperature and humidity monitors at four archive storage locations, two at the EBT office and station here and two at FEBT's museum in Robertsdale, 20 miles south in the heart of the railroad's former coal-mining territory.
"It's a great honor to be recognized nationally for as nascent as the EBT special collection is," Rockwell said. "It will help us raise the bar for how we treat our collections."
"We are housed in the Orbisonia (Rockhill Furnace) station built in 1906, and 95% of the artifacts are paper," she said. "We're in a flood plain, and we're on a future plan to have fire suppression, but we're not there yet. We're working in a historic building which has its challenges."
Each monitor, she said, "will capture data in real time … to better strategize solutions [for] our environmental control program," which includes protecting against fire, water, and pests.
The remainder of the grant will pay for programs and meetings to set up a preparedness and recovery plan to chart how to protect the archives and if necessary, to recover from any damaging environmental event.
Leading these efforts will be a panel composed of Rockwell, EBT General Manager Brad Esposito, EBT Director of Engineering James Roslund, longtime EBT historian and author Lee Rainey, FEBT collections custodian Scarlett Wirt, and former college intern and now part-time archives technician Sammy Bellin.
Community involvement
This group will undergo training with the Philadelphia-based Conservation Center for Art and Historic Artifacts to oversee the project and later spread that knowledge to first responders, museums, and historical societies along EBT's route via in-person and online sessions. Included are groups at Mount Union, Shirleysburg, Orbisonia-Rockhill Furnace, Three Springs, Saltillo, and the Broad Top Area Coal Miners Museum at Robertsdale.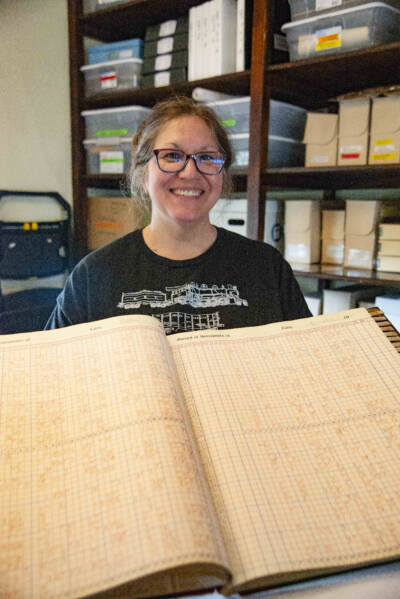 The training will include disaster preparedness, and triage and recovery programs to help "prepare for any type of environmental disaster that could harm the collections," Rockwell said. She added that it's important to EBT and the Friends to engage local partners because "especially with EBT, many organizations have collections that are unique, not duplicative of our collections."
EBT is one of many railroads and railroad museums that have received NEH grants over the years. Others include the Dennison (Ohio) Railroad Depot Museum, which tells the story of a World War II trackside canteen to serve troop trains; Immaculata University near Philadelphia, which documented the role and harsh treatment of Irish laborers who built the Philadelphia & Columbia Railroad; and the Baltimore & Ohio Railroad Museum in Baltimore, which explored B&O's role in the Underground Railroad.
Others that used NEH funding to support archival research include Historic Red Clay Valley near Wilmington, Del. (Wilmington & Western Railroad); the Lake States Railway Historical Association in Baraboo, Wis.; and the Northwest Railway Museum in Snoqualmie, Wash.
Here is a complete list of project funding awarded by NEH in the August round.