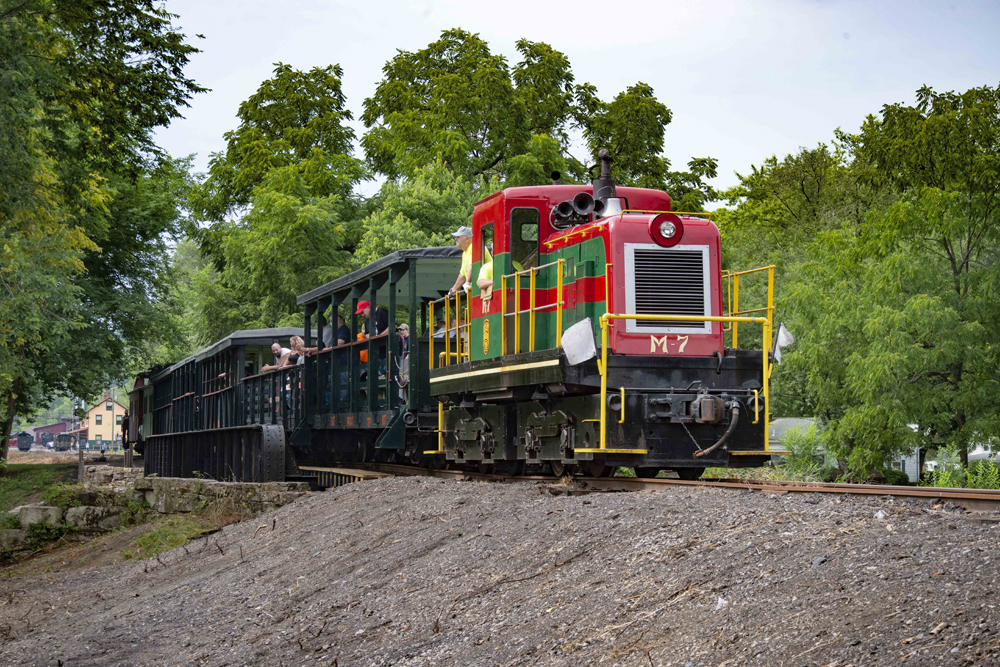 ROCKHILL FURNACE, Pa. — Regularly scheduled passenger service at the East Broad Top Railroad is set to resume June 11, the first time the railroad has operated regularly since 2011, according to the nonprofit EBT Foundation Inc., owner of the historic narrow gauge line in central Pennsylvania.
One-hour, diesel-powered excursions will take place on alternate three-day weekends in June and July, with a series of special events throughout the end of the year. Trains will be powered by locomotive No. M-7, a 1964 center-cab General Electric switching locomotive formerly owned by Algoma Steel, Inc. In the meantime, restoration work continues on two of EBT's six original Baldwin Locomotive Works 2-8-2 steam locomotives, Nos. 14 (1912) and 16 (1916).
The summer schedule, as announced thus far, is as follows:
Trains will depart the railroad's Rockhill Furnace, Pa., station at 11 a.m., 1 p.m., and 3 p.m. on June 11-13, June 25-27, July 9-11, and July 23-25. Fares are $20 for adults, $18 for children age 11 and under. Passengers can also charter a caboose for $200 for a party of eight.
The original 33-mile-long EBT was built in the 1870s to carry coal, iron and lumber to the Pennsylvania Railroad junction at Mount Union, Pa. After closing in 1956, it was bought by the Kovalchick family, which reopened a portion of it in 1960 for steam-powered tourist service. In 1964, EBT was declared a National Historic Landmark. It was closed again in 2011 and the majority (27 miles of main line, shops, yard, and engines and rolling stock) was bought by the nonprofit EBT Foundation in 2020, with an eventual goal of reopening much of the original route.
"We have tried not to overpromise in the reopening of the railroad, and this is a milepost on the way to that reopening," said foundation President Henry Posner, adding with a laugh, "which is a bit awkward in view of the fact that the EBT never had [actual] mileposts."
The railroad also will be offering one-hour guided tours of its Rockhill Furnace shop complex ($15 adult, $10 child), which includes a circa-1900 machine shop and its eight-stall roundhouse. Weather and other conditions permitting, the railroad is also considering offering track-speeder rides on a short portion of line that has recently been cleared for that purpose south of Rockhill Furnace.
Also for the first time, passengers can jointly purchase tickets for EBT and the adjacent Rockhill Trolley Museum, an electric heritage railway that uses part of the EBT's former Shade Gap Branch.
Since 2020, the foundation has hired a full-time staff of more than a dozen people and worked with the 1,500-volunteer Friends of the East Broad Top Railroad to rehabilitate track, buildings, and rolling stock in anticipation of reopening the line. The first goal will be to restore the 5 miles of track north of Rockhill Furnace to the tourist-era destination of Colgate Grove, a picnic area and wye where trains were turned for the southbound leg of the trip.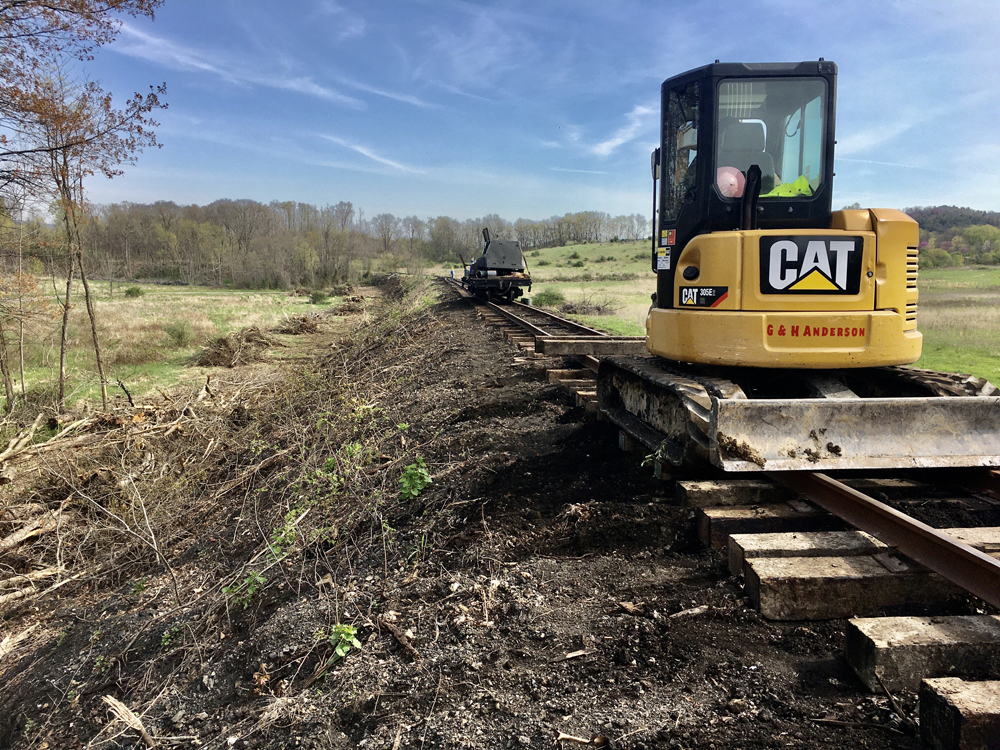 Extensive brush clearing, rock ballast dumping, and track refurbishing has taken place on that part of the line. Since its sale to the nonprofit foundation, the railroad has won numerous state and private grants to continue its work.
In addition, the railroad has cleared an area for visitor parking on the north side of its Rockhill Furnace station and headquarters building. Since 1960, passengers have parked on the south side of the station around the shops, yard, and roundhouse/turntable complex. The foundation wants to shift parking away from that area to protect the historic look and feel of the site.
As for work on rolling stock, EBT Chief Mechanical Officer Dave Domitrovich reports progress is being made on installing a new tube sheet and new-old (old EBT stock left over from the 1950s) flexible staybolts on the backhead of engine No. 16. As previously reported, No. 16 is the first of the steam engines that is scheduled to go back into service. Work is continuing on its tender, the frame being painted, new oak decking installed, and reprofiling of the tires taking place.
A new tender tank, fabricated by Curry Rail Services of Hollidaysburg, Pa.,  is a duplicate of the old one, which was worn out due to acid content in the coal stored in it during its inactive years after 1956. Original parts, such as ladders, will be riveted onto the new tank, exactly following original EBT practice.
Of engine No. 14, Domitrovich said, "it's easier to make a new set of drivers versus renewing the old ones, as it needs all new tires and crankpins," and that is in the plans.
On caboose No. 27, new metal and oak components have been installed to replace rotting and rusted pieces on its end platforms. Coach No. 8, an 1880s-era car whose refurbishment has been under way for months, is close to being ready, Domitrovich said.
Other special events announced for the summer and fall are:
June 26: An inaugural First Responders' Day.
Aug. 12-15: Homecoming Celebration (EBT reopened for the first time as a tourist railroad on Aug. 13, 1960).
Sept. 11-12: Antique traction show.
Oct. 9: Fall reunion (traditional time when the Friends of East Broad Top meets for its annual gathering).
Oct. 16-17 and 23-24: Pumpkin Festival (combination event with Rockhill Trolley Museum).
Nov. 26-28, Dec. 3-5 and Dec. 10-12: Christmas in Coal Country.
— Updated at 7:10 a.m. CDT to include cost of shop tour; updated at 11:15 a.m. to correct title for Henry Posner.