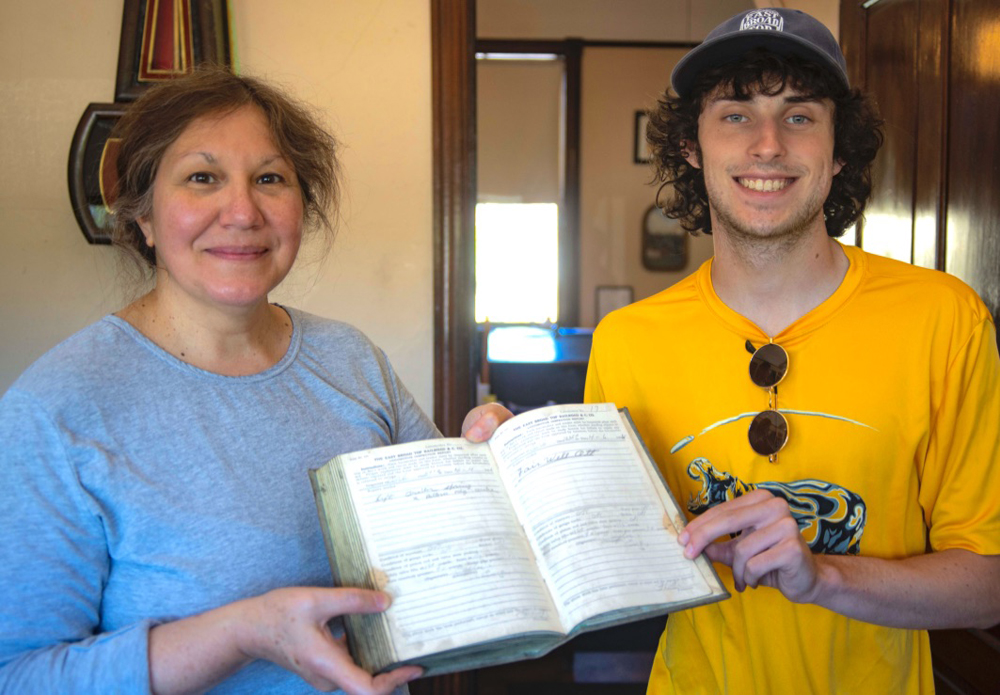 ROCKHILL FURNACE, Pa. – The East Broad Top Railroad has hired an archivist to begin organizing and cataloging hundreds of cubic feet of the historic narrow gauge line's company records.
Julie K. Rockwell of nearby Huntingdon, Pa., is leading efforts to sift through a vast collection of material documenting the operations of the 33-mile central Pennsylvania coal carrier, which operated from 1873 to 1956 before being revived as a steam-powered tourist railroad from 1960 to 2011. Its owners, the Kovalchick salvage family of Indiana, Pa., sold the majority of the line, 27 miles, plus shops, offices, and rolling stock, to the nonprofit EBT Foundation, Inc., in February 2020.
The archivist position is jointly funded by $10,000 each from the 1,500-member Friends of the East Broad Top volunteer organization and an anonymous donor. Rockwell has completed a master's degree program in museum studies and digital archiving from Johns Hopkins University. Her experience includes work on programs to interpret and curate displays on the history of canals and on the Pennsylvania Railroad photography of William H. Rau. Working with her is intern Sammy Bellin, a history student from Pittsburgh who is a senior at Juniata College in Huntingdon.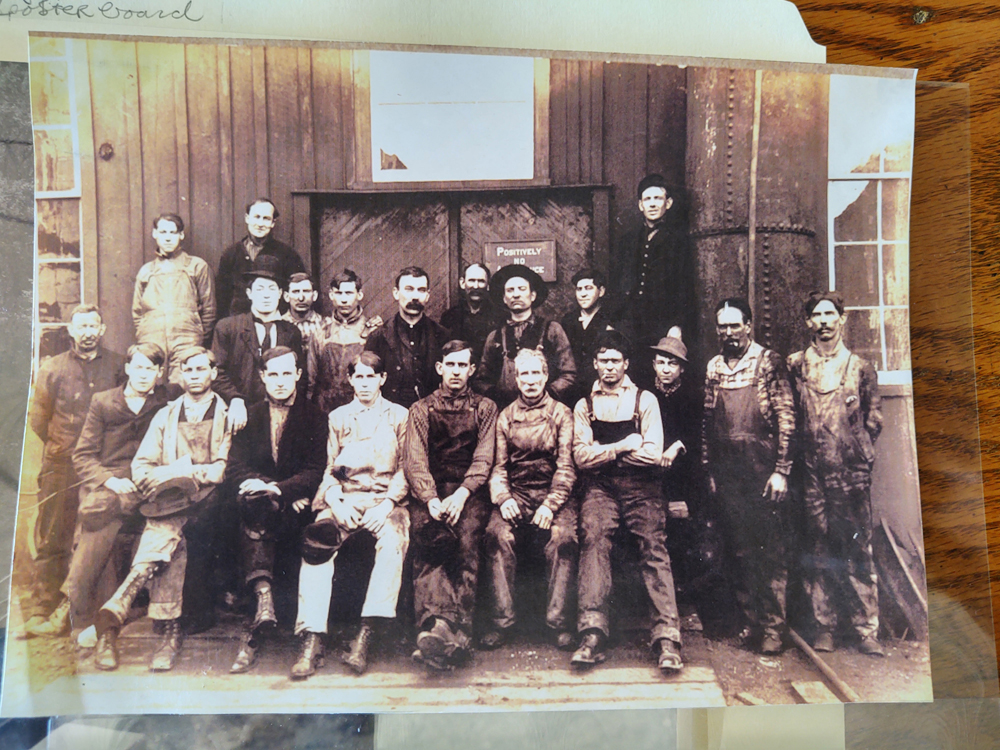 "We have a challenging task ahead, but what an honorable task," Rockwell said. "I am in awe of the history and depth of the materials and records that have been kept for over a century." She credited the Kovalchick family and longtime EBT office manager David Brightbill with taking measures to protect the archives, which date to the 19th century.
Initial work is what she calls "triage" via a "spot inventory." Eventually, EBT will need to design and fund a longer-range program to store, sort, and catalog the material. Some records may be digitized for internal use and public access.
Most of the material is well-kept, having been stored in controlled conditions. It has been shielded from weather, and only a few documents have gathered a small coating of white mold. Many items are wrapped in paper and tied with twine.
The records occupy three brick-lined fireproof vaults that are at least 12 feet tall; a roomful of file cabinets; part of the engineering office; and part of the board room, all in the two-story station and general office building. Other items were found in the former master mechanic's office, a stone farmhouse that is the oldest standing structure in the Rockhill yards.
In addition to EBT proper, the firm also encompassed subsidiary branch railroads, extensive coal mining operations, and company houses, with associated water-supply utilities. In the 1920s and 1930s, EBT also operated a regional bus line, the East Broad Top Transit Co., marketed as the Pioneer Trail.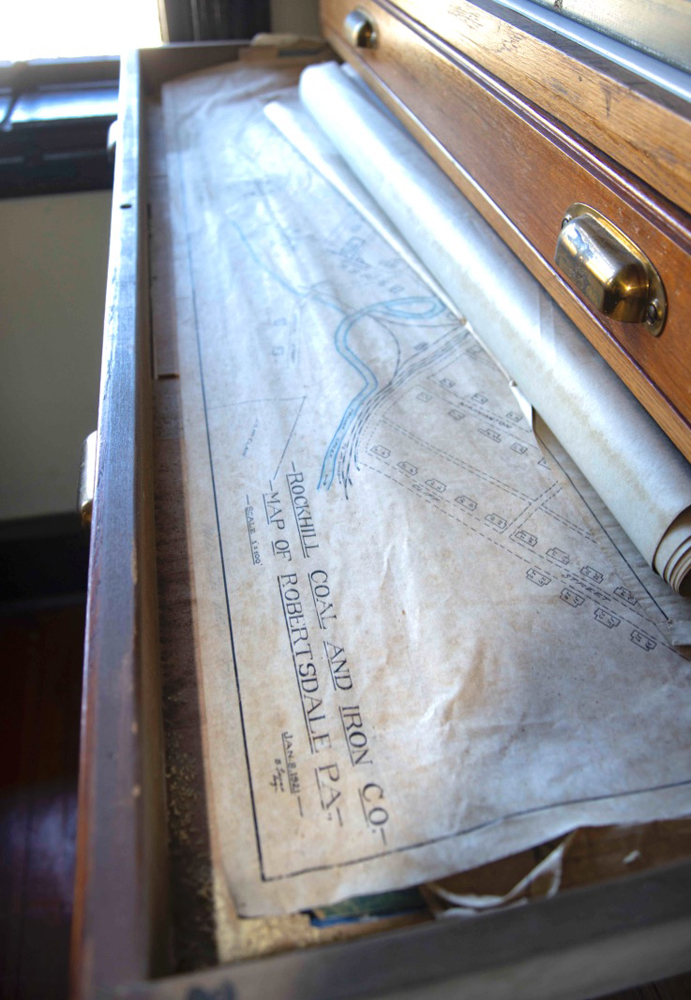 Documents include right-of-way maps, building and rolling-stock blueprints and linen drawings, deeds, photos, board of directors minute ledgers, mortgage documents, correspondence, train orders, clearance cards, daily locomotive inspection reports, purchase orders, payroll time-slip records, shop invoices, tax records and news clippings.
These include drawings for a proposed branch line from near the south end of the railroad at Robertsdale, Pa., to Broad Top City and a connection with another coal-hauling short line, the standard gauge Huntingdon & Broad Top Mountain Railroad. A 1917 drawing shows a proposed two-arch concrete bridge over the Juniata River at Mount Union, Pa., to serve the Aetna Explosives Co. factory, which made TNT and other munitions for World War I.
Other items include audio records, 16mm films, surveying tools, and samples of trinkets such as charm bracelets that were sold in the EBT gift shop in the early 1960s. Such items may be destined for museum display.
"The best thing about the EBT is that they kept everything, but they didn't organize it," said Bellin. "That's our job."
Much of the legal and financial paperwork is dry and mundane, but some records are poignant, showing the march of technology was leaving EBT behind. In 1952, EBT approached the American Locomotive Co.  for a bid on a new rear tube sheet to repair 2-8-2 steam engine No. 18 (Baldwin, 1920). The letters show that Alco, by then out of the steam-locomotive business, referred EBT to Baldwin's successor, the Baldwin-Lima-Hamilton Corp. BLH quoted a price of $1,431 but added that EBT would also have to pay to recreate the tools — long since discarded — needed to fabricate the part.
The final entry in the locomotive inspection ledger is dated April 6, 1956, the last day of operation as a common-carrier railroad. It reads "Fair (sic) Well Ott." It's unclear who signed the page or for whom the message was intended, but Janiver Ott was a longtime EBT locomotive engineer and Philip Ott also worked for the railroad.
Other records from the 1920s show competing proposals for a self-propelled motor car to cut the cost of passenger and mail operations. EBT in 1927 assembled gas-electric car No. M-1 from parts supplied by the Brill Co. of Philadelphia, a prominent streetcar builder. The M-1 still runs on occasion.
Since the EBT Foundation acquired the property, some historical items and records have been donated back to the railroad. Among these are handwritten 1930s onion-skin train orders that show multiple movements per day (as opposed to the one-train-a-day operations of the 1950s). They were owned by a private collector, who donated them to the Baltimore & Ohio Railroad Historical Society, which in turn donated them to the Railroad Museum of Pennsylvania, which in turn donated them earlier this year to EBTF.
The project is also aimed at coordinating efforts with the Friends — which has been collecting its own set of artifacts and records — with the goal of jointly cataloging the holdings of both FEBT and the foundation.
Friends members advising the project include Andy Van Scyoc, the group's president; Lee Rainey, co-author of the definitive 1982 history of EBT; Scarlett Wirt, former president of the Washington, D.C., chapter of the National Railway Historical Society; and longtime EBT docent and foundation secretary Lawrence Biemiller. Other advisers are Juniata College history professor Jim Tuten and Don Pattison, a retired Pomona College administrator.
— Updated at 9:20 a.m. with funding involved in archivist position.