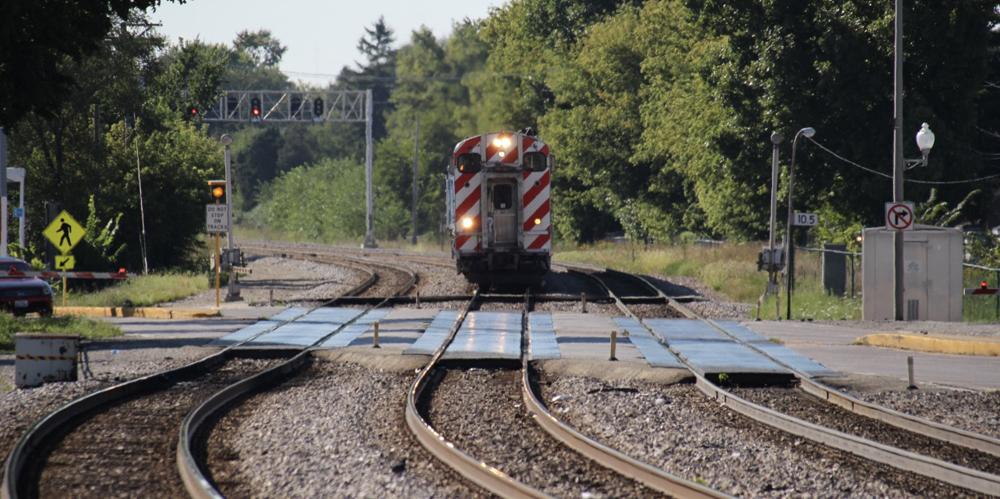 Elmwood Park, Ill., to receive $24 million for planned  underpass at dangerous crossing
The Illinois Commerce Commission is awarding $24 million to the village of Elmwood Park, Ill., for construction of an underpass at a grade crossing that was labeled "inherently dangerous" after a 2005 accident in which a Metra train struck six vehicles. The Chicago Tribune reports the underpass will cost about $100 million, and that while the city continues to seek other funding for the project, engineering work will be completed in the next two years. The intersection in question sees Metra's Milwaukee West line cross Grand Avenue, a heavily used roadway, at 10-degree angle, creating a grade crossing some 366 feet in length. The intersection was the site of a November 2005 accident in which a Metra train traveling about 70 mph hit six vehicles stuck on the track in heavy traffic, sending them into 11 other vehicles. A National Transportation Safety Board investigation called for construction of an underpass, saying the crossing was "inherently dangerous." An Elmwood Park official told the paper cars "routinely get caught between the crossing gates" at the crossing.
Metra to add trains on BNSF, Milwaukee North, North Central lines
Metra will add service on three lines — the BNSF, Milwaukee North, and North Central — as of April 12, reflecting increasing ridership as conditions created by the COVID-19 pandemic improve. The BNSF line will see additional inbound trains departing Aurora at 4:25 a.m. and 7:40 a.m.; additional outbound trains departing Chicago at 5:50 a.m. and 3:05 p.m., and schedule adjustments to two other trains. The Milwaukee North line will see two new inbound trains originating at Lake Forest — one at 7:43 a.m. and one at 6:09 p.m. for reverse commuters — and two new outbound trains, one departing Chicago at 6:25 a.m. for reverse commuters and one at 4:45 p.m. Two other trains will see schedule adjustments. The North Central Service, which currently is served by just two trains in each direction, will add a third each way — an inbound train departing Antioch at 7 a.m. and an outbound train departing Chicago at 6 p.m. One outbound train will have its schedule adjusted. Two trains on the Milwaukee West line will also see schedule adjustments. More details are here; full schedules for the affected lines are here.
Metro-North changes include restoration of weekend service at Wassaic, two more New Haven trains
Metro-North Railroad announced schedule changes effective April 12 that will restore weekend service to the Harlem Line's Wassaic station, as well as weekday schedule changes to that line to accommodate track work north of the Hartsdale station that will require single-tracking between Scarsdale and North White Plains. Other changes will include two additional trains on the New Haven Line, along with a number of adjustments to existing trains; the reopening of the Manitou station on the Hudson line as of April 17; and special game-day service to Yankees home games. More information is available here.