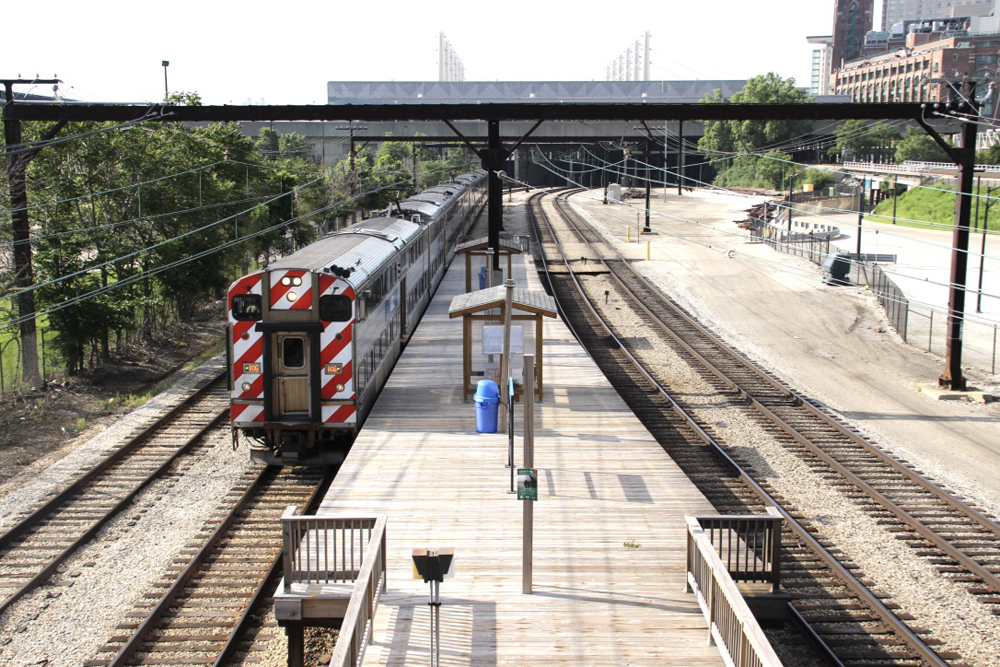 Developer's deal will allow construction above Metra tracks, lead to new station
A Chicago developer says he has reached agreement with Metra to build over Metra Electric District tracks as part of a $20 billion development in the area near Soldier Field, a deal that will include the developer building a replacement for Metra's 18th Street Station and a new railyard. The Chicago Sun-Times reports those features would be part of a $3.8 billion transit facility, also serving the Chicago Transit Authority and Amtrak, to be built by Landmark Development as part of its One Central project. Landmark president Bob Dunn said the agreement would allow construction without disrupting commuter operations. Metra said in a statement that it had reaced "an initial memorandum of understanding" and said, "while Metra is excited by the potential benefits of this development, we have taken no position on Landmark's specific ridership, tax revenue, and economic impact projections."
Amtrak employee charged with selling stolen chainsaws, parts for more than $50,000
An Amtrak employee has been charged with stealing dozens of chainsaws and hundreds of parts from the passenger railroad and selling them online for more than $50,000. ABC News reports Jose Rodriguez, a 48-year-old Brick, N.J., resident and Amtrak employee since 2007, is alleged to have stolen the items between 2016 and July 2020. In all, he is said to have sold 77 chainsaws, 103 replacement bars and 163 replacement chains to buyers in seven states. He faces one count of stealing government property and one count of stealing from an agency receiving federal funds; each count carries a penalty of up to 10 years in prison.
ENSCO receives $571 million deal for work at Transportation Technology Center (corrected)
Transportation, defense, and intelligence technology firm ENSCO has received a $571 million contract for engineering and training services in support of Federal Railroad Administration operations at the Transportation Technology Center in Pueblo, Colo. Under the contract — for a base term of five years with three five-year options — will work to modernize the facility and expand its use by other governmental and commercial entities. Operations currently handled by Transportation Technology Center, Inc.,  will transition to ENSCO by October 2022.
— Details of ENSCO contract corrected at 1 p.m.