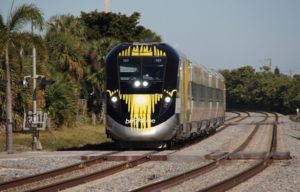 Saturday morning rail news:
Brightline severs ties with Virgin, will retain current name, image
Florida passenger operator Brightline says it has ended its agreement with Richard Branson's Virgin Enterprises and will retain its Brightline name and image, although Virgin may challenge termination of the two companies' licensing agreement. Forbes reports that Brightline reported the move in its monthly operating report, saying it will operate as Brightline Trains LLC and "Virgin has no remaining affiliation with us, our parent or its affiliate." The report says Brightline delivered its termination notice on July 29, and that "Virgin has disputed the validity of the termination notice." Branson told Forbes earlier this year that Virgin had not invested in Brightline but was interested in doing so. The two companies signed a marketing agreement in late 2018 [see "Brightline enters branding, marketing pact with Virgin Group," Trains News Wire, Nov. 16, 2018], but a spring 2019 rebranding of MiamiCentral station was the only portion of Brightline's operation to ever reflect the planned change to Virgin Trains USA [see "Virgin Group's Branson highlights Miami Central rebranding," Trains News Wire, April 5, 2019]. The pandemic has taken a toll on Virgin Group-related companies: airline Virgin Atlantic filed for bankruptcy earlier this week, while Virgin Australia announced a restructuring including major job cuts and the shuttering of its low-cost affiliate. Brightline has its own pandemic challenges — its Florida operations have been shut down since March — but the company continues to work on its expansion to Orlando and its plans for high speed service between Southern California and Las Vegas.
Caltrain funding measure will go to voters, thanks to late agreement
A nearly last-minute move by San Francisco supervisors means voters in three counties will have the chance to decide on a tax measure to fund San Francisco Bay Area commuter railroad Caltrain. The San Jose Mercury News reports supervisors voted Friday afternoon to place the one-eighth-cent tax measure on the November ballot, following approvals on Thursday by the Caltrain board and the Santa Clara Valley Transportation Authority. The deadline to place a measure on the ballot was the end of the day on Friday. The approvals by those agencies and five others came after Caltrain management agreed on Tuesday to make changes to its governing structure. Officials in San Francisco and Santa Clara County had previously threatened to block the move because of their unhappiness over San Mateo County's dominance of Caltrain governance, then offered support of a modified initiative that would have placed much of the money in an escrow account and given each county control over its disbursement. [See "Digest: San Francisco OKs amended version of Caltrain measure …," July 29, 2020.] The measure on the November ballot will require approval by two-thirds of voters in all three counties, which is likely to be a tough sell in the current economic climate.