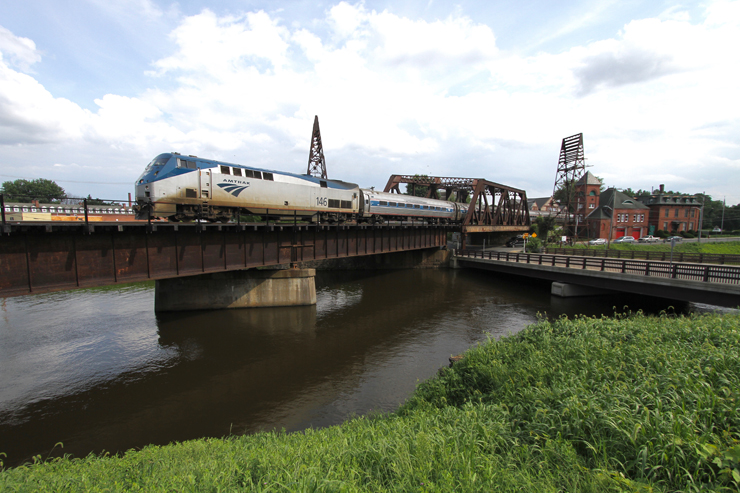 Vermont agency announces July 19 return for Amtrak service
Amtrak service in Vermont will resume July 19, the state Agency of Transportation has announced. Intercity bus service will also resume on that date. "We are very pleased to announce the restart of these vital transportation services for Vermonters and those who wish to travel to and from Vermont by train or bus," Transportation Secretary Joe Flynn said in an announcement on the agency website. "With the Governor's announcement this week of the Vermont Forward Plan to re-open Vermont fully during the next few months, we now have a target date for when we will be able to safely resume Amtrak and transit services." The state is served by the Washington, D.C.-St. Albans Vermonter, and the New York-Rutland Ethan Allen Express. Vermont Business Magazine notes service was suspended March 26, 2020 because of the COVID-19 pandemic, and that the state's service will be among the last Amtrak routes to resume.
Man sentenced in incident which led to death of two Chicago police officers hit by train
A man who test-fired a gun he had found near a Metra station on Chicago's South Side — leading to the deaths of two Chicago police officers who were hit by a train as they responded to reports of the shooting — has been sentenced to a year in prison. The Chicago Sun-Times reports Edward Brown found the gun, reportedly dropped by its owner, and decided to test-fire it along tracks near the 103rd Street/Rosemoor station. The three test shots were picked up by a monitoring device, leading officers Conrad Gary, 31, and Eduardo Marmolejo, 36, to respond. While pursuing Brown, they were struck from behind by a South Shore Line train [see "Chicago police officers, pursuing suspect, killed when struck by train," Trains News Wire, Dec. 18, 2018]. Brown, 26, was sentenced Wednesday by Judge Diana Kenworthy after he pleaded guilty to one count of aggravated unlawful use of a weapon. In exchange for the plea, four other charges were dropped. Brown, a cook, had no previous arrest record.
Sonoma-Marin Area Rail Transit releases $2.6 billion wish list for expansion, other improvements
Somona-Marin Area Rail Transit officials have released a wish list of infrastructure projects for system expansion and improvement with a $2.6 billion price tag, half of that for an extension from Novato to Suisun City, where it would connect with Amtrak's Capitol Corridor. The Press Democrat reports other items include adding a second track at 12 spots on the current line, extending service to Healdsburg and Cloverdale, a 3-mile extension to Windsor that is in progress, and funds for a second Petaluma station. The list is unfunded and would require obtaining federal, state, and local money. Officials stressed the costs were early estimates and SMART General Manager Farhad Mansourian called it a "financially unconstrained" list.