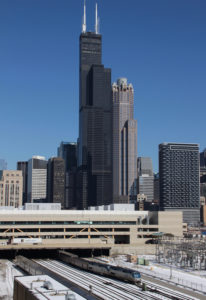 Friday morning rail news:
PTC implementation complete on Amtrak-owned or controlled mileage
Amtrak says it has completed implementation of positive train control on all track owned or controlled by the passenger railroad. The final portion to be completed was 1 mile of slow-speed Chicago terminal trackage. The railroad operates or controls 898 miles covered by PTC. Its implementation process has also included the equipping of 550 locomotives, installation of 160 radio towers, and employee training. "Completing PTC installation and implementation is a key component of Amtrak's overarching commitment to the safety performance of intercity passenger rail for our customers, employees and the communities we serve," Steve Predmore, executive vice president-chief safety officer, said in a release announcing the milestone. "As leaders in PTC installation, Amtrak is pleased to achieve this milestone, and we will continue to work together with all of our partners to improve safety across the rail network." Still in progress is interoperability work on lines where Amtrak is a tenant, and with tenants on Amtrak-owned lines. A Federal Railroad Adminstration report earlier this week said 65.5% of the host-tenant relations covered by the PTC requirement have achieved interoperability [see "FRA says just two commuter lines remain at risk of missing PTC deadline," Trains News Wire, Aug. 12, 2020].
UP reopens Tempe bridge 15 days after derailment, fire, partial collapse
Union Pacific's branch line to Phoenix, Ariz., is back in operation after the railroad completed repairs to a bridge damaged in a July derailment and fire. The Arizona Republic reports replacement of the collapsed portion of the bridge dating to 1912 was completed late Wednesday night, with the first train crossing the bridge Thursday morning. The project was completed just 15 days after the derailment and fire [see "UP hit by derailment, fire …," Trains News Wire, July 29, 2020] and on the same day that the railroad received approval from the Arizona Corporation Commission to complete the repair process [see "Digest: NJ Transit cancels trains …," Aug. 13, 2020].
Long Island Rail Road adds PPE vending machines at Penn Station
The Long Island Railroad is now offering vending machines with personal protective equipment for passengers at New York's Penn Station as part of efforts to address the COVID-19 pandemic. The machines, managed by Canteen, offer products ranging from single-use hand sanitizer for 75 cents to KN95 face masks for $9.99. There are two machines at the station, one on the 7th Avenue side near the Long Island's waiting room and the other near the exit concourse on the 8th Avenue side. The railroad will soon offer similar machines at its Atlantic Terminal, Hicksville, and Ronkonkoma stations.