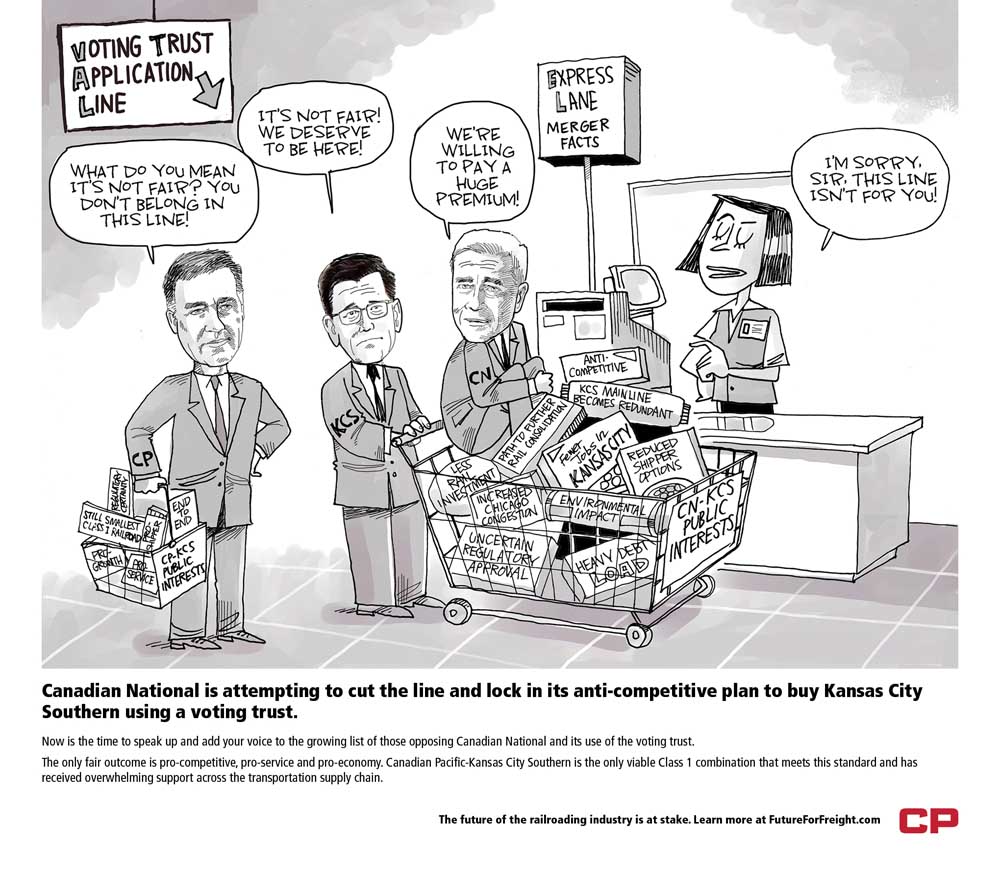 Canadian Pacific's campaign against Canadian National's proposed acquisition of Kansas City Southern took a new turn today with a half-page ad in The Washington Post that featured an editorial cartoon-style illustration – complete with caricatures of the three railroads' chief executives.
CP and CN skirmished on social media while KCS was considering their rival bids. Since KCS last month decided to accept CN's $33.6 billion offer, CP has sought to turn shippers, elected officials, and regulators against the merger.
The cartoon depicts the three CEOs – CP's Keith Creel, KCS's Pat Ottensmeyer, and CN's JJ Ruest – in a "voting trust application line" that looks like a familiar supermarket checkout. Creel is holding a small basket of items that tout the benefits of a CP-KCS merger. Ottensmeyer is pushing a shopping cart that contains Ruest, who sits atop a pile of items that outline what CP contends are the pitfalls of a CN-KCS merger.
As a first step in the merger process, CN is seeking Surface Transportation Board approval to put KCS into a voting trust while the deal is under regulatory review. The board approved CP's voting trust request for KCS prior to KCS accepting CN's bid.
"Canadian National is attempting to cut the line and lock in its anti-competitive plan to buy Kansas City Southern using a voting trust," the ad says. "Now is your time to speak up and add your voice to the growing list of those opposing Canadian National and its use of the voting trust."
CN has submitted to regulators more than 1,400 letters of support for its merger with KCS. CP says that more than 130 shippers, communities, labor unions, and others oppose the CN-KCS voting trust.
Independent analyst Anthony B. Hatch says the target audience for CP's advertisement is senators, the five STB commissioners, and shipper associations that are clustered around Washington.
"It is so strange. The drawings are awful but the whole thing brings me back to my early childhood in D.C. and Herblock," Hatch says, referring to Herbert Block, the longtime editorial cartoonist for The Washington Post.
Railroad advertising historian and author Michael E. Zega says CP's throwback ad falls flat in the social media age.
"The whole idea of an ad is something that's supposed to catch your eye immediately," he says. "And you're supposed to take something away from it."
The CP ad contains too much information and takes too long to digest, Zega contends.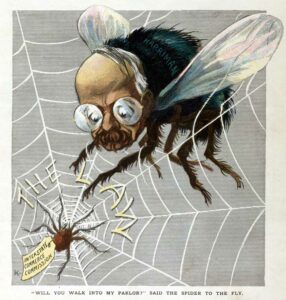 It does not help, he adds, that Creel, Ottensmeyer, and Ruest are not household names and no one is familiar with their likenesses. "Railroad executives are among the most obscure people in America," Zega says.
That has not always been the case, Zega notes. At the turn of the 20th century newspapers and magazines regularly used editorial cartoons to lampoon rail barons who were household names, most famously turning Edward H. Harriman into a fly caught in the web of the Interstate Commerce Commission.