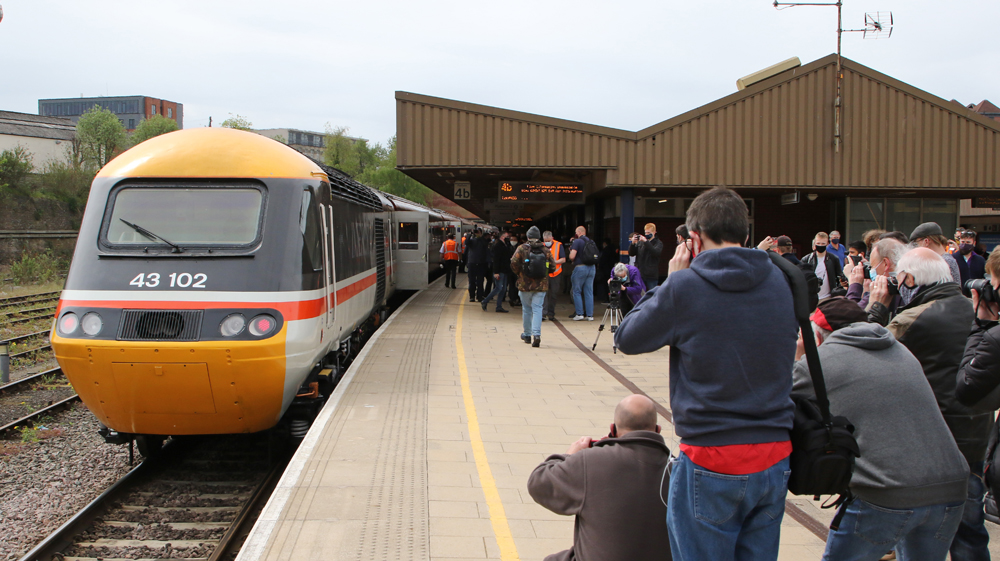 LONDON — After several months in which public railfan trips have been illegal in the UK due to restrictions imposed to control the spread of coronavirus, a trip on Thursday, May 13, celebrated the iconic British Rail-built High Speed Train.
The charter from London's St Pancras was to mark the end of regular use from London of the equipment also known as the "Intercity 125," referring to its 125-mph top speed. The trains, built 1975-82, have 2,250-hp single-ended diesel locomotives on each end, providing 4,500 hp for seven or eight cars. They were in regular use from London on several routes until 2019. From London Paddington to western England and from London Kings Cross to Scotland, the trains have been replaced by new Hitachi built bi-mode trains. From London St. Pancras, a station shared with the Eurostar service to Paris and Amsterdam, the HST trains have worked the Midland route to the cities of Nottingham and Sheffield since 1983. But as of Sunday, May 16, they have been replaced by newer equipment.
Arranged at a week's notice
While replacement of the HST trains had long been planned, the railfan special train was pulled together in under a week, as it had seemed unlikely anything would be possible due to the pandemic. It was organized by leading British national railfan group The Branch Line Society. In normal times, the group arranges  multiple railfan trips each year, almost all of which are designed to not only give railfans a good day out but also to raise money for non-profit charities. Because of the charity aspect, many of the rail companies involved gave their time or equipment for free or at low cost. The HST train operated by East Midlands Railway had a scheduled layover of several hours, and the trip followed an existing, pre-planned path used for crew training, meaning no extra scheduling work or equipment was needed. This made it possible to arrange the trip on such short notice.
The organizers had to comply with current pandemic-related rules – so one-yard social distancing meant only around half the seats could be sold, and an ongoing mandate meant passengers and crew had to wear face masks other than when eating or drinking. Despite this, the train sold out within hours of being advertised online.
Record locomotive part of consist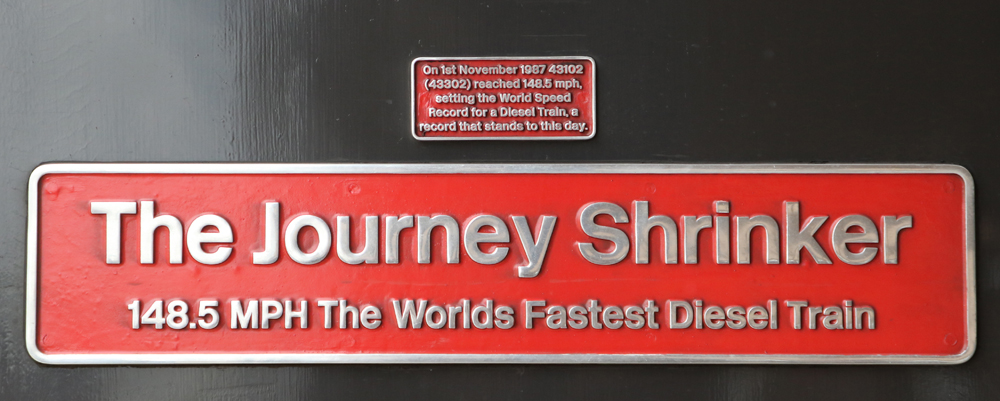 The train chosen for the special featured one of two of the HST locomotives that hold the diesel rail world speed record of 148.5 mph set Nov. 1, 1987, while testing new high-speed trucks for British Rail. That locomotive, No. 43102, was repainted by operator East Midlands Railway back into the British rail Intercity colors of the late 1980s in January 2021, as the locomotive has been reserved for preservation, most likely at the UK National Railway Museum's Shildon location.
The trip was a simple out-and-back excursion from London to the city of Leicester, around 100 miles north, with a short break for photographs in Leicester — where over a hundred local railfans also turned out — around lunchtime. The route included sections approved for 125-mph operation and the train's engineers took full advantage, with 125-mph running at times and around a third of the miles operated at 100 mph or more.
HSTs relegated to regional trains
While HST operation on the main lines from London is now history, some of the trains remain in use. In both western England and Scotland, HST trains with shorter sets of modernized cars now operate regional services, but speeds are limited to 100 mph on most routes. A small number of HST trains remain in use with UK operator Cross Country, and these can still achieve 125 mph on a few routes, notably north of York to Newcastle, where the majority of passenger trains operate at that speed.
At least one train will survive long term. A preservation group including many current and former HST crew members, the 125 Group, has been in existence since 1994. It now owns enough vehicles to make up a complete train, with three of the locomotives. The group aims to not only maintain the train in running order, rebuilding some of the locomotives with their original engines, but also to meet all requirements for use on the national rail network. This hopefully means the iconic trains will be seen on the rails in Britain into the 2030s and beyond. Information on the 125 Group is available at its website.