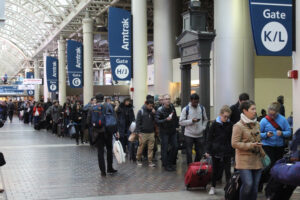 WASHINGTON – Responding to citizen and District of Columbia criticism that its plan for redevelopment of Washington Union Station was too automobile-centric, the Federal Railroad Administration has revised its blueprint by eliminating a six-story, 1,575-space parking garage, according to the Washington Post.
More than a year ago, D.C. Mayor Muriel E. Bowser and other city officials opposed FRA's initial plan, D.C. at odds with federal government over multibillion-dollar redevelopment of Union Station – The Washington Post saying that it would lead to more gridlock on city streets and needed better pedestrian and bike access. They pointed to evidence that most users of Union Station don't arrive by personal auto.
Union Station Redevelopment Corp., which manages and operates the station, also opposed the garage.
Revealed at a recent meeting of the National Capital Planning Commission, the revised FRA plan adds an underground parking area with about half of the previously proposed auto capacity. It would also facilitate passenger drop-offs and pickups by taxis and private ride-hailing services, the Post said.
Opened in 1907 and extensively rehabilitated in the 1980s, Union Station serves three railroads (Amtrak, Maryland's MARC commuter agency, and Virginia Railway Express), as well as D.C. Metro's heavy-rail subway system, intercity and local buses, and the free-to-ride 2.2-mile D.C. Streetcar. The complex was designated a National Historic Landmark in 1969.
In 2019, Washington Union Station handled 5.2 million Amtrak passengers, second busiest in the nation behind New York City's Pennsylvania Station with 10 million riders.
The FRA plan is part of a $10 billion private-public expansion that would add a new train hall and concourses, more tracks, and enlarged retail space. Working with Amtrak and USRC, FRA is expected to reveal more details in the next few weeks as it opens the plan for public comment. That will serve as a prelude to the design phase, followed by an expected 10-year period of construction.
D.C. Council member Charles Allen welcomed the scaled-back plan, the Post reported, quoting him as saying: "Taking back precious space from parking to provide bus service, train service and shared spaces will restore Union Station to its glory as one of the nation's iconic and great stations. We're rebuilding a major transit hub in the center of our city that will stand for the next 100 years, and basically as busy each day as any of our regional airports."
In a related development, Amtrak last month filed a motion to use eminent domain to wrest control of the station from a private entity that holds subleasing rights, saying that the change is needed to ensure smooth expansion.