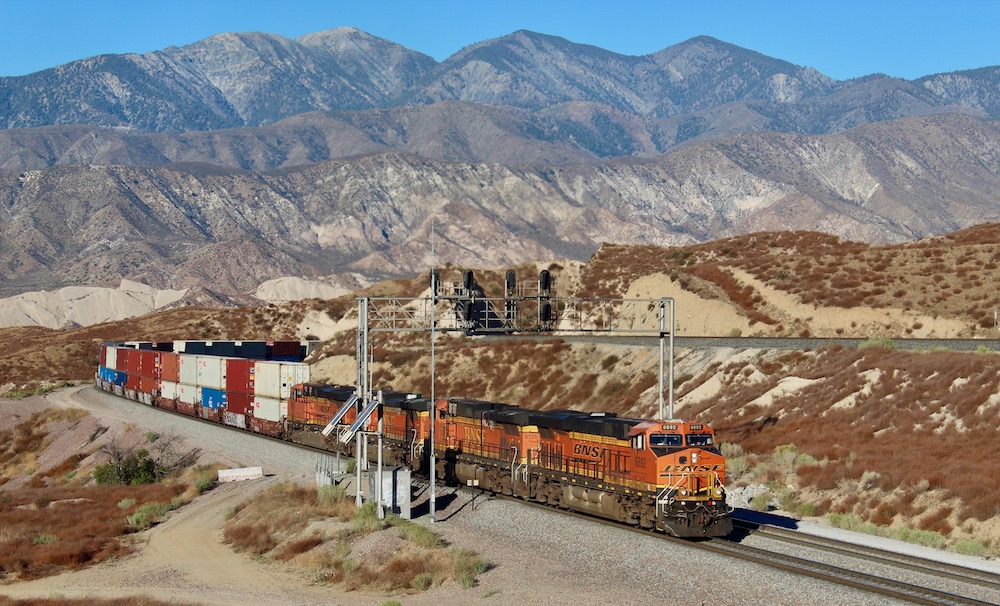 ---
Can a railroad single-handedly preserve the intermodal dominance of North America's biggest port complex? BNSF Railway is making a $1.5 billion bet that the answer is yes.
The railroad announced on Oct. 1 that it will build a massive new intermodal facility in Barstow, Calif., to expedite the handling of freight imported and exported through the ports of Los Angeles and Long Beach.
The stakes are high for the San Pedro Bay ports, which have seen their share of imported cargo fall over the past decade, a trend that was accelerated by pandemic-related congestion that made national headlines. The stakes are high for BNSF, too, because its intermodal fortunes are intertwined with how competitive the ports are.
Here's why.
Many of the containers that land at the ports are bound for destinations outside of the L.A. Basin, mostly in the Midwest and Texas. The lion's share of that freight rides BNSF stack trains to inland points.
These containers don't have to enter the U.S. through L.A. and Long Beach. They could just as easily be routed to ports on the East Coast, Gulf Coast, or British Columbia. And that's exactly what's been happening.
The San Pedro Bay port complex has been losing market share to up-and-coming ports that have proven to be more fluid and less costly. BNSF's new sorting hub — the Barstow International Gateway, or BIG for short — is designed to halt this trend and protect the railroad's intermodal business.
BNSF has a knack for understatement. BIG is too small a word for a one-of-a-kind 4,500-acre facility that will be built on land BNSF owns on the dusty outskirts of Barstow, an important junction town with a long railroad history.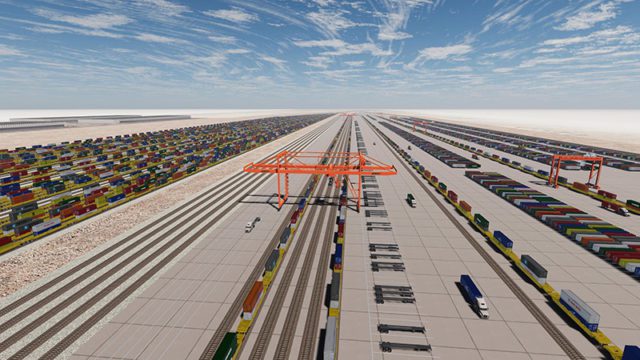 ---
BIG will include an intermodal terminal, support yard, and warehouses where freight will be transloaded from international containers into domestic boxes before being put back on trains. At full buildout, BIG will be more than twice the size of BNSF's sprawling logistics parks in Chicago and at Alliance, Texas. The facility will handle two million containers annually, a figure equal to 36% of BNSF's 2021 intermodal volume.
The idea behind BIG is that it will reduce the amount of time containers spend waiting on the docks and eliminate the 80-mile dray moves for freight that's currently trucked from the ports to the Inland Empire for transloading before being trucked to one of BNSF's intermodal terminals for the trip east.
Currently, containers are taken off ships, stacked on the docks, and eventually loaded on well cars. Intermodal veteran Ted Prince notes that the largest ships can carry enough containers to fill seven trains. So some boxes have to wait for six trains to get loaded and depart before they get their chance to move inland. The process is so slow, he says, that freight transloaded into domestic container can arrive in Memphis before those long-lingering international boxes even leave the dock.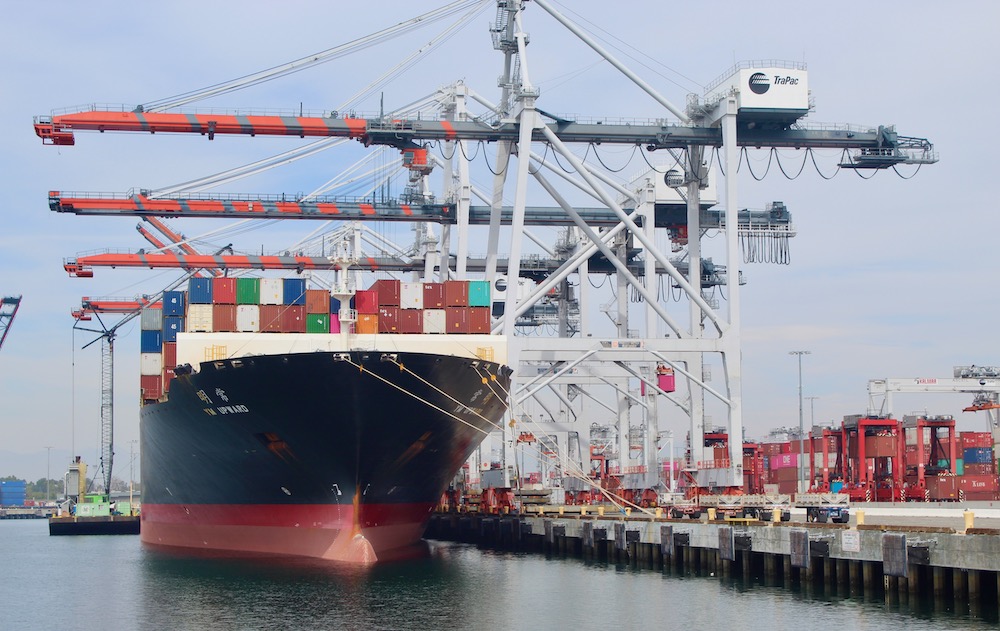 ---
BIG promises to change this. Containers will be loaded directly from ship to rail. Existing BNSF trains will haul them through the Alameda Corridor and up the BNSF main to Barstow. Once there, the containers will take one of two paths. They'll either be sorted by destination and loaded on eastbound trains or their cargo will be transloaded into domestic containers at on-site warehouses, then catch eastbound trains.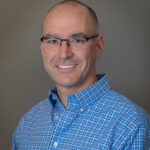 This will reduce congestion at the San Pedro Bay ports, effectively increasing their capacity and efficiency while nearly eliminating drayage costs for transload cargo. The ports say all this will make them more competitive with East Coast and Gulf Coast ports. And what's good for the ports is good for BNSF.
Also in the railroad's favor: BIG's advantages may attract even more international container lines to BNSF's rails. BIG will be a magnet for transload centers for big retailers like Walmart. And that, in turn, will feed the transload pipeline of BNSF intermodal partner J.B. Hunt.
BNSF will get an operational boost from BIG, too. BIG will assemble westbounds to match track lengths of BNSF's terminals at Hobart and San Bernardino, which will reduce switching moves on the main.
There's no timeline yet for construction, and BNSF says permitting may take a few years. But it's clear that once BIG is up and running it could be a game-changer for BNSF, the only railroad you can imagine investing $1.5 billion in a single project.
You can reach Bill Stephens at bybillstephens@gmail.com and follow him on LinkedIn and Twitter @bybillstephens