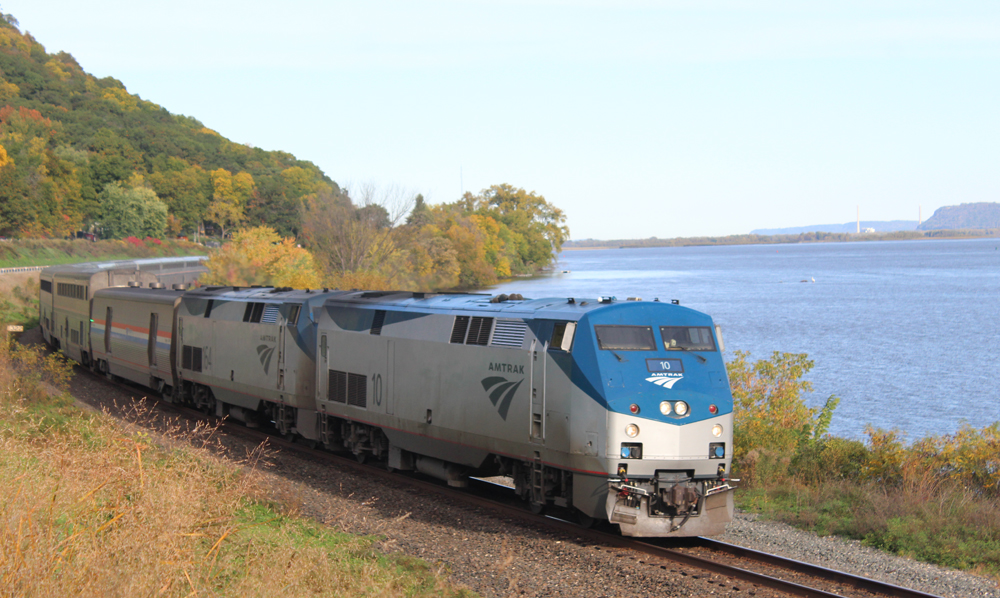 CHICAGO — Canadian National has announced it intends to beef up what is currently a meandering, unsignaled 40-mph ex-Gulf, Mobile & Ohio branch to connect with Kansas City Southern's main line to the Gulf Coast. And if Canadian Pacific gets KCS, it expects to direct Mexican supply chain business to and from Western Canada through its Minneapolis gateway, and link eastern provinces' traffic at Chicago.
What do those competing plans have to do with Amtrak? Potentially, plenty, even though KCS itself hosts no passenger trains. Here are possible impacts from each merger partner.
Canadian National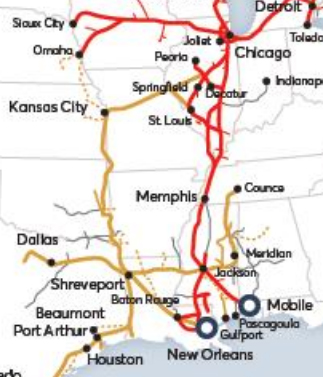 In an earlier era, Illinois Central's Green Diamond (and later, the Governors' Special) left the north-south "Main Line of Mid-America," at Gilman, Ill., making a stop at Springfield, Ill. This is where CN's connection with KCS's line to Kansas City would occur [see "Canadian National plans major upgrade to IC-KCS route to Kansas City," Trains News Wire, May 6, 2021].
But under Hunter Harrison, IC single-tracked its route south of Homewood, Ill., to the shores of Lake Ponchartrain in the 1990s. Another capacity-cutting move chased Amtrak's City of New Orleans from its Memphis-Jackson, Miss., Granada District speedway in 1995 before IC sold the route. Since then, the City has been exiled to the Yazoo District, whose undulating washboard over the Mississippi Delta's shifting ground is invariably the roughest ride on the entire Amtrak network.
Thus, Amtrak trains have had to contend with what amounts to a single-track funnel for the last 25 years. As CN steadily increased train lengths, Amtrak punctuality has suffered. The City of New Orleans was Amtrak's only long-distance train to get a passing grade for on-time performance in fiscal 2020 with an 88% on-time mark, thanks to generous schedule padding and better recent dispatching. But the Chicago-Carbondale, Ill., Illini and Saluki have historically fared much worse. Those trains had a 72% on-time mark during the same period, but only one of the usual two round trips was operating for half the fiscal year. During the previous decade, extensive delays caused by freight and passenger conflicts, principally around Champaign, Ill., prompted Amtrak to charge CN with failing to grant passenger train priority. That Surface Transportation Board proceeding is still under review.
In its upgrade announcement, CN did not indicate plans to expand capacity between Homewood and Gilman to support the additional traffic it says will be channeled to the KCS main line. Yet it remains to be seen whether the company will, in fact, favor that circuitous path. The Chicago-Kansas City-Shreveport, La., route has more grades and curvature compared to a rendezvous with the KCS at Jackson, Miss., via the former IC line through Cairo, Ill.; Fulton, Ky.; and Memphis, Tenn.
While CN's Edgewood Cutoff provides a possible congestion safety valve to Fulton south of Effingham, Ill., even a marginal traffic increase could spell trouble for the City of New Orleans, Illini, and Saluki — given the multi-mile length of most CN freight trains.
Another Amtrak service might be impacted by additional CN eastern Canada traffic. The Chicago-Port Huron, Mich., Blue Water must share the ex-Grand Trunk Western route with CN trains east of Battle Creek, Mich. West of there, the freights have a passenger-free path to Chicago, save for paralleling the Norfolk Southern at South Bend, Ind., for a short distance.
Canadian Pacific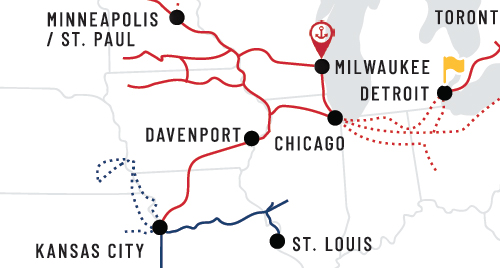 If CP gets KCS, however, its freights would share tracks east of Chicago to Porter or Butler, Ind., with the Blue Water; Wolverine service from the Detroit area; the Pere Marquette from Grand Rapids, Mich.; the Lake Shore Limited from New York and Boston; and the Capitol Limited from Washington, D.C. Trains from eastern Canada have trackage rights out of the Windsor-Detroit tunnel utilizing Norfolk Southern's ex-Wabash line to a connection with the former New York Central east-west main at Butler.
Though there have been some improvements on the NS west of Goshen, Ind., to Chicago, the Federal Railroad Administration declined to advance plans for a separate, all-passenger Porter-Chicago route several years ago because the agency could envision no funding source that would provide the money to build it.
On the other hand, expanded capacity could occur on the CP south of St. Paul, Minn., on the line that currently hosts the Empire Builder. Canadian Pacific traffic from Western Canada headed to Kansas City would follow the Builder's route for about 130 miles between the Twin Cities and La Crescent, Minn., just west of La Crosse. If Wisconsin and Minnesota approve $16.5 million in matching funds, the route would receive funding for $53 million in additions to the mostly single-track CP route, which the railroad as agreed would facilitate a second daily Chicago-St. Paul Amtrak round trip. Much of this work is centered at the Winona, Minn., yard and the junction at La Crescent.
Norfolk Southern passenger train handling received a "C" rating laset year under Amtrak's on-time grading system for host-railroad perform after a four-year "F" average. Canadian Pacific, however, has maintained an "A" during both periods, enhanced by seven daily Hiawatha round trips operating in the 94%+ range on the busy Chicago-Milwaukee corridor.
While either merger could affect Amtrak, a CP-KCS union would appear to have less potential for a negative impact than a CN-KCS hookup. And Canadian Pacific's overall positive predisposition towards passenger trains could expedite expansion over KCS lines between New Orleans and Baton Rouge, La. — one of the routes on Amtrak's 'ConnectUS' map of possible expansion by 2035 — as well as an extension of the Crescent from Meridian, Miss., to Dallas proposed before current Amtrak management dropped the idea.