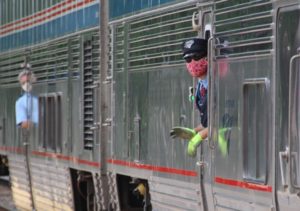 Amtrak will furlough approximately 1,950 of its unionized workers as part of cutbacks for fiscal 2021, according to a message sent to workers today and obtained by Trains News Wire. Additionally, approximately 100 managerial positions will be eliminated.
The largest portion of those, 698 employees, will come from on-board staff represented by the Amtrak Service Workers Council. Other planned cuts, by union:
— Sheet Metal, Air, Rail and Transportation, 509 employees
— Brotherhood of Locomotive Engineers and Trainmen, 390 employees
— Transportation Communications Union, 326 employees
— American Railway and Airway Supervisors Association, 27 employees.
The two locations which will take the largest hits are Los Angeles, where 236 workers — 203 of them in on-board services — will be laid off, and Chicago, where 171 employees will be furloughed. Of those, 165 are in on-board services. Seattle will lose 129 workers, 86 in on-board services.
Amtrak announced it would cut its workforce by as much as 20% earlier this year at the same time it announced its intention to end daily service on most long-distance routes [see "Amtrak asks Congress for more money, plans long-distance cuts, workforce reductions," Trains News Wire, May 26, 2020.] Many of these cuts reflect the reduced staffing requirements resulting from less frequent service. Amtrak says the furloughs are subject to an increase or decrease of 2%. Those who are furloughed will have their medical benefits covered by Amtrak until they are recalled or until Sept. 30, 2021.
Those whose management positions are being cut will be notified on Sept. 16, the memo says. Those positions are in addition to those eliminated by buyouts earlier this year [see "More than 500 accept Amtrak buyouts," News Wire, July 27, 2020].