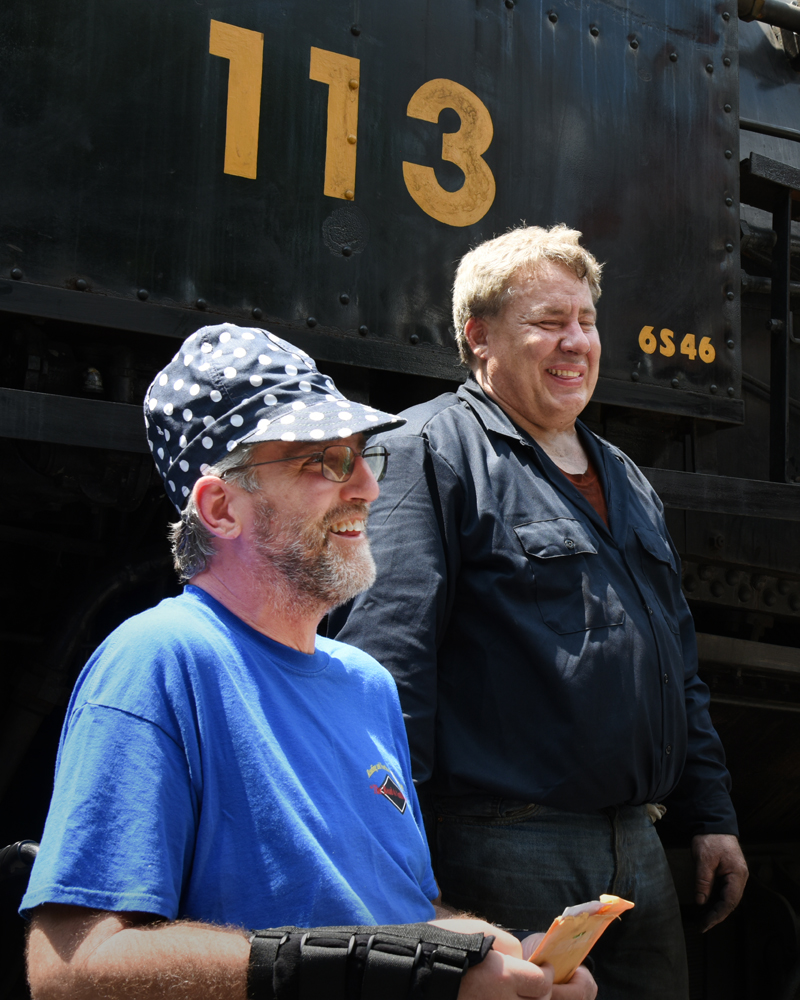 MINERSVILLE, Pa. — An excursion to raise funds for an engineer who has been a key part of the volunteer restoration of a former Central of New Jersey 0-6-0 has raised $12,000 to help with his medical expenses.
Since 2012, when the all-volunteer non-profit Railway Restoration Project 113 of Minersville, Pa., began running its former Central of New Jersey 0-6-0 on the Reading & Northern, R&N engineer Chris Bost has spent more time at the throttle of the 1923 Alco than anyone else.  Now fighting the autoimmune disease chronic inflammatory demyelinating polyradiculoneuropathy (CIDP), Bost is making slow but steady progress through courses of both immunoglobulin therapy and physical therapy. He does not expect to climb back into a locomotive cab until 2022.
On Friday, July 16, Project 113 president Bob Kimmel, Jr., gave Bost a $12,000 check from a June 19 excursion by the preservation group and the Reading & Northern [see "Restored CNJ steam locomotive to head benefit excursion," Trains News Wire, May 3, 2021]. The presentation took place at the R&N Minersville station leased by Project 113 at its headquarters.
"We could not think of a better person to give this to," Kimmel told a reporter.  "I've known him for more than forty years, and I, along with all of the members of Project 113, will always be there for him."
"When I found out that Project 113 was going to run a trip as a benefit for me, I was overwhelmed," Bost said.  "I can't think of any other people that would do something like this.  The only way that I know to pay everybody back is to get well and get back into the cab of the 113 so I can keep helping Bob and Project 113.  And that's what I'm going to do."  R&N colleagues have also donated at least 60 vacation days so Bost can continue to draw full pay instead of disability, and those working the excursion train also donated their time.