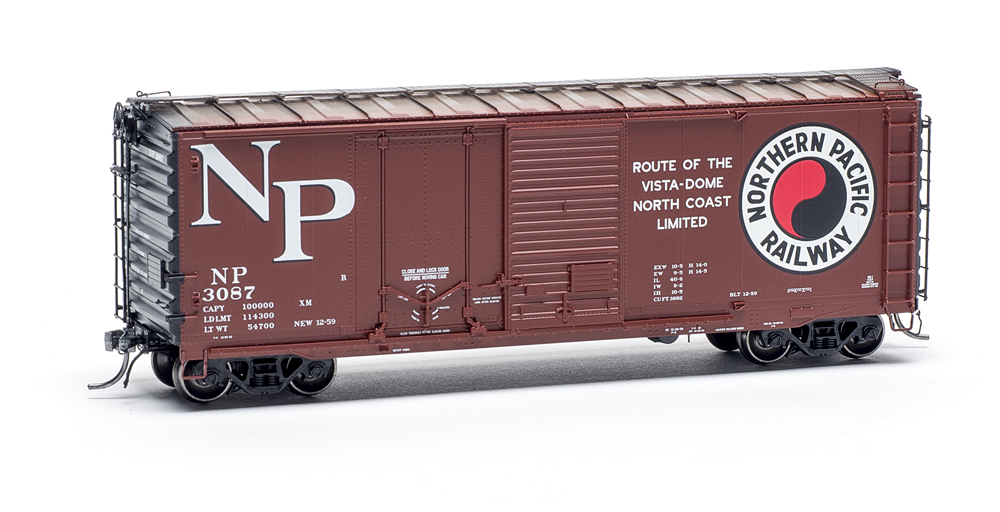 As a fan of the immediate post-merger Burlington Northern, I was excited by a recent email from Tangent Scale Models in which the company announced its release of a 40-foot Pullman- Standard combination-door boxcar in HO scale. The company offers the model decorated for Northern Pacific (NP), Milwaukee Road, and Union Pacific in 12 road numbers per scheme.
The Tangent boxcar has a lot of great railroad-specific detail. The NP car is based on the railroad's 3000 through 3399 series, built between December 1959 and January 1960. The grab irons on the left side accurately extended beyond the car ends. In addition, the door tracks are on standoffs.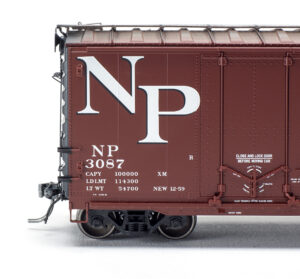 The roof of the NP car is loaded with detail, as well. It features etched-metal running boards, wire corner grab irons, black and metallic brown overspray along the edges, and black paint along the seams.
Tangent offers the 40-foot combination-door boxcar with two different PS-1 ends, two different brake housings (Equipco or Ajax as appropriate), and three different brake wheels (Equipco, Ajax, and Universal). The NP car also features a brand new truck never before offered in HO scale, the 50-ton ASF A-3 Ride Control roller-bearing truck with rotating Timken bearing caps.
Underneath, the car has Kadee scale couplers and trucks with separate brake beam detail. The crossmembers, break appliances, and related piping and rodding are separately applied.
Tangent Scale Models hit another home run with this 40-foot Pullman-Standard combination- door boxcar. The model features a lot of great prototype-specific details, and the new trucks are a nice touch as well. To order these cars, head over to the manufacturer's website, tangentscalemodels.com, or purchase them from your favorite Tangent dealer.