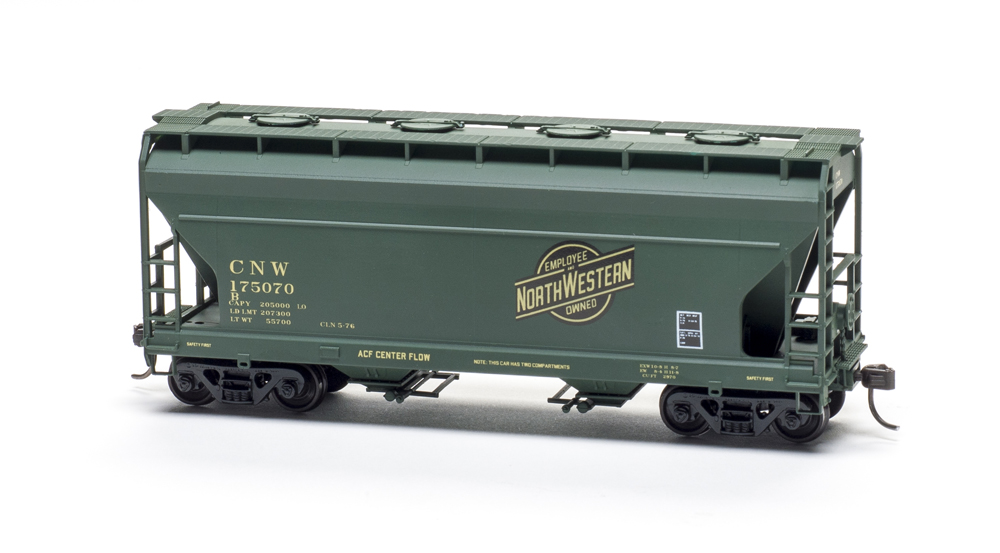 Accurail, well-known for its line of HO scale freight car kits, has added a new model to its product range, the American Car & Foundry (ACF) 2,970-cubicfoot capacity two-bay Center Flow covered hopper. The injection-molded plastic car features a mix of molded and separately applied parts, two-piece pneumatic-gravity discharge gates, and Accumate couplers.
Prototype background. The Center Flow covered hopper design was unveiled by ACF in the early 1960s. The rounded sides made the covered hopper easier to load and unload compared to traditional covered hoppers. The freight car manufacturer built Center Flow covered hoppers in various capacities with different hatch cover styles and between two and four bays for more than three decades. The Center Flow design continues to be used on cars produced by The Greenbrier Companies today.
Our sample is decorated as C&NW no. 175070, part of the railroad's 175000 through 175299 series built by ACF under lot no. 11-02743 in 1967 at its Huntington, W.Va., plant. The cars were originally painted gray with a Chicago and North Western Railway herald in black and white. The Accurail car depicts a covered hopper that was repainted into the railroad's dark green scheme with an Employee Owned North Western herald at the C&NW shops in Clinton, Iowa.
The "B" under the road number indicates the car is in bentonite service. This stencil was added to 64 cars from the 175000-175299 series in late 1976. An article on bentonite covered hoppers is in North Western Lines no. 3 from 2007.
The model. The Accurail kit consists of a one-piece injection-molded plastic body. The underbody shares a sprue with the stirrup steps and discharge gates. A second sprue contains the slope sheets, draft-gear box covers, brake appliances, crossover platforms, and hatch covers. Remaining parts include roller-bearing trucks, plastic wheelsets, Accumate couplers, screws, and a steel weight.
If you're familiar with Accurail kits, the two-bay covered hopper follows familiar construction techniques. A small handful of items are needed for assembly, including glue (plastic cement, cyanoacrylate adhesive [CA], or CA gel), a Phillips screwdriver, needle nose pliers, sprue cutters, a hobby knife, and tweezers.
A single-sided sheet with written and illustrated instructions takes modelers through the 14 steps to build the kit. It took me about 30 minutes to assemble the model.
By the numbers. I compared the model to prototype drawings published in the Chicago and North Western Final Freight Car Roster by Joseph Piersen and Ira Kulbersh (Chicago & North Western Historical Society, 1999). The majority of the dimensions closely follow published data. The model is equipped with Barber S-2 roller-bearing trucks and 33″ plastic wheelsets. The full-size car had ASF A-3 Ride Control roller-bearing trucks with 36″ wheels.
Online, I found a prototype photo of car no. 175070 taken in 1990. The lettering placement largely matches the fullsize car. An ownership stencil is missing from the upper left corner, and the B should be shifted slightly to the right. The herald incorrectly has And between Employee and North Western.
The consolidated stencil is printed on the side of the model. On the prototype, the stencil was applied to a separate metal plate. This could be replicated with Plano Model Products part no. 10879 and a decal.
The body-mounted Accumate couplers are at the correct height. Kadee nos. 5 and 148 couplers are drop-in fits for those who desire metal replacements. At 2.9 ounces, the two-bay Center Flow covered hopper is .5 ounce too light per National Model Railroad Association Recommended Practice 20.1.
I tested the model on our Wisconsin & Southern staff layout. It ran without incident while being pushed and pulled in a train. The car can easily negotiate 18″ radius curves.
A fun build. In an era dominated by ready-to-run models, Accurail has carved out a solid place in the hobby with its line of easy-to-build HO scale freight car kits. The ACF 2970 two-bay Center Flow covered hopper has a nice mix of molded and separately applied parts, so it will stand up to regular handling without shedding details.
Facts & features
Price: Single car, $20.98; three-pack, $61.98
Manufacturer
Accurail Inc.
P.O. Box 278
Elburn, IL 60119
accurail.com
Era: 1975 to mid-1990s (as decorated).
Road names: Chicago & North Western (green and yellow schemes), CSX (tan with Chesapeake & Ohio reporting marks), Denver & Rio Grande Western (gray), Great Northern (gray), and Erie Lackawanna (gray). Also available painted gray with data only. Other road names listed on website but not formally announced.
Features
• 33″ plastic wheelsets, correctly gauged
• Accumate body-mounted couplers, at correct height
• Weight: 2.9 ounces (.5 ounce too light based on NMRA RP-20.1)