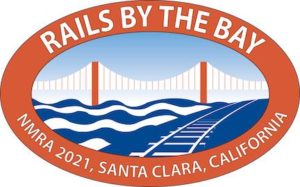 The National Model Railroad Association (NMRA) announced in late January that the 2021 "Rails By the Bay" National Convention and National Train Show have been cancelled. The events were scheduled to be held in early July in Santa Clara, Calif.
"We did not reach this decision lightly but felt it was the best for anyone who would want to attend given the current status of the pandemic, the disbursement of the vaccine, and the fact that people were waiting to see what would happen before they registered," wrote Bob Amsler, Meetings and Trade Show Department Chair, in an e-mail. "Moreover, local prototype facilities were not open and, understandably, home owners were reluctant to allow people in their homes."
Though the in-person convention and train show won't take place, plans are under way for a virtual event. Information posted on nmra2021.org, the official "Rails By the Bay" website, stated, "Tentatively scheduled to start July 6, the four- to five-day event will mix live and recorded video and will have virtual participation by clinicians and layout owners local to the Santa Clara area. Video clinics, layout tours, museum, and railfanning tours are expected."
The host committee plans to release more detailed information on the event by April 2021. For the latest news, please visit nmra2021.org.