WAUKESHA, Wis. — It's mid-April and the second-annual Walthers National Model Railroad Build-off is well-underway. Across the country, modelers are hard at work on their layouts. With four different categories and hundreds of contestants, the judges are sure to see no shortage of talent from this year's submissions.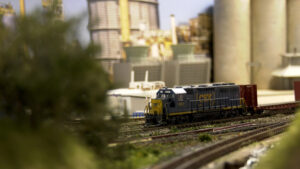 "Open class" contestant Domenic Joseph Arlia, otherwise known as DJ, is one of the many enthusiastic modelers who have decided to put their skills to the test. And as a former CSX Transportation conductor-turned railroad engineer-turned model YouTuber, Arlia has years of experience working with trains both on and off the layout.
When he was first approached by Walthers to enter the contest as an "influencer", he was ecstatic. "I grew up with Walthers," said Arlia, "I've built pretty much everything that Walthers has ever come out with."
His entry, an N-scale layout designed to look like an old chemical plant based in Pittsburgh, Pa., where he lives now, is a little out of his usual comfort zone.
"I always tell people: model what inspired you as a kid," said Arlia. But this time, he's ignoring his own advice and designing a layout based largely from his imagination. It's his first-ever attempt at modeling a modern layout, and he wants to tell the story of a business that – once popular in its heyday – now stays open by the sheer will of a few loyal customers.
Built to look both dilapidated, but rich with history, Arlia's layout will feature a short stretch of track because, according to him, "The less track, the less stress." He instead wants to focus more of his energy on perfecting the scenery, which is one of his favorite parts of modeling.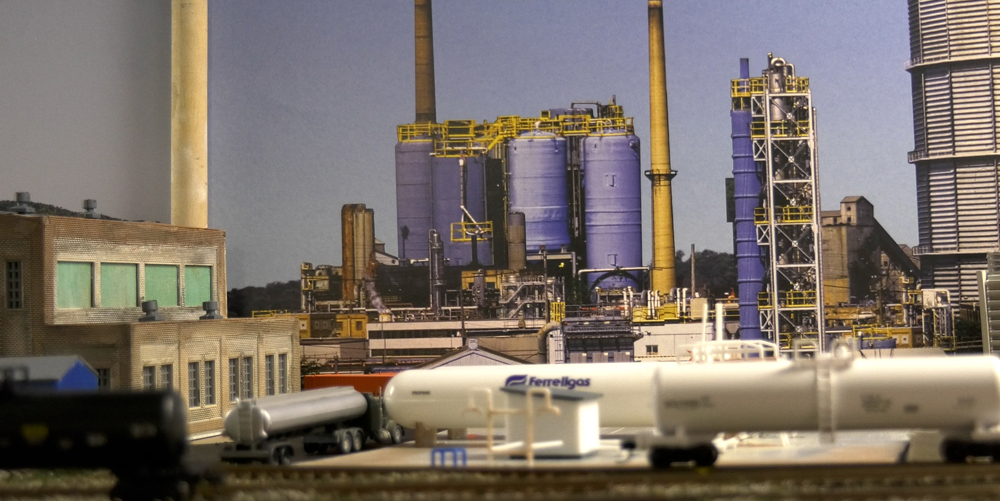 He entered the open class category, which was introduced by Walthers for the first time this year, because it was the only one that allowed the submission of an N-scale layout. Unlike the HO-youth, HO-adult individual, and HO-adult team categories, the open class category is open for applicants of any age and can be completed in HO, N, or O scale, and requires no purchase for entry.
Arlia is a longtime fan of modeling in N-scale. He finds that the size permits so much to go into a small area, allowing for people to build all they want in that spare bedroom or basement corner.
"The details are phenomenal, and the price is good for even entry level people. There's so many upsides to N-scale."
Arlia's career as a YouTuber started almost by accident back in 2010, when he was selling some his of own scratch-built trains on eBay and a customer requested to see a product from a different angle. He decided to make a short video of the train to post on YouTube, and his channel quickly snowballed.
Now, 10 years later, the YouTube channel DJsTrains has 234 videos, almost 38,000 subscribers, and a collective view count of over 5 million. He's since branched out to Instagram, Facebook, Twitter, and Patreon, making sure to take some time each day to post content for his worldwide audience. Arlia even has his own website, where he offers everything from building tips to branded merchandise.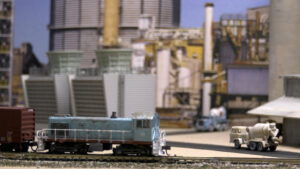 Arlia makes mostly how-to videos, and even recently acquired a drone operator license to capture overhead shots of railroads, but still finds that his scenery and track planning videos tend to be the most popular.
"Everybody likes to start with a sheet of plywood and think, 'How can I make this more realistic?' That's when I come in."
When Arlia isn't working for the railroad, he's spending countless hours each week filming, editing, and answering emails. His light-hearted videos, filled with helpful tips and jokes alike, are a reflection of his personality. And his response has won over the masses, making him a mentor for many.
"People are afraid to try," said Arlia, "But you got to start, and each time you'll get better."
His parting tip for modelers looking to hone their skills? When taking pictures of a layout, Arlia advises people to put their camera lens as low as they can possibly go. "You want to view your layouts as though you were standing right there. The pictures turn out a million times better."
To follow along with Arlia as he documents the progression of his layout, check out his Instagram or Youtube channel. Although he is unable to win the contest due to restrictions placed on Walthers "influencers", his scenery-laden N-scale layout is worth taking a look at.
The last day to submit a layout for judging is May 30. Although the deadline to enter the HO-youth, HO-adult individual, and HO-adult team categories has officially passed, contestants can still enter via the open class category right up until the final day.
More information is available from Walthers' website.