Broadway Limited Imports announced its new Paragon4 sound and control system with Rolling Thunder. The first two models with the new technology will be an Atchison, Topeka & Santa Fe 2-8-2 steam locomotive and Electro-Motive Division (EMD) GP20.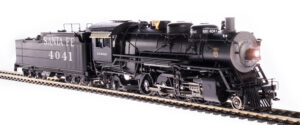 Features of the dual-mode Paragon4 system include a built-in GoPack capacitor that's automatically disabled on the programming track for full compatibility with JMRI's Decoder Pro, Pro Lighting Mode for individual control of all lights on a model, Switcher Mode for low-speed control, quillable whistle, choice of three air horns, adjustable bell ringing intervals, grade crossing whistle signal, automatic forward/reverse signal, load-based diesel engine sound intensity, individually adjustable sound volumes for each effect, numerous user-mappable functions with available keys, and an EZ Reset Button for quick return to factory default settings. A DCMaster, sold separately, is required to control sound effects on direct-current layouts.
The Santa Fe 2-8-2 steam locomotive will be offered in two versions: with a switching pilot and oil tender and with a road pilot, oil tender, and large rear headlight in four road numbers each. Both versions will be offered painted black but unlettered. The model, scheduled for release in May 2021, will be priced at $499.99.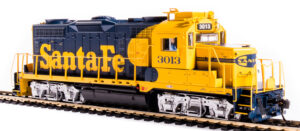 The EMD GP20 will be decorated for Atchison, Topeka & Santa Fe; Burlington Northern; Chicago, Burlington & Quincy; Conrail; Electro-Motive Division demonstrator (one road number); New York Central; Southern Pacific; and Union Pacific, in two numbers per scheme unless noted. An undecorated version is also available. The four-axle road switcher, also due out in May, will be priced at $329.99.
For additional information, visit broadway-limited.com