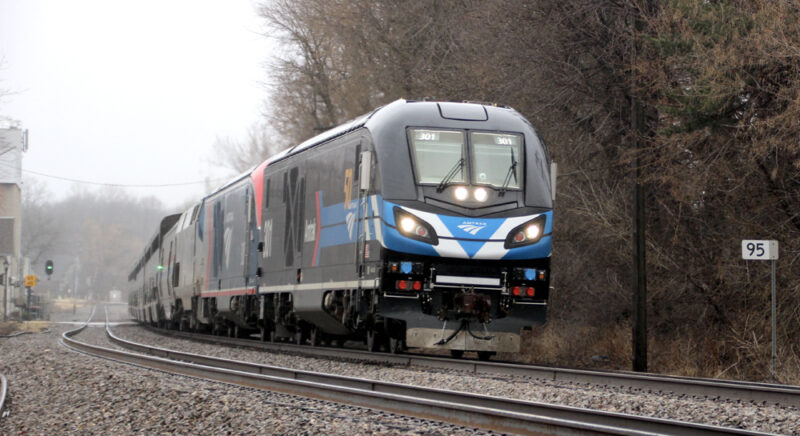 ---
If you're new to the hobby, you might be wondering if you can operate any locomotive on a modern passenger train. If you're looking to be prototypical, the short answer is no. Many factors go into this simple answer, so let's explore why you can't pull passenger trains with freight locomotives and what limits any locomotive in general from being passenger motive power.
First off, passenger trains require certain specifications in terms of speed, power, and capacity. They typically run at higher speeds than freight trains and therefore require locomotives that are designed for the demands needed. These locomotives have different gear ratios, brake systems, and other components that are optimized for passenger service.
Secondly, passenger trains must comply with certain safety regulations that do not apply to freight. For example, passenger trains must have emergency brakes that can be applied from any car and meet crashworthiness standards to protect passengers in an accident. These safety features are not required for freight trains.
Thirdly, passenger trains require certain amenities for the comfort onboard, such as air conditioning, heating, and seating. These amenities require special HEP (Head End Power) which is typically not present on freight locomotives primarily used for hauling goods and materials. HEP units are normally installed inside the carbody of a passenger locomotive, from Amtrak's classic F40PH to their modern P42.
In the 1950s, diesel locomotives were initially fitted with generators providing steam heat for the passenger cars, a technique previously performed by steam locomotives. As railroads transitioned from steam to diesel power, the generators became a cost-effective way to heat older passenger cars without having to completely rebuild them.
The Chicago & North Western Railroad took a significant step in the late 1950s by replacing steam generators on their EMD F7 and E8 locomotives in their Peninsula 400 commuter service with diesel-powered generator sets. It became a natural evolution since the locomotives were already supplying low-voltage, low-current power to assist the axle generators in maintaining a battery charge. Although many commuter systems quickly converted to HEP, long-distance trains still relied on steam heat and battery-powered electrical systems. This gradually changed when intercity passenger service was transferred to Amtrak, leading to the full adoption of HEP in the United States.
The use of HEP provides several advantages for passenger trains such as more efficient use of power generated from the locomotive than using multiple individual generators on each car. It also allows for a quieter and more comfortable ride for passengers as the noise and vibration from the individual generators are eliminated. Lastly, it allows for a more flexible configuration of passenger cars as they can be added or removed without the need to modify or add additional electrical systems.
HEP is commonly used on modern passenger trains, including commuter, intercity, and high-speed services. The power needed is typically supplied through a set of electrical connections known as a "head end" or "hotel" connection between each car. This connection allows the locomotive to supply electrical power to the entire train. The power itself can vary depending on the train and its configuration, but typically ranges from 480 volts to 600 volts AC at a frequency of 60 Hz.
Another reason that not just any locomotive can be used on passenger trains is that there are legal and regulatory requirements that must be met before anyone can be used in passenger service. All locomotives must be certified by the Federal Railroad Administration (FRA), which sets safety standards for passenger rail service.
The use of proper-working ditch lights is one of the major requirements by the FRA, specifically under Title 49 of the Code of Federal Regulations, Part 229.125. They must be visible from a distance of at least 1,500 feet in daylight conditions, and at least 5,000 feet at night. Ditch lights must also be aimed in such a way to illuminate the tracks and any obstructions either on or near them.
The use of ditch lights has shown to be an effective means of reducing accidents at grade crossings and other areas where the tracks cross roads or any other pathways. As a result, they are an essential safety feature on passenger trains in the United States and are now required by law.
In conclusion, specific locomotives must be used to run passenger trains in America, whether modern or otherwise. They're required to be specifically designed and equipped for the purpose of carrying people, and must meet specific safety, comfort, and regulatory standards of the modern age. While freight locomotives may be used for certain types of passenger service, such as on commuter and tourist trains, they cannot be used for high-speed intercity service or other forms of passenger rail service that require specialized equipment and systems.