Modeling freight car loads: Kalmbach Media will be releasing Keith Kohlmann's new book Model Realistic Freight Car Loads at the end of June. The 112-page book will feature a variety of loads, including farm machinery, heavy equipment, steel and metal products, assorted vehicles, forest products, and building materials.
Seeing the announcement for the book on the Kalmbach Hobby Store website got me thinking about loads I've come across while trackside. Here are five loads that would make interesting additions to your freight car fleet.
A wrapped lumber load you can model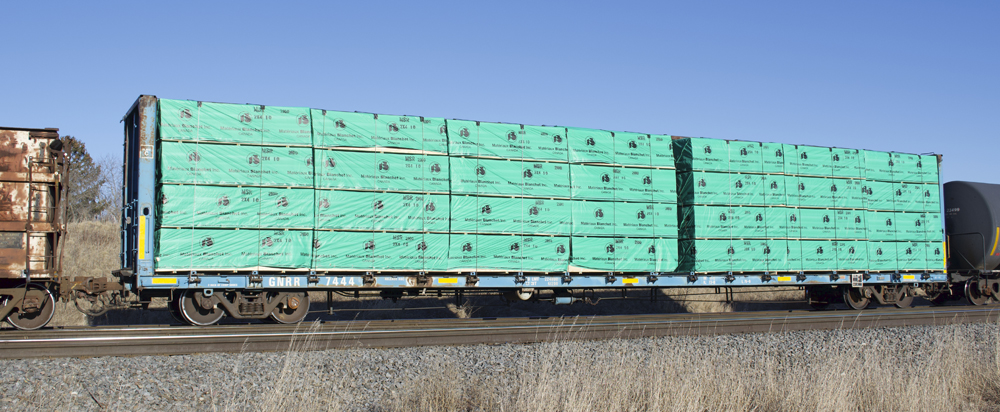 An assortment of building supplies travel by rail, including dimensional lumber, plywood, rim board, and siding, among other items. Most of these materials are shipped on center-beam bulkhead flatcars, which have been used by railroads since the late 1960s. The building materials may be wrapped or unwrapped. Jeff Wilson notes in his book The Model Railroader's Guide to Industries Along the Tracks 4, "Wrapping is most often done for products prone to weather damage, such as dried untreated lumber, plywood, and drywall. The wraps often have the manufacturer logos on them, giving load lumber cars a colorful, varied appearance."
For information on modeling a lumber load, read contributing editor Pelle Søeborg's article "Detail and add a load to a center-beam flatcar" in the October 2011 Model Railroader.
Other options for modeling wrapped lumber include Walthers SceneMaster loads designed for the WalthersMainline HO scale 72-foot center-beam flatcar and HO scale Canadian Car & Foundry bulkhead flatcar. Jaeger HO Products also makes an assortment of wrapped lumber load kits, which you can find at brick-and-mortar and online retailers.
Stacked steel plate load you can model
OK, I'll confess. I didn't photograph InStar Group short-bulkhead flatcar no. 158 for its load. No, I documented it because I don't have many photos of short-bulkhead flatcars, and this car was relatively clean for a modern freight car. Only after I got home from my day trackside did I take a closer look at what the car was carrying. It was loaded with stacked steel plates.
Steel plates are used in the construction of buildings, household appliances, military equipment, ships, vehicles, and more. Because of the weight of the material, the loads often appear small. However, if you subtract the car's load limit (215,800 pounds) from the light weight (70,200), that means there could be as much as 145,600 pounds, or 72.8 tons, of steel plate on IARX no. 158.
If you want to re-create a load like this, read M.R. Snell's article, "Model Realistic Stacked Steel Plates" in the March 2016 Model Railroader. If you're looking for an off-the-shelf option, Moon Dog Rail Cars offers 40- and 60-foot steel plate loads and a steel plate tie down strap kit.
A pulpwood load you can model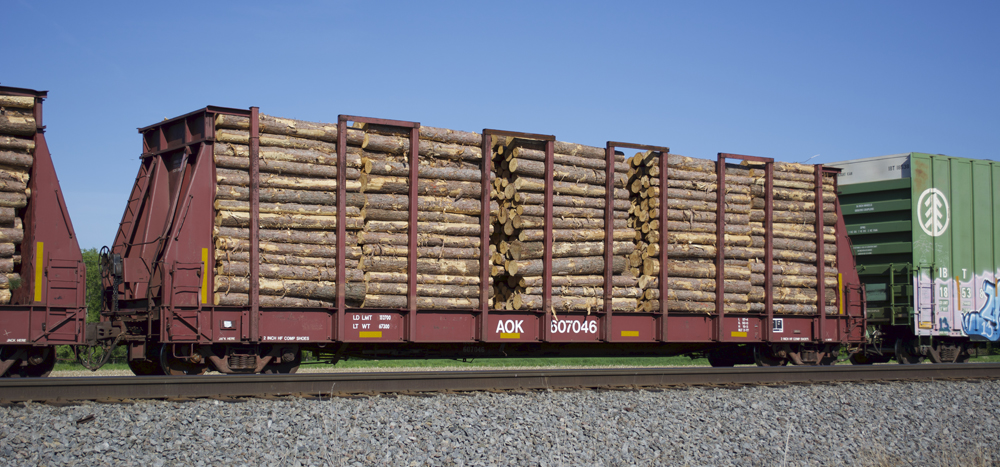 In northern Wisconsin, pulpwood loads are pretty common. In the southeast corner of the state, not so much. That's why I was surprised to stumble across a pair of Arkansas-Oklahoma RR (AOK) bulkhead flatcars set out on the Canadian National at Pewaukee, Wis., in May 2014.
Information on the full-size car wasn't easy to find. From what I pieced together online, the car was built by Southern Iron & Equipment (SIECO) for the Southern Ry. in February 1977. After being sold by Southern Ry. successor Norfolk Southern in the 1980s, the car went to MidSouth Rail and Kansas City Southern before arriving on the AOK (that's a great reporting mark, isn't it?) I think the stake pockets and side stakes were added by the AOK.
There's no article I can point you to for this car. I'd recommend starting with the Walthers HO scale or Atlas N scale 50-foot SIECO pulpwood flatcar. Neither version has stake pockets or side stakes, so those will need to be added. I'm not aware of any commercial loads for this car with the logs parallel to the car sides. Those could be fashioned out of painted and weathered dowels or small branches cut to size.
Scrap wheel load you can model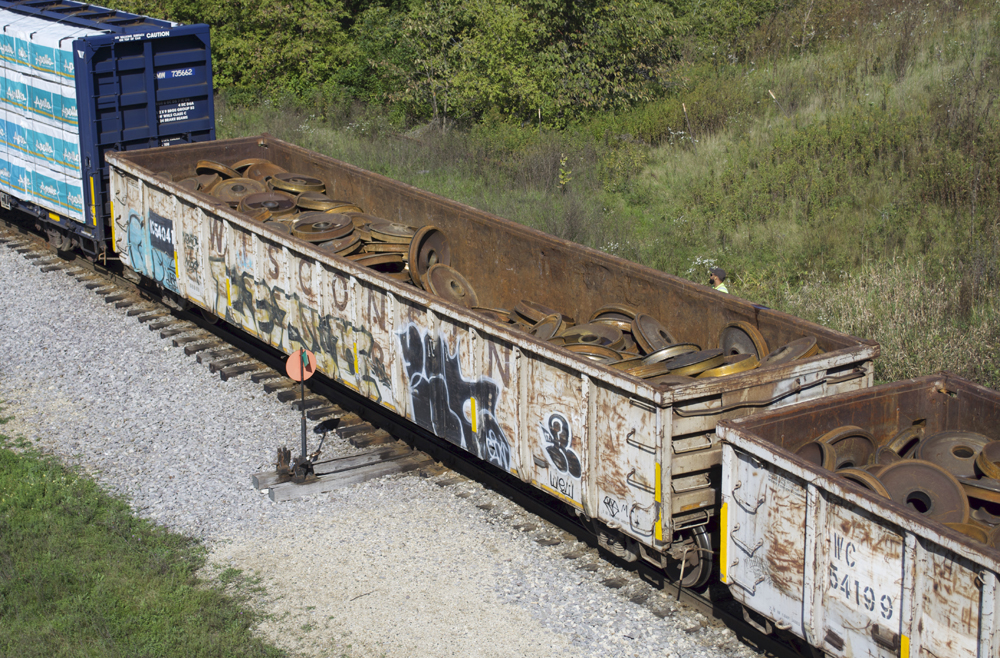 I took advantage of a beautiful early October afternoon to watch the Wisconsin & Southern work the interchange with Canadian National at Ackerville, Wis., about 30 minutes north of our Waukesha headquarters. A bridge over the tracks provided a nice vantage point to watch the action. Among the cars being switched were a pair of Wisconsin & Southern 52'-6" gondolas loaded with scrap wheels. One detail to note is the tread on the wheels. Some have dark rust, suggesting they were removed a while ago. Some have light rust or a bit of polish on the tread, indicating they were removed more recently.
Chooch Enterprises, now part of Wm. K. Walthers Inc., offered an HO scale scrap wheels load for gondolas (no. 7230). You might be able to find the limited-edition casting at model train swap meets and online auction websites. Micro-Trains produced an N scale scrap wheel load as item no. 499 43 935. The load had older "ribbed back" wheels. You could also make your own load by painting plastic wheelsets a rusty metal color and attaching them to a base.
A birthday cake load you can model
Let's have a little fun, shall we? When Slinger, Wis., celebrated its 150th anniversary in 2019, a special train was brought to the village. Soo Line 2-8-2 no. 1003, the star of Trains magazine photo charters, led a short train consisting of a Soo Line plywood-sheathed caboose and a Milwaukee Road flatcar, 40-foot steel refrigerator car, and ribbed-side bay-window caboose. The flatcar was neatly trimmed with red-and-white bunting, a nod to the colors of Slinger High School. On the deck were historic photos from the village and an oversized novelty birthday cake.
Re-creating a load like this would be fairly easy. You could make the graphics for the cake on a computer, print them out, and wrap them around different sizes of dowel to get the tiered birthday cake look. Historic photos could be scaled on a computer, printed out, and attached to three-sided displays fashioned from cardstock or styrene. Other details, like the bunting and simulated frosting on the cake, could probably be sourced from a craft store. And if anyone tells you a birthday cake load isn't prototypical, you can show them this photo!