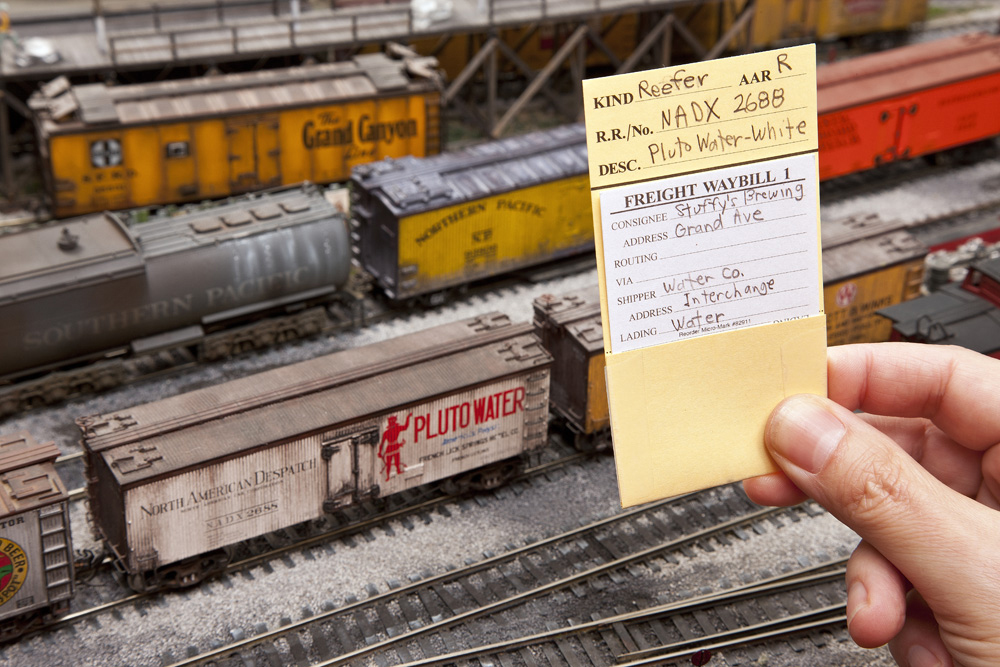 Q: How would a car card or waybill be noted or used for reefers needing icing or cattle needing feed and water along the way between the car's origin and distant final destination? – Dick Piehl, Whitewater, Wis.
A: Both activities are governed by time – the first by the practical limit of how long ice takes to melt, the second by the legal limit of how long cattle may be in a car before they are required to be rested. It's unlikely that any model train layout is big enough that a train originating on the layout would run out of time before physically running out of track. However, a through train that originates and terminates in staging representing distant cities could well need to replenish ice or rest livestock during its trip over your modeled rails. Simply add waybills treating the icing yard or the stockyard as a destination for those cars. Then, issue waybills to another train to pick up the refreshed cars and carry them the rest of the way to their off-layout destination.
Q: I've been an armchair modeler since my kids were born in the 1990s. I'm finally ready to build a layout, but don't have space for something permanent. I've chosen to build a modular layout in HO scale, but am having trouble finding the specifications for modules. I can't even find them on the National Model Railroad Association (NMRA) website; it lists detail for N scale and states that other pages have information for other scales, but I can't find those other pages. Where can I find a complete list of specs for HO scale modules? – Tony Schondel, Victorville, Calif.
A: The National Model Railroad Association (NMRA) has a few Standards and Recommended Practices governing the dimensions of modules to guarantee interoperability. Go to nmra.org/index-nmra-standards-and-recommended-practices. Scroll down near the bottom and look for the documents "Introduction to Modules," "MS-1.0 Standard Gauges," "MRP-1.0 Standard Gauges," and the sheets on electrical specifications. There are other data sheets there if you intend to build in narrow gauge or traction.
For a more freewheeling approach, check out Free-Mo, a group advocating a less rigid standard. The Free-Mo specification covers only the connecting end plates of the modules, allowing the modeler to build any size, shape, or configuration of benchwork and track in between those plates. You can find information on the Free-Mo standard at free-mo.org.
Q: I read your review of the ScaleTrains.com SD40 [November 2017]. In all the reviews of decoder-equipped engines, I don't think there have been any comments about inclusion of a list of Configuration Variables (CVs) for the decoder. Do the manufacturers include a CV list or is it up to the purchaser to seek them out? – Norm Bell
A: In order for all DCC decoders to be usable on any DCC control system, they all follow the NMRA's Standard S-9.2.2 for Configuration Variables. This document lays out what a decoder's CVs should be. While many of these CVs are listed as "optional," that means a manufacturer may choose not to implement that CV; they can't put a different CV at that number or move that CV to another number. If a decoder doesn't follow S-9.2.2, they can't call what they produce Digital Command Control. There are plenty of places on the Internet you can look up the list of standard CVs, and that list will apply to all decoders, regardless of manufacturer.
Many DCC decoder makers, though, have created and implemented additional CVs to govern functions not covered by the NMRA's standard. It's up to the decoder and/or locomotive manufacturer to provide you with a list of those CVs and what they do. Since the manufacturers add these CVs to control special features of their decoder, they consider them selling points and probably make this information easy to find on their websites.
Q: A while ago I ordered two boxes of Midwest Products N scale cork sheets from two different vendors. They've been sitting on my shelf. I opened them today. The contents of one box is a light shade, while the other box is darker. Why are the colors different? If I add ballast after laying track, can I mix these shades together without the different colors showing through? – Peter Terwilleger, Tryon, N.C.
A: Cork is a natural product, being the underlayer below the bark of a cork tree. This means there will be natural variation in it, depending on the location and growing conditions of the particular tree your batch came from, just as the bananas you get at the store come in different lengths. Proper ballasting should completely cover the cork, but if you're still worried about it showing through, paint the cork after gluing it down and before laying your track.
Send us your questions
Do you have a question about model railroading you'd like to see answered in Ask MR? Send it to associate editor Steven Otte at AskMR@MRmag.com