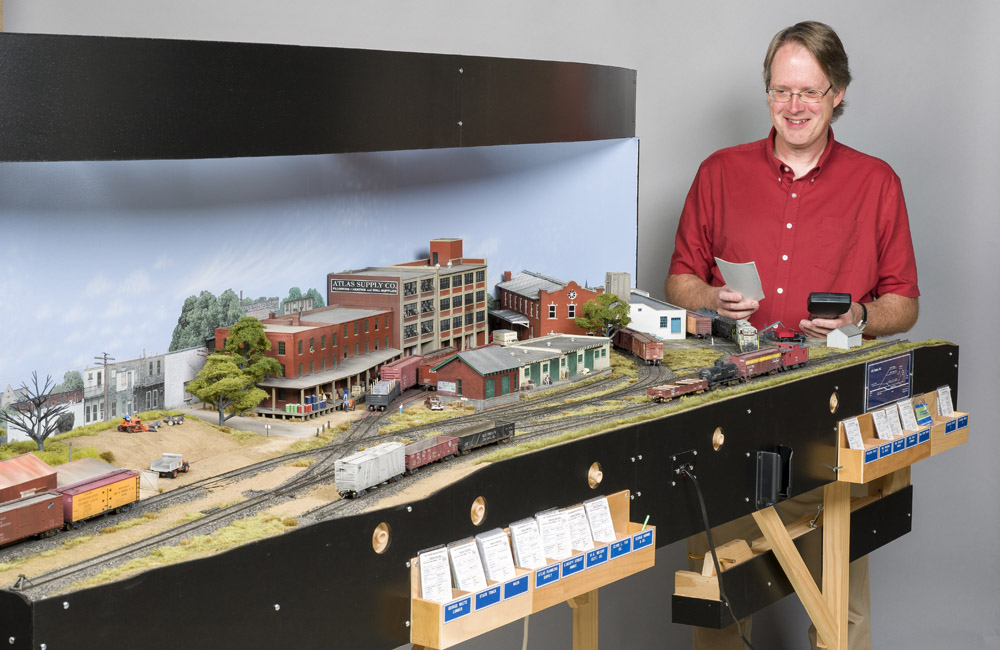 Q: My wife and I are discussing purchasing our forever home and there are questions about including room for, and the cost of, a MRR layout. I have Parkinson's Disease, so HO scale is the smallest I can imagine modeling. That scale (or larger) will require a good bit of layout space, plus working space. A basement is a likely spot, which means stairs. We're trying to sort all this out and I am hoping not to have to scrap all hopes of a layout.
We are also struggling with what becomes of the work and dollar investment that the layout and rolling stock represent when it comes time for my wife or adult children to sell the house with a layout in the basement.
Thirty years ago, I had a nice sized layout well underway, with about 250 feet of HO track. The home buyer had two young boys about ages 8 and 10, but he broke my heart when he revealed to me that the room was destined to become the home of a ping-pong table. He asked me to demolish the layout. I'd like to avoid such a loss in the future. Any helpful thoughts or advice would be appreciated. – Ken House
A: You've got a few questions there, not all of which I am qualified to help you with (like estate planning or building an accessible house). So let me tackle the one I can, and that's planning for the ultimate fate of your layout.
As Chaucer wrote, all things must come to an end. Your plan now may be for this to be your "forever home," but as another well-known saying goes, no plan survives first contact with the enemy. And the enemy here is time. As we grow older, we inevitably begin to accumulate infirmities. (I may only be in my 50s, but I can already tell that arthritis and poor eyesight are in my future.) As this happens you may find yourself downsizing from a house to a condo to an assisted-living home. The key is to plan a portable layout you can take with you.
When you were living in your previous house, it made sense to build your layout on benchwork attached to the basement walls. But that meant that when it came time to sell that house, the layout had to stay with it or get demolished. When you build your next layout, design it to be moved. Make it sectional. Place it on removable wall brackets, or give it legs to make it standalone. Put key scenes on manageable-sized shelves so that when the time comes, they can be removed from the layout and incorporated into a new one. Design each town to have enough switching opportunities to be operated on its own, so if you must downsize to a dwelling with limited space, you can take along your favorite section.
You might find that if you add a removable staging shelf, as we often do on our standalone project layouts, one town is all you need. Our Winston-Salem Southbound project layout (January-April 2018) provides plenty of switching fun, but at just over 8 feet long, would fit easily along one wall of the living room in a retirement home. Look at the picture above and you'll notice the swing-away staging shelf or switching tail track hinged under the right-side benchwork. Accommodations like this, as well as under-benchwork curtains, make the layout neat and unobtrusive when operating time is over for the day.
For even more variety, build the industries on their own removable foamcore bases so you can keep them on shelves under the benchwork and swap them out as desired. Spurs that serve a scrap yard and a factory one session might host a lumber yard and a feed mill the next. This not only increases your operational variety, but gives you something else to build after the layout is complete.
Even if you are lucky enough to stay in your next home the rest of your life, building a sectional, movable layout gives you or your survivors the option of selling it separately from the house to a hobbyist who will appreciate it.
Yet another saying comes to mind – "you can't take it with you." But if you plan your layout to be sectional, you can take at least part of it with you most of the way.
Send us your questions
Got a question about modeling, operation, or prototype railroading? E-mail it to us at AskTrains@Trains.com. Include your full name and hometown and put "Ask MR" in the subject.