The Lionel LionChief Plus 2.0 0-6-0T steam locomotive is an attractive O gauge model with lots of nice features and a moderate price.
The engine was originally listed in the 2019 Vol. 2 catalog and again in the 2020 Big Book. Due to shipping delays, it's just becoming available.
It comes lettered for Atchison, Topeka & Santa Fe; Bethlehem Steel; Brooklyn Eastern District Terminal; Denver & Rio Grande Western; and Pennsylvania RR. It will also serve as the motive power for several sets, including Christmas Candies, Easter Eggspress, Granite Run Quarry, and The Polar Express.
This steam engine operates with the LionChief Plus 2.0 system. Consequently, it can be used with any of the company's control systems: conventional transformer, TrainMaster Command Control, Legacy, LionChief universal remote controller, and the app for smartphones or tablets.
It doesn't come with a controller, so you'll need a universal Bluetooth remote or the LionChief app. It's available for free download for Android or Apple devices.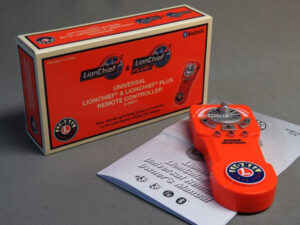 Pairing the locomotive with your Bluetooth controllers is easy and quick. The 0-6-0T is equipped with a wide range of features, including directional lighting, a whistle, a bell, and other sounds. The volume can be adjusted from the controllers. Remote Electrocouplers are on the front and back. Be aware that the remote couplers do not work with conventional transformer control or with a traditional remote-control track section.
The fan-driven smoke generator uses Lionel smoke fluid. It's controlled by an on/off switch under the locomotive. Smoke output is not variable, but rather is synchronized to the wheel rotations.
There's also an announcement option with different messages. In addition, there are two electrical pickups for good electrical connectivity. The engine's short wheelbase means it can operate on even the sharpest Lionel curves.
Using both the universal Bluetooth controller and the LionChief app, the locomotive operated flawlessly with all functions working as expected. Lionel equipped the 0-6-0T with a traction tire and left off Magne-Traction. Even so, it easily pulled a train of eight cars on a level route.
The catalog price is $249.99, and a universal remote is an additional $40 to $50.
This little steam engine may not have all the features of a Legacy locomotive, but I found it has everything most operators will want and use, and it's a good runner.