Menards Cripple Creek General Store is the latest O scale structure for the apparently burgeoning fictional burg. Several of the company's buildings, including a recently released interlocking tower, are "located" there.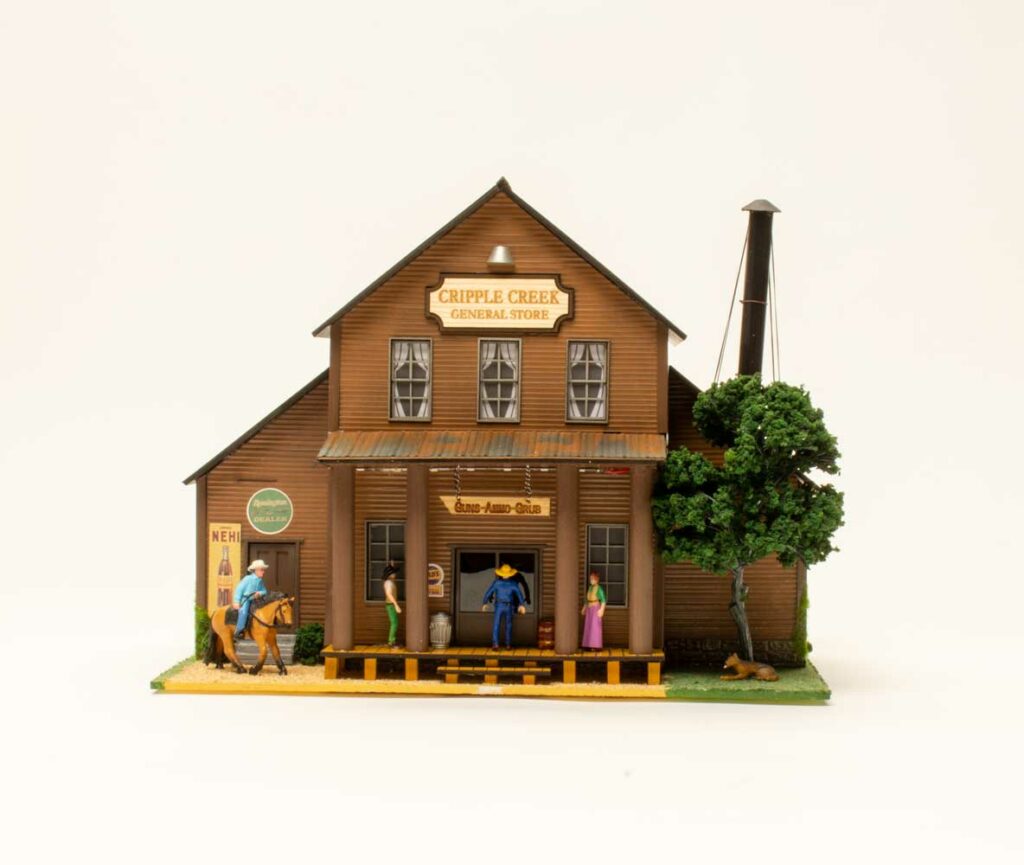 This one is a little different detail-wise from the others. It has more of an "old West" feel primarily due to the figures that come mounted on the base. They include a cowboy on a horse, a couple of ranch hands, and a woman in a long skirt who bears a striking resemblance to Miss Kitty of "Gunsmoke" fame. Of course, Jack the German Shepherd also makes an appearance.
Menard's Cripple Creek General Store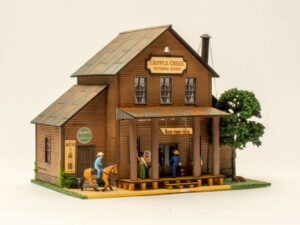 The two-story building has a rustic feel with its clapboard siding and metal roof. The latter is weathered and has streaks and patches of simulated rust. A tall smoke jack supported by guy wires rises from one side.
The front features a boardwalk-style porch, a sign attached by chain advertising "Guns-Ammo-Grub," and a few vintage ads along the same lines. A wooden barrel and a metal trash can sit on either side of the front doors. The building is on a landscaped base featuring simulated gravel, grass, trees, and shrubs.
The double-pane windows have simulated curtains. The building is also lit on the outside by a fixture above the Cripple Creek General Store sign and LEDs under the front porch roof. There's a socket out back and a pigtail beneath the building for the 4.5V power supply (sold separately, Menards nos. 279-4061/4361, 4062/4362, or 4050). The interior is unlit, but with the hole in the base an enterprising modeler could change that.
Quick thoughts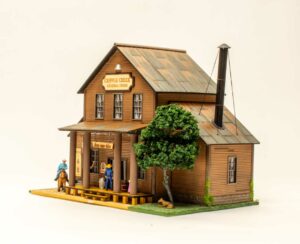 This is an ideal building for the toy train enthusiast who likes to run their Lionel General or other "old-timey" looking locomotives. It would be at home on a 19th or early 20th century Main Street. The only detail that seems a little out of place is the metal trash can; I don't think it would be too difficult to remove if it sticks out to you. You can always tone down the shiny aluminum paint with a color that's a little less bright.
The Menard's Cripple Creek General Store is another solid building for an O gauge display. It's nice to see a structure that's useful for multiple time periods. It has a $79.99 MSRP and is available from your local Menard's store or from Menards.com/trains.