The new Lionel Legacy Genset locomotive is a nice-looking O gauge model of an innovative and environmentally conscious prototype. The full-sized versions get the job done while saving fuel and producing lower emissions. Simply put, the units are equipped with multiple small diesel engine-generator combinations rather than one large one. The number of power sets used at any one time depends on the load.
The Genset concept is pretty mature. More than 180 have been purchased by American railroads, transit agencies, and industrial concerns. BNSF, the road name of the Lionel model, owns more than 70.
How it works
Several firms have fielded Gensets with power ratings ranging from 300 to 4,000 hp. Move two or three empty boxcars requiring 600 hp, and one engine-generator set comes online. Moving two or three gondolas of scrap metal requiring, say, 900 hp, and two of the sets would fire up. Have a 15- or 20-car freight of mixed weight? All three of the locomotive's Genset power units would kick in.
Using the right number of smaller prime movers expends less fuel, reducing costs and exhausting less out of the stacks.
More on the model
The Lionel Genset is based on a 2,100-hp 3GS21B unit from National Railway Equipment. This O gauge model looks more like a yard switcher, but it's capable of doing the work of a road engine.
I'll note here Lionel's 2009 release of the Genset had a die-cast metal shell. This model has a new plastic shell. Still, unwrapping it I thought there was a nice bit of heft to it. This is a solidly built locomotive.
You can see the hood has a significantly lower profile than that of a regular road switcher like a GP40, and there isn't a lot of empty space inside!
The model measures 16″ long and has remote couplers on each end. It mounts twin two-axle trucks. The cab is conventionally sized. Thanks to the lower hood height, it evokes the extra crew visibility of Alco's old C-415 center-cab diesel.
The pilot is finely detailed with ditch lights, an uncoupling lever, and brake and multiple-unit hoses with silver-painted gladhands.
The deck has white handrails at the steps and black rails up to the cab. The front handrails are yellow and mount a safety chain. Of special note are the steps. They have perforations so water can drain away for crew safety during wet weather.
Over on the engineer's side of the nose, you'll find a grab iron and a sand filler cap. The point mounts a vertical twin-beam headlight. There are also white grab irons on the corners. The fireman's side features another sand filler cap as well as a manual brake pump.
I really liked the appearance of the cab jutting upward over the locomotive's shell. It has a flat face with four forward windows and wiper arms on the front and rear of the engineer's and fireman's sides. The cab roof overhangs the cab, and there is a number board just below.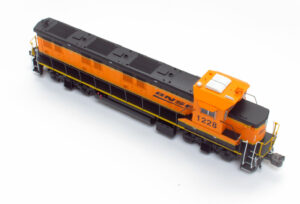 Lots of detail
Some of the model's most distinctive details are on the cab roof: a horn, twin air-conditioner units with visible see-through exhaust, and cast-in air intakes. Assorted radio and GPS antennas and a horn complement the look.
The long hood roof is very nicely done. When the model is removed from the box, the three holes for the exhaust stacks on the long hood stand out. These parts are included for you to add. They slip right into the appropriate hole for a snug fit.
There are some terrific cast-in lift rings – not the familiar wire loop, but a solid representation with a hole for attaching a hoist to lift the hood for easy access. These not being an easy-to-break-off point for my fingers gets high points from me.
Even more to see
At the far end of the roof is an air intake. This see-through screen adds an extra bit of realism that a cast-in intake lacks. A second horn is placed on the rear of the hood.
The body's rear end has a slight curve. Up top is a horizontal twin-beam headlight. Below it is a sand filler cap. Just to the right is a hatch with cast-in hinges. The deck mirrors the front regarding handrails, grab irons, and below-the-deck lighting and details.
The louvers have some depth to them, and the hinge and latch detailing is excellent. No, your eyes aren't deceiving you with the photo above; you really can see through the side grills.
I think this locomotive just may have the deepest latch detail I've ever seen on a model. Things like this show you where the money went in creating a credible rendition of the real thing.
The casting of the die-cast metal trucks is first-rate. You'll find add-on wire "sand lines" arcing down to the rails.
Paint and decoration are excellent. Crisp paint lines and numbers and a host of small warnings and other notices are finely applied where needed.
On the test track
This is a solid model with plenty of details, such as battery box latches, see-through screens, and add-on details. But how does it operate? Wonderfully!
You can run the Genset different ways. Conventionally, you can use a transformer. Command operators can use Lionel's TrainMaster or Legacy control systems. Or you can try Lionel's Bluetooth Universal Remote or via Bluetooth with the Lionel LionChief app on your phone or tablet.
A note to conventional runners: You may not get some of the features as with the other control methods, but you will get sound, smoke, and solid performance.
Startup was prompt. As I ramped up the speed, I could actually hear each diesel-generator set "kick in." The overall sound was excellent.
Moving along
Movement was as smooth as silk. Starts and stops were gentle. I was especially impressed with the speed control. My layout has a curve with perhaps 1⁄2″ rise in a fairly short distance. Virtually every other locomotive I've run on it has needed a bit of a goose to stop it from slowing down. This model maintained a steady speed through the curve, with or without a train.
Slow speeds were incredible. This was real "watch the paint dry" timing. The command-mode operation was almost painful to watch. I timed it at 1.04 scale miles per hour. I repeated the command low-speed test three times and had similar results. The conventional timing was well, more conventional, coming in at 2.1 smph. Gone are the days of locomotives blasting off at 35 or 40 smph!
I'm extremely pleased with this Lionel Genset. It has a contemporary look, a nice variety of road names (even the Pennsylvania RR), and I can't think of a feature that it's lacking. Be sure to see your Lionel retailer for a close look at this model. You may end up taking it home.
Model courtesy of Sommerfeld's Trains & Hobbies, Butler, Wis. More information at Sommerfelds.com
O gauge Legacy Genset by Lionel
Price: $599.99 (no. 2133100), other road names $519.95
Features: O-42 operation (O-54 is recommended), Legacy RailSounds, fan-driven smoke unit, two can-style motors.
High speed: 54 scale miles per hour
Cmd low: 1.04 smph
Cnv low: 2.1 smph
Current road names: Bethlehem Steel, BNSF, CSX, Norfolk Southern, Pennsylvania RR, Union Pacific with graffiti versions: one with graffiti and the other without (the UP locomotives have unique cab numbers)
Website: Lionel.com