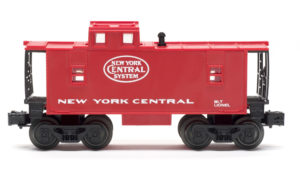 Cabooses are one of our favorite types of Fleet Filler cars. You need one behind almost every freight train, and really, who doesn't love to see one bringing up the rear?
Many of us are familiar with the Lionel's postwar O-27 cabooses, the most ubiquitous of which was the SP-style model.
This item saw lots of variations over the years and could be found in many sets lettered for different railroads.
In its original form the caboose had four open windows on each side. Flanking the windows were vertical rows of rivets representing body panels. Various changes were made to the model through the decades.
The design got a refresh in the 1970s. While the cupola remained largely the same, two- and four-window-per-side versions were produced with two-pane frames in the openings.
Many of the cabooses also have something their predecessors never got: clear plastic representing glass. Frosted window inserts also exist.
The other real departure from earlier models is the ends. Modern SP-style cabooses have injection-molded plastic platforms and ladders that have a closer-to-scale appearance than their stamped metal predecessors.
These have been products in a variety of road names including Atlantic Coast Line and New York Central.
Prices for used cabooses ranges from $7 to $12, depending on condition. Always check the end platforms to make sure the tabs that go under the roof are intact. Also make certain the roof is secure; if it's loose, a little glue will help.