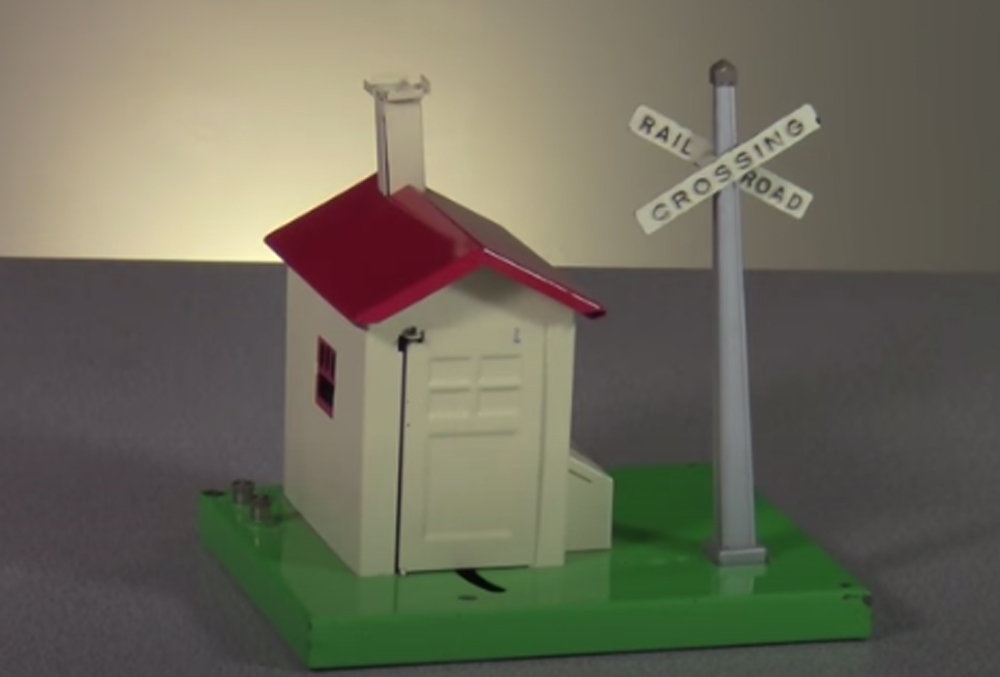 Although Lionel has come out with a multitude of fantastic products over the years, one of the most amazing and important accessories that the popular manufacturer ever created was by far the Automatic Gateman.
The Automatic Gateman is a structure that features a gateman emerging from his trackside shed to warn motorists of passing trains. One of the general supervisors at the Lionel factory in New Jersey figured out how to mechanically create this movement.
With this accessory, a young engineer could replicate the actions they were seeing everyday along the rails as trains went by. The device uses a contactor and the weight of a passing train to trigger the device. When a train comes by, the weight of it presses down on the track, and the door opens causing the gateman to come out of the building.
With the creation of this accessory, Lionel was introducing the hobby industry to what could be achieved on layouts without hands, to duplicate the actions of freight loaders, towers, or anything you might see involved with railroading.
This inexpensive accessory has been in production almost continuously by Lionel for almost 90 years, starting back in 1935. The current value of a Lionel no. 45N Automatic Gateman is valued anywhere from $40 in good condition to $85 in excellent condition (according to Greenberg's Guides: Lionel Trains Pocket Price Guide 1901-2014).
The version that currently exists in the Classic Toy Trains office was restored by the late John Grams, a toy train historian, repairman, and true enthusiast who wrote for Classic Toy Trains under pen name Ray L. Plummer.