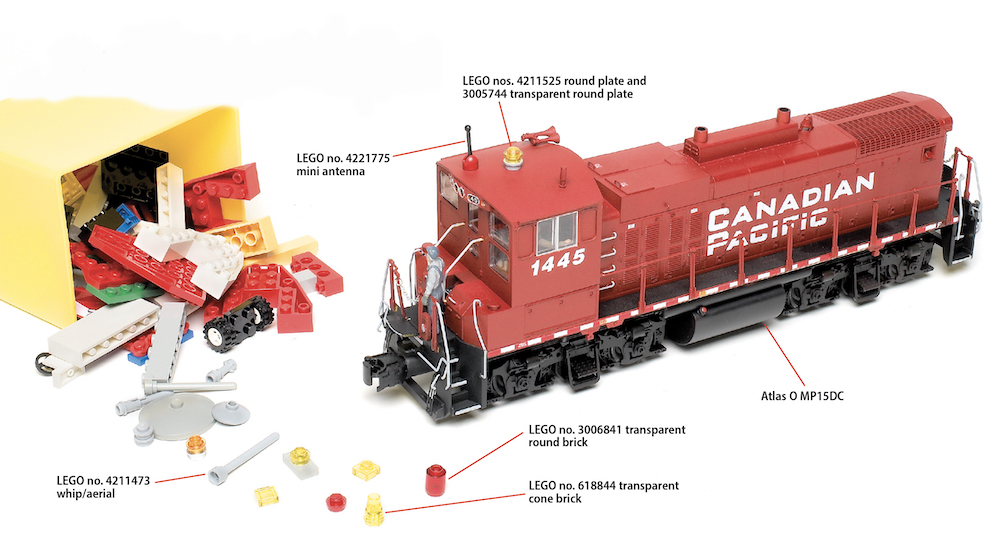 From CTT's editorial page to Collectible Classics, I've spouted on about how the world's greatest hobby, model railroading, has and will continue to influence my life and leisure. Unfortunately, that influence hasn't (yet) extended to my young son, Theo. Instead of toy trains, he's currently consumed by all things LEGO – those interlocking plastic building shapes that boast a global following.
Nonetheless, I'm a desperate dad eager to find a way to link our favorite hobbies with LEGOs on my layout. That's why I was so thrilled to discover what I hoped would be an ideal point of convergence – the LEGOLAND Discovery Center in nearby Chicago.
So on a long holiday weekend , Theo and I boarded an Amtrak train for the Windy City. Among the incredible attractions and displays we found at the Discovery Center, there's are-creation of downtown Chicago that professional builders assembled using nearly 1.5 million individual LEGO bricks. Seeing this amazing Miniland skyline, I couldn't help but recognize the architectural similarities to the structures Theo proudly assembles and displays in his bedroom, as well as throughout the rest of our home.
But then Theo promptly called my attention to a part of the display I'd completely overlooked. "Look! There's an operating El train, Dad," he said. Standing in the shadow of an 11-foot tall, LEGO brick rendering of the Willis (formerly Sears) Tower, Theo and I found our common ground.
LEGO and Lionel together
Where once I saw toys of my childhood, I could now see numerous opportunities to incorporate LEGO shapes into the scenery and details of my O gauge toy train layout. More importantly, my son was willing to guide me through the wide world of LEGO items available in the 21st century.
Upon returning from our trip, Theo and I first surveyed his LEGO collection for small parts that could easily represent a variety of railroad-related O-scale details. A few standard LEGO bricks proved to be useful, but mostly specialty items provided the best specimens.
Amid the laser guns and flowers, I found pieces that resembled parts of a prime mover, cab-mounted equipment (GPS) domes, beacons, radio antennas, an instrument control panel, and a vast array of parts and tools that would look great in an otherwise empty truck bed.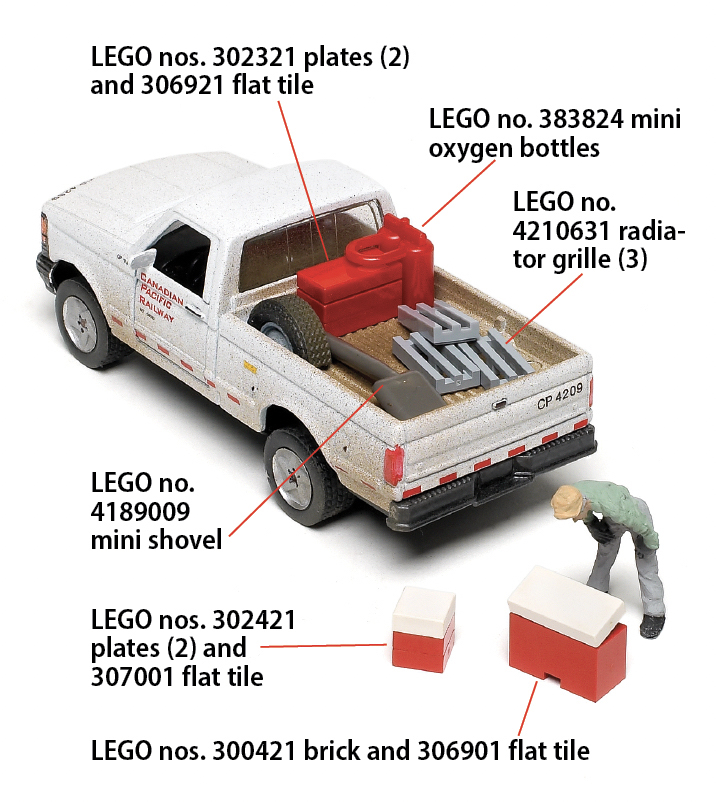 While sorting through Theo's bins of bricks, I wondered if some of these unique parts might also be useful substitutes for fragile or broken components from Lionel accessories. For example, I could easily justify using a sturdy LEGO parabolic reflector and shaft to replace the brittle plastic dishes fixed atop my Lionel no. 2199 microwave relay tower.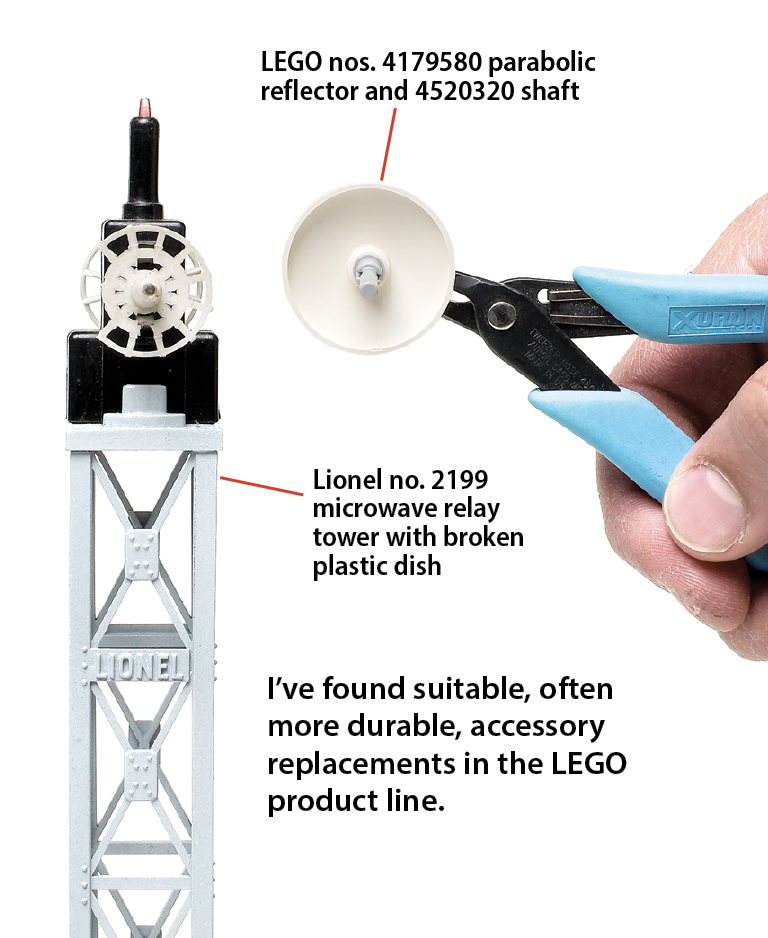 Keep in mind, none of the nearly 1,500 bricks offered at the LEGO Pick A Brick website are exact matches to reproduction Lionel items available through parts vendors. However, I discovered no fewer than 12 reflectors molded in various sizes and colors.
Building up to the hobby
After making wide use of the specialty parts, I began to think about bigger and broader applications for basic LEGO bricks. Even if creating a skyscraper-like those we saw at LEGOLAND was a bit too ambitious, Theo and I could easily construct a less complex railroad building. But how would we go about designing and finishing such a structure?
Immediately, Theo pointed me to the LEGO Digital Designer (replaced with BrickLink Studio). Just like track planning programs, this free software allows me to select and integrate LEGO parts of my choosing into a design that I can purchase (online) as a custom kit. Absolutely genius!
These custom kits can get pricey, so we opted to design a structure we could partially build using the basic bricks Theo had on hand. When it came to assembling a LEGO structure for use on my layout, we found that a dab of white glue between bricks helped keep things rigid. Additionally, the glossy plastic bricks could be painted with flat acrylic colors, but results are better if you first scruff and prime the smooth sides.
I can't say how many LEGO structures or bricks will find their way onto my layout, but it's certain they've already helped build a bridge to a family-friendly hobby with LEGOs on my layout.