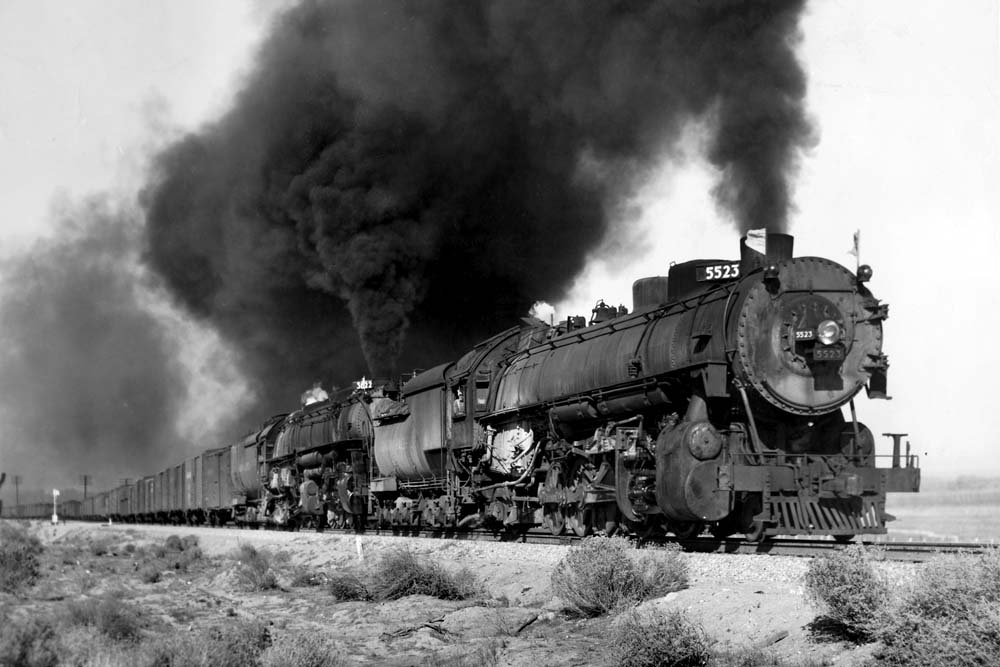 Union Pacific on Cajon Pass in the 1940s: Union Pacific operates on Cajon Pass in Southern California as the Los Angeles & Salt Lake Railroad. It uses Santa Fe trackage on a rental basis from Daggett, 8 miles east of Barstow, to Riverside, 9 miles south of San Bernardino. This arrangement has been in effect since LA&SL was completed in 1905. Under the terms of the contract, UP pays a proportionate part of the cost of management, dispatching, and maintenance as determined by the relative car mileage of the two roads. At San Bernardino UP uses Santa Fe facilities for service and storage of its helper engines, and the San Bernardino and Barstow passenger stations are operated and used jointly.
All trains, including UP's between Daggett and Riverside, are under the control of the Santa Fe dispatcher in San Bernardino. UP first-class trains are shown in the Santa Fe timecard, numbered in the 200 series; for example, the Challenger, No. 818, becomes No. 218, and the Los Angeles Limited, No. 8 becomes No. 208. Ten first-class trains are carded as daily in each direction, with UP's streamliners and Santa Fe's twice-weekly Super Chief and El Capitan swelling the total on the days they run. All freights run as extras.
Passenger-train running time from San Bernardino to Summit ranges from 55 to 79 minutes for the 25 miles, about 10 minutes less being allowed for the westbound trip down the hill. Freights are purposely unscheduled, for tonnage and traffic conditions greatly alter their time. The best time up the eastbound 2.2-percent grade, including a stop for water, is about 2 hours 20 minutes. The downgrade trip on the original 3.4-percent line is nearly as slow, for retainers are used all the way, and 10-minute stops are made at both Cajon and Devore to permit the heat in the wheels to equalize. Passenger trains do not make such stops, but it is not unusual to see them arrive in San Bernardino in a cloud of pungent brakeshoe smoke.
The entire line is protected by searchlight-type block signals, with an interesting permissive double-yellow system up the grade from San Bernardino to Summit. This permits trains to close in on each other without having to stop at what would ordinarily be red boards. However, such a system is not used on the east side of the pass, for here the grade does not exceed 1.6 percent, and operating speeds are higher, both uphill and down.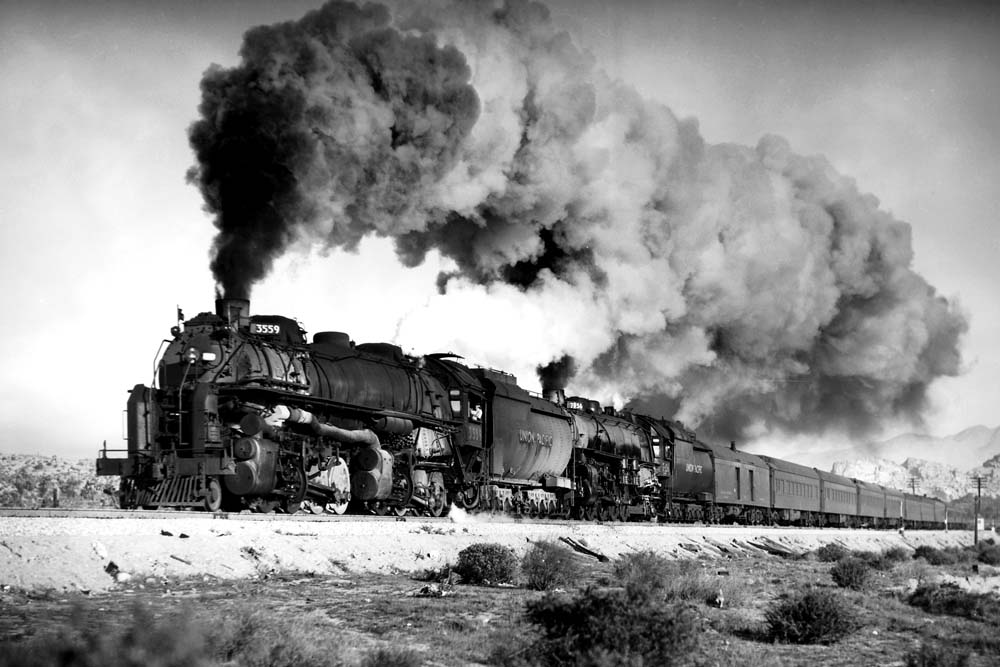 Freight trains of both roads are ordinarily held to 70 cars eastbound and to 50 loads westbound, counting 2 empties as one load, while passenger trains must not exceed 17 cars. Within these limits, total tonnage can vary considerably. Standard Santa Fe freight power is its 3800-class 2-10-2s. Eastbound, each drag has at least two of these, frequently three, and occasionally four. Westbound tonnage drags require one helper out of Victorville. In the power shortage caused by the recent increase in traffic it is not unusual to see smaller 2-10-2s, Mikados, and other types in helper service. UP ordinarily uses 2-10-2s in its 5000 or 5500 series, with a number of 2700-series Mikes as helpers.
Standard passenger power on the Santa Fe is the 3700-class 4-8-2s and the 3751-class 4-8-4s, while UP uses 7000- or 7800-series Mountain types. Helpers are assigned according to the need, and everything is used from Santa Fe 1400-class Atlantics to UP's 3500-series 2-8-8-0s. Three of UP's 4-6-6-4 Challenger types are equipped as oil-burners for the Los Angeles–Salt Lake run, usually hauling their namesake train. Very few passenger trains require helpers westbound.
Even the arrogant diesels on the streamliners bow to Cajon Pass, and shamefacedly break their smooth streamlining to unsheath a hidden coupler so a steam helper can pull them over the hill on schedule.
Because of the tunnels on the eastbound main below Summit, the practice is to doublehead only passenger trains. Helpers on freights are ordinarily cut in ahead of the caboose, or if there is more than one helper, the first is about two-thirds back in the train. Westbound helpers from Victorville are invariably ahead of the road engine.