The best-selling Baldwin diesel locomotives are low-horsepower end-cab switchers owing to wartime material restrictions.
Baldwin Locomotive Works of Eddystone, Pa., was the country's largest steam locomotive builder. But it was no stranger to electric and internal-combustion locomotives. It was, however, slow to offer a standard line of diesel road engines. Baldwin's late entry to the market and slow reactions to changing needs of railroads doomed the company to also-ran status as railroads began rapidly replacing steam with diesels in the 1940s.
In 1939 Baldwin launched its line of switching locomotives, calling it the VO line (named after the De La Verne VO diesel engine used) for production models. The number corresponds to the horsepower, either 660 (powered by a six-cylinder engine) or 1000 (eight-cylinder). Starting in 1945, Baldwin abandoned the VO for its 606NA (six-cylinder) and 608NA (eight-cylinder) engines. The resulting new line of switchers were labeled as DS (diesel switcher), followed by the number of powered axles, number of total axles, and a number to indicate horsepower.
Baldwin's final line of switchers used turbocharged versions of the 606 and 608 engines, and were designated by an S (for switcher) followed by a number indicating horsepower (the 800-hp S-8 and 1,200-hp S-12).
Baldwin's switchers shared a common appearance distinct from other builders. They had tall hoods with squared corners, radiator openings on the front (nose), and cabs with a shallow roof angle (all similar to the company's road-switchers as well).
Switchers and road diesels used Westinghouse traction motors and electrical equipment, which helped give Baldwin diesel locomotives a reputation for being excellent lugging locomotives (albeit with temperamental engines). Westinghouse left the railroad electrical equipment market in 1953, and although Baldwin had stockpiled enough Westinghouse equipment to last for a year or two after that, the company had to redesign locomotive frames and other equipment to fit the new GE generators and traction motors used thereafter.
Baldwin didn't produce any road diesels before World War II and, like Alco, was hampered by War Production Board restrictions that allowed only EMD to build road locomotives (Baldwin and Alco were limited to switchers).
VO1000: 548 units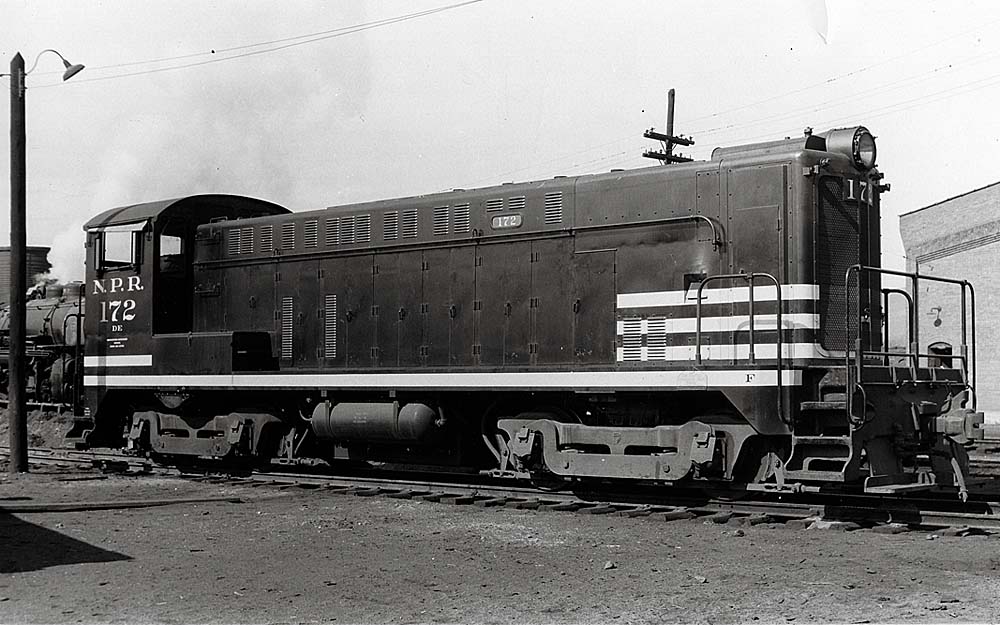 The 1,000-hp VO1000 Baldwin diesel locomotives were powered by the eight-cylinder version of the VO engine. It was Baldwin's best-selling diesel locomotive, with more than 540 sold. It was slightly taller and longer (by three feet) compared to the VO660, and provided 340 more horsepower. Early VO1000s (39 of them) had angled noses with a large oval grille and radiator openings at the front of each side. In 1941 the side openings were eliminated and the grille revised. VO1000s can be found with one, two, or four stacks, which were often extended and added after manufacture.
Major buyers: ACL, AT&SF, BRC, CofG, CNJ, C&NW, CB&Q, CRI&P, EJ&E, GN, LV, L&N, MILW, M&StL, MP, NC&StL, NYC, NP, PRR, RDG, SAL, SLSF, SP, SP&S, SSW, TRRA, WAB, WM, WP
DS-4-4-10: 502 units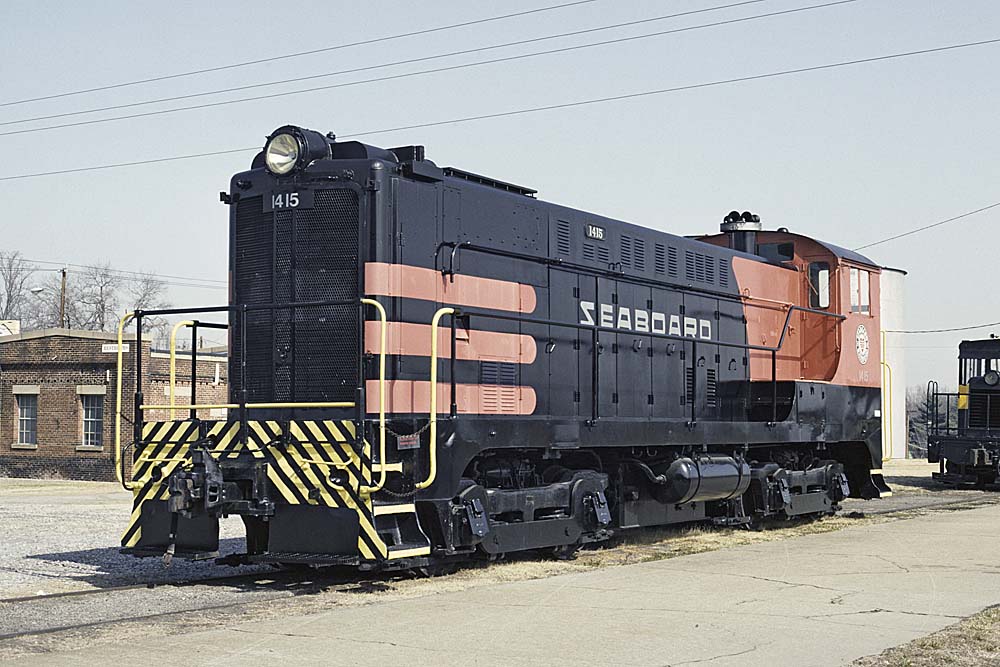 The DS-4-4-10 Baldwin diesel locomotive (also called a DS-4-4-1000) was built in two variations: Those built into 1948 were powered by a normally aspirated eight-cylinder 608 engine (spotted by its four stacks), and those built later (446 of them) had a smaller (six-cylinder 606) turbocharged engine, marked by a single fat exhaust stack. All had flat noses, distinguishing them from VO1000s.
Major buyers: AT&SF, BRC, B&O, CP, CofG, CNJ, C&NW, CGW, ERIE, LV, MILW, MKT, MP, NKP, NS, PRR, RDG, SLSF, SAL, SOO, SOU, SP, SSW, UP, WM
S12: 451 units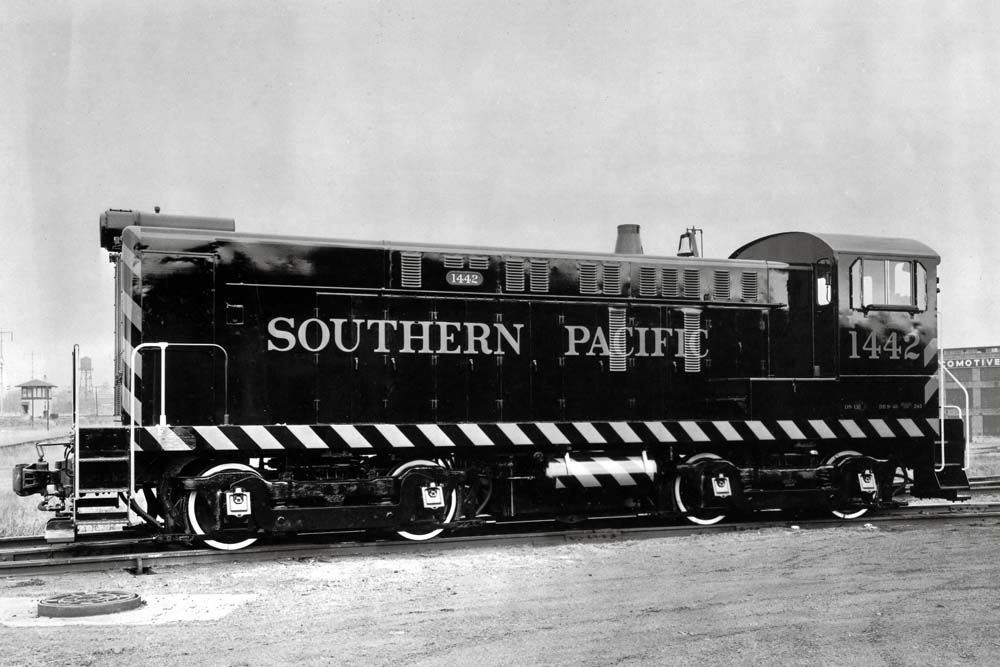 Bumping the horsepower to 1,200 with the turbocharged 606A engine created the S12 Baldwin diesel locomotives. The S12 is almost identical to the late DS-4-4-10, but all but a few early S12s have an additional separate radiator section mounted within the large radiator opening in the nose. The single exhaust stack marks the turbo engine.
Major buyers: B&O, C&NW, CRI&P, CofG, CNJ, ERIE, GN, KCS, MILW, MP, MKT, MGA, NYC, PRR, PRSL, SAL, SOO, SOU, SP, TRRA, WAB