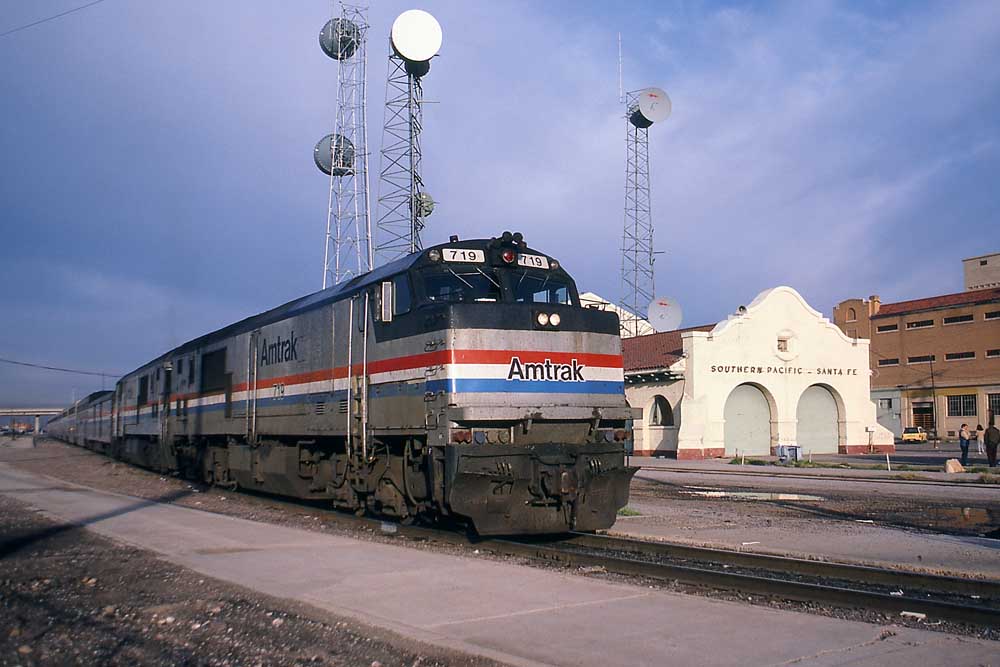 The Amtrak GE P30CH locomotive is the spiritual successor to the GE U30CG passenger locomotive of 1967. Amtrak acquired 25 of the P30CH model, Nos. 700-724, between August 1975 and January 1976. The model designation led to the units' nickname: "pooch."
It was essentially a U30C freight locomotive with a cowl body and head-end power generator system. Thus, they were the first diesels built for Amtrak with head-end power capability. The Amtrak GE P30CH locomotive has a more squared off nose and lacks the front walkway and handrails of its predecessor. They were delivered in the "phase 2" paint of two equal red and blue stripes bordered by thin white stripes. They later acquired the "phase 3" paint of equal red, white, and blue stripes. Both versions sported black trucks and fuel tanks and a black roof.
They were initially intended for service on the unelectrified portion of the Northeast Corridor east of New Haven, Conn., and on Florida service trains operating over Seaboard Coast Line. As the units were HEP-equipped, they were mated with Amfleet equipment before the widespread conversion of the Heritage fleet in the 1980s.
The model could be found across the Amtrak network at times, but by 1990 had settled into a role handling Amtrak's longest consist, the Auto Train between Lorton, Va., and Sanford, Fla. They were also regulars on the Los Angeles-New Orleans Sunset Limited at the time.
A report in the December 1974 issue of Trains noted that Amtrak would obtain a subsequent order for 25 units following in the delivery of the initial 25 units, which did not come to fruition. Coincidentally, the cover story on this issue was the Auto Train Corp., a service for which the P30CH would prove its worth late in its career.
Nos. 713 and 715 were retired following wrecks in 1979. The remainder of the fleet was officially retired in June 1992 after the arrival of the four-axle GE P32-8W fleet in December 1991.