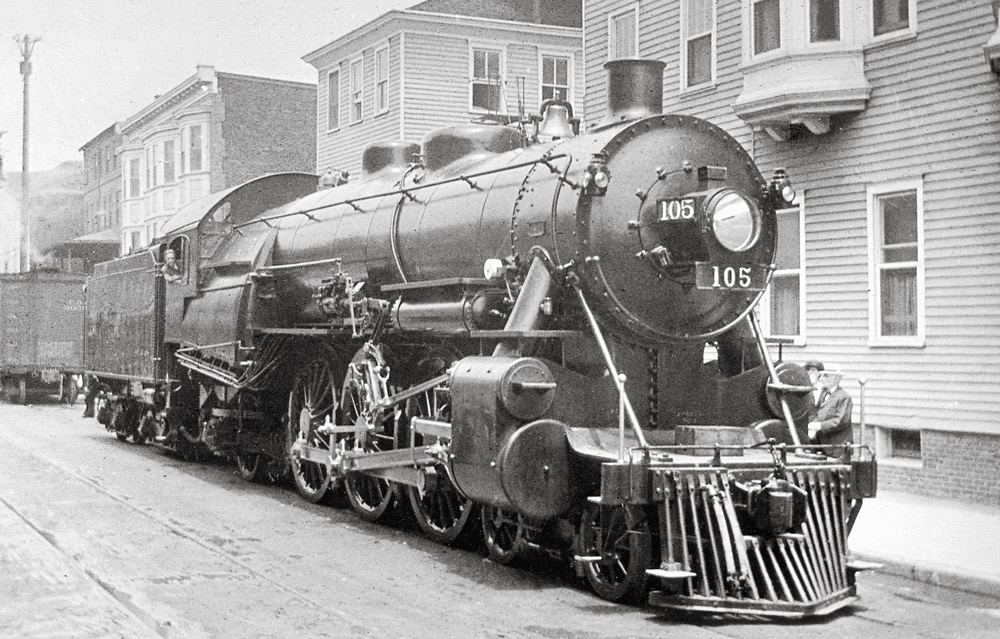 4-6-2 steam locomotive No. 105
The first of the Reading's eventual 55 Pacifics (all but 15 built at the road's own shops in Reading, Pa.), brand-new class G-1 105 is shined up for display at Atlantic City in 1916. She set the pattern for Reading passenger power for the next three decades.
Thomas H. Bateman collection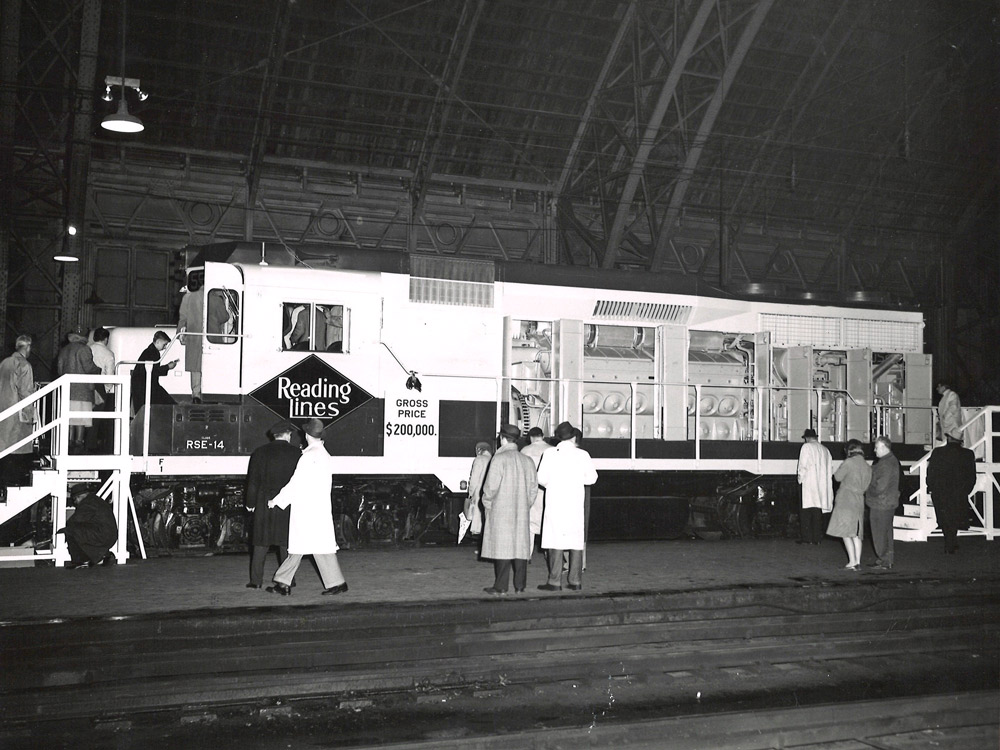 GP30 diesel locomotive
Reading was the first customer for EMD's GP30, introduced with much fanfare in 1961. Soon after delivery, one of them was displayed at Reading Terminal, Philadelphia. RDG's first second-generation units, they introduced the road's bright new green-and-yellow paint scheme.
Laurence G. Heine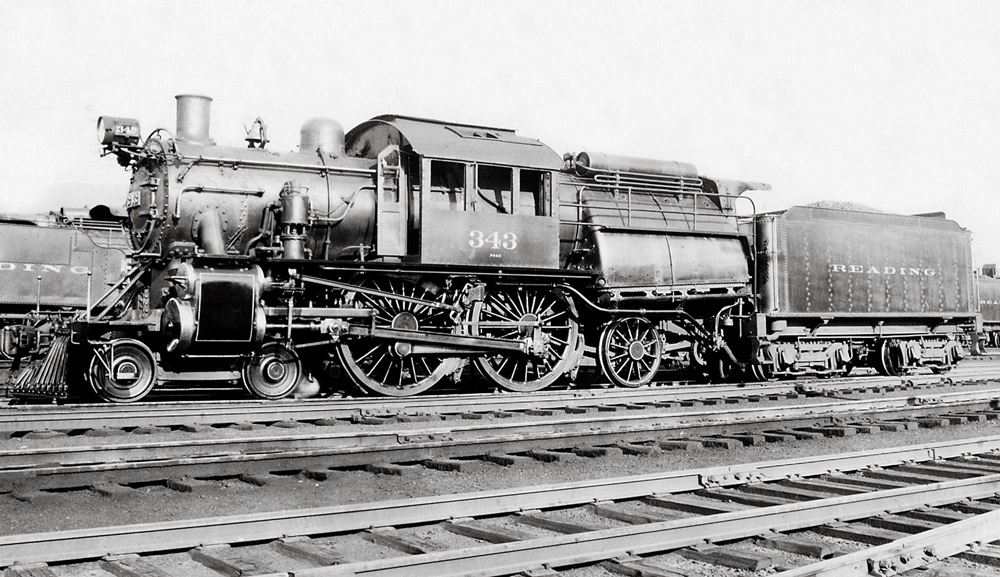 4-4-2 steam locomotive No. 105
Reading had 51 Atlantics; all but 4 were Camelbacks built between 1900 and 1913 (the exceptions were 1916 end-cab rebuilds of 4-4-4s). Engine 343 was one of 10 86-inch-drivered class P-5's of 1906. Subsidiary Atlantic City Railroad had 5 84½-inch Camelbacks built in 1986 and '98.
John P. Scharle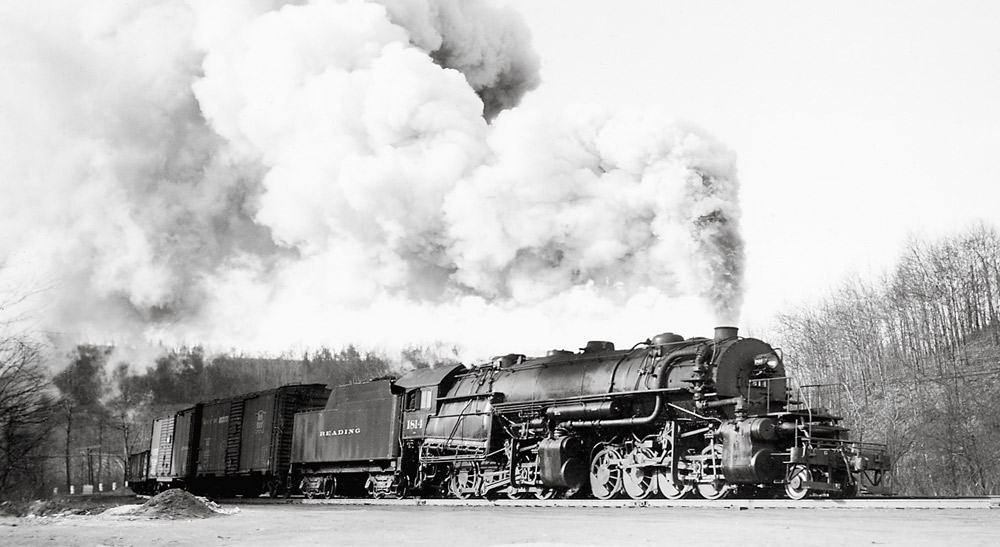 2-8-8-0 steam locomotive No. 1814
Reading received 31 2-8-8-2 Mallets from Baldwin in 1917–19, which the road later rebuilt into 11 2-10-2s and 20 simple 2-8-8-2s, the latter eventually having their trailing trucks removed. Class N-1sd 2-8-8-0 1814 works near Tamaqua in 1949.
P. Morris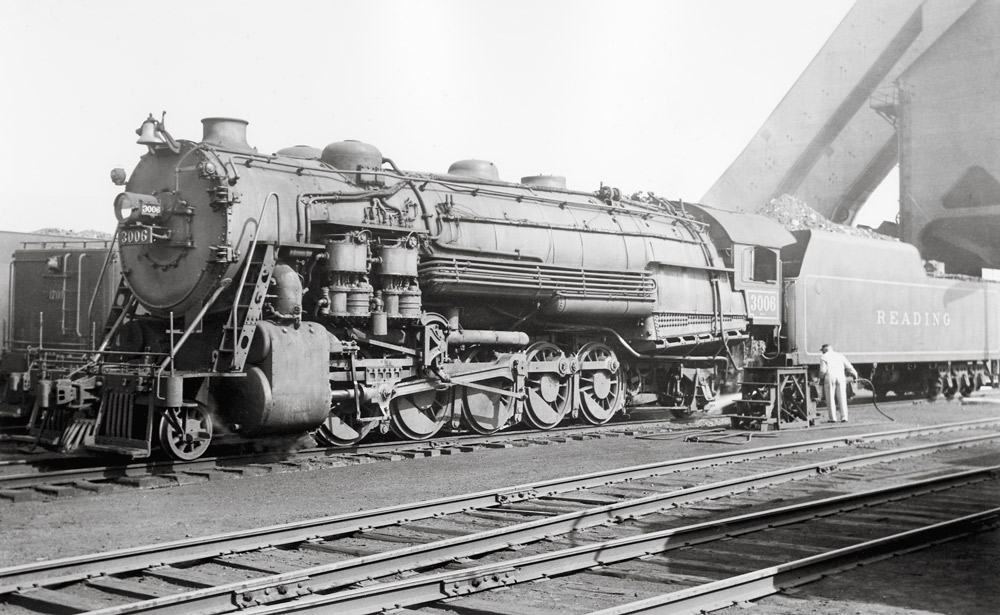 2-10-2 steam locomotive No. 3006
Engine 3006 was one of the 11 K-1sa 2-10-2s the Reading rebuilt from 2-8-8-2s beginning in 1927. Baldwin supplied 10 similar but slightly heavier K-1sb's in 1931 that were the largest Santa Fe types ever built.
Harold K. Vollrath collection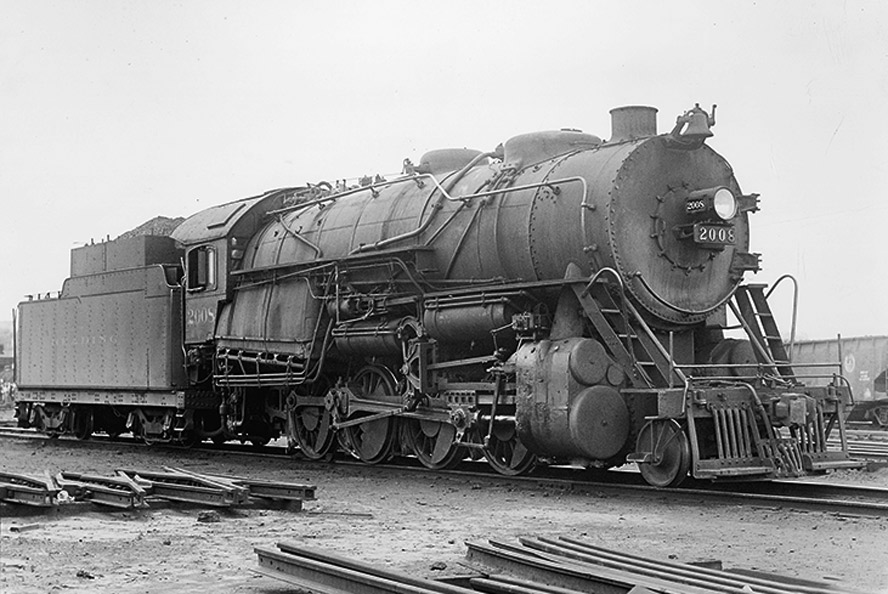 2-8-0 steam locomotive No. 2008
Reading's nearly 500 Consolidations culminated in the 50 members of the I-10sa class. They were late (Baldwin, 1923 and '25) and heavy (322,690 pounds, nearly as much as a USRA heavy 2-8-2) examples of the 2-8-0 type. Their 71,000 pounds of tractive effort was halfway between the USRA light and heavy 2-10-2s.
D. Hooks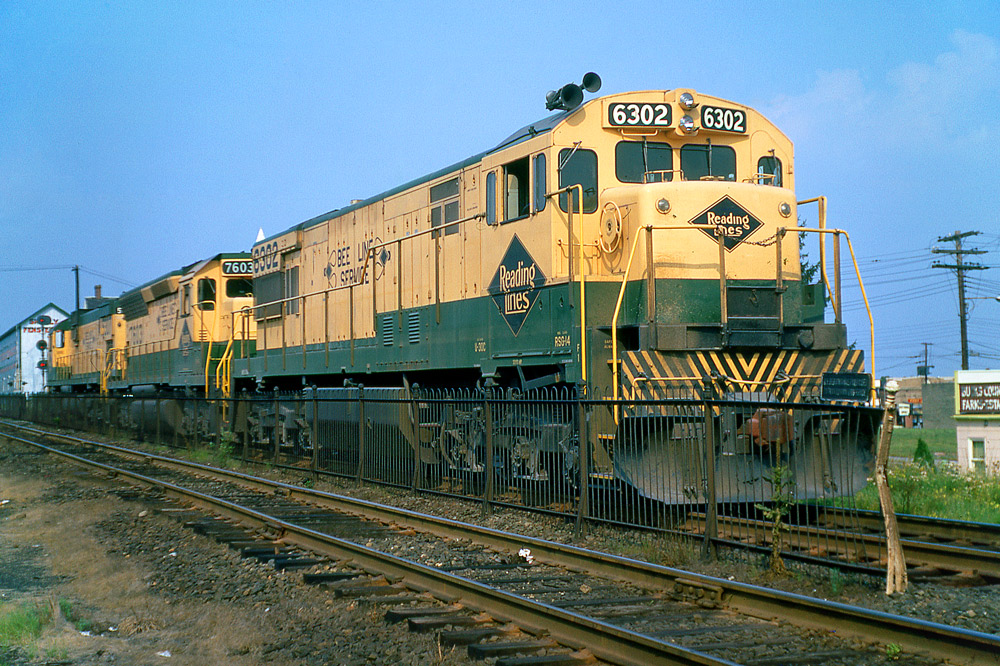 U30C, SD45, and C630 diesel locomotives
In 1966–67, Reading bought the biggest diesels it would ever own: 12 Alco C630s, 5 General Electric U30Cs, and 5 EMD SD45s. A 1969 photo at Perkaske, Pa., features one of each: U30C 6302, SD45 7603, and C630 5307.
Dale W. Woodland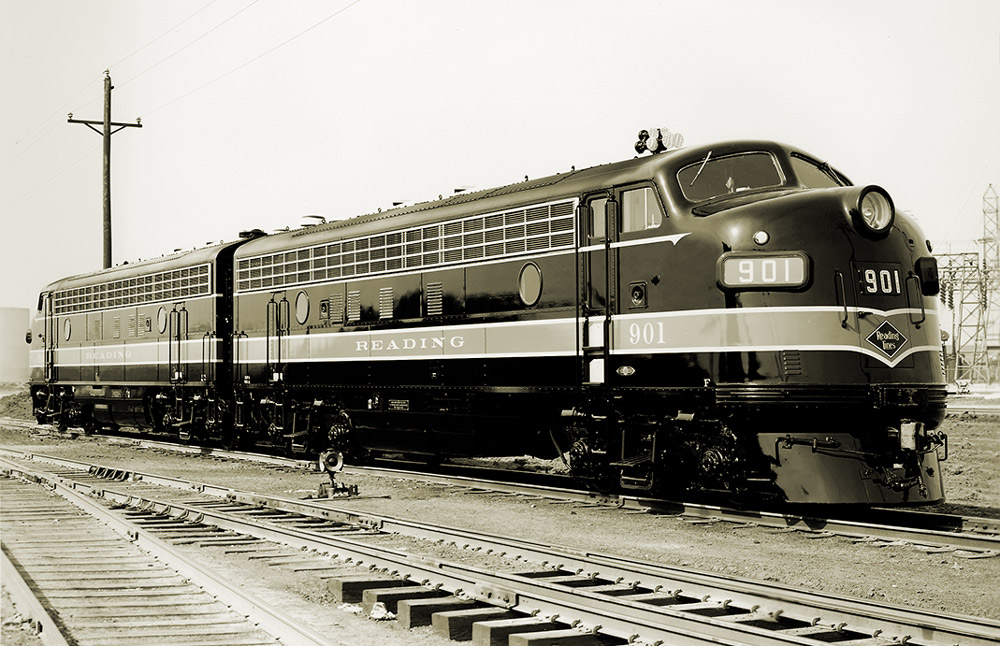 FP7 diesel locomotives Nos. 900 and 901
Reading had FT, F3, and F7 freight diesels from EMD, plus FA units from Alco, all in black with a green stripe set off with gold trim. But the undisputed queens of the cab-unit fleet were eight FP7 passenger units acquired in 1950 (six) and '52 (two). The road also rostered boiler-equipped Baldwin, Alco, and EMD road-switchers. FP7s 900, 902, and 903 worked until 1981, and they survive today.
EMD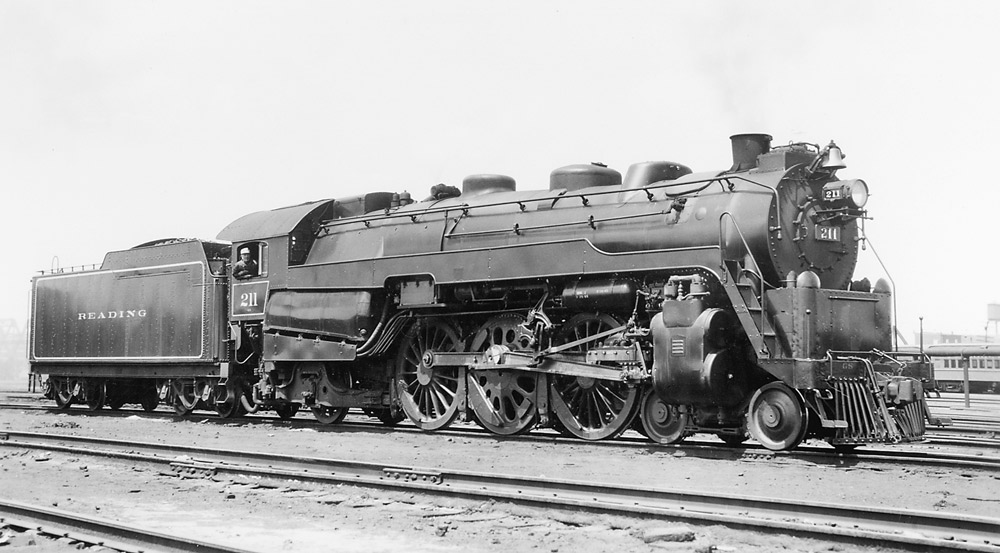 4-6-2 steam locomotive No. 211
Constructed by the Reading's shops in 1948, G-3 Pacifics 210–219 were both the road's last steam power and the very last 4-6-2s built for U.S. service. Their short careers ended on subsidiary Pennsylvania-Reading Seashore Lines in 1955.
P. Morris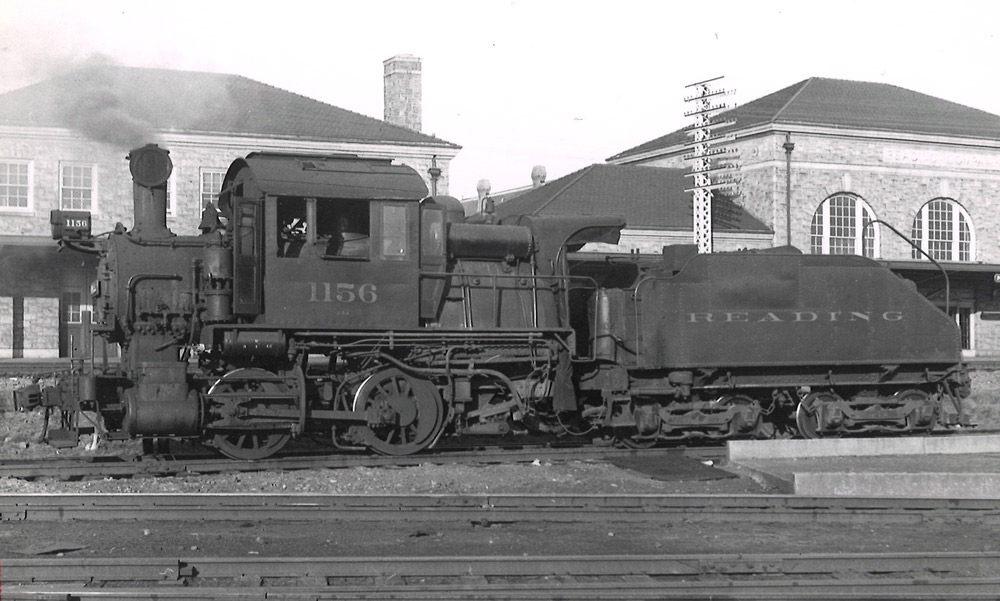 0-4-0 steam locomotive No. 1156
Reading had 57 pocket-sized class A-4 and A-5 Camelback 0-4-0s built between 1902 and '13. A-5 1156 stands at Pottstown, Pa., in the late 1940s. A-4 1187 survives today at the Age of Steam Roundhouse in Ohio, one of only three extant Camelbacks.
A. Brown


RS3 diesel locomotive No. 481
Reading had first-generation road-switchers built by Alco, Baldwin, EMD, and Fairbanks-Morse; at 67 units, the Alco RS3s were the most numerous. In its builder's photo, RS3 481 models the green body and black undercarriage found on Reading's first-generation hood units. The inverted "V" rain gutter above the cab windows — unique to RDG — was a feature of all the road's hood units.
Alco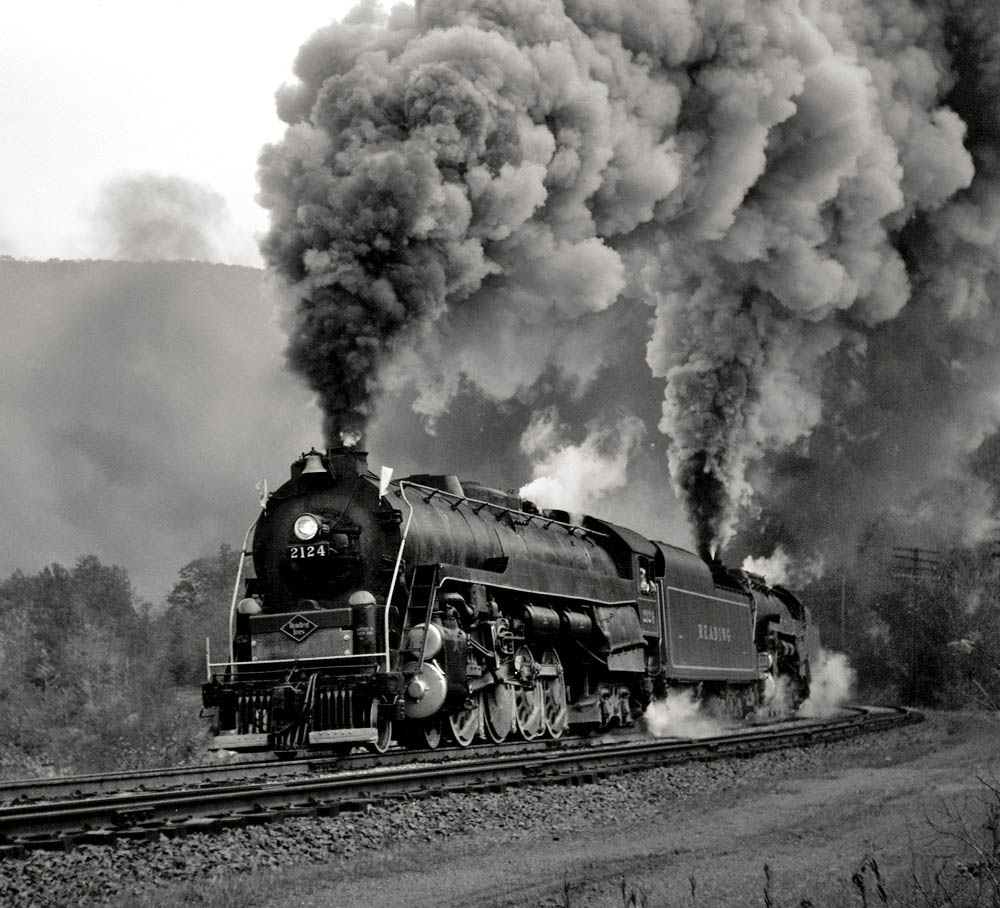 4-8-4 steam locomotive No. 2124
Reading steam reached its apex in 1945–47 with the construction — using the fireboxes and boilers of I-10 2-8-0s — of 30 class T-1 4-8-4s at the road's own shops. Their freight careers prematurely shortened by diesels, three T-1's enjoyed a spectacular revival in 1959–64 as power for Reading's Iron Horse Ramble excursions. During one of the Rambles, Nos 2124 and 2100 perform a photo run-by at Port Clinton, Pa.
Karl Zimmermann

All through October, Classic Trains editors are celebrating the gritty, coal-hauling, Pennsylvania-based Reading Company railroad. Please enjoy this photo gallery of Reading freight trains selected from the image archives of Kalmbach Media's David P. Morgan Library.
Reading Company, as a railroad, disappeared into Conrail more than 40 years ago. But it is still possible to "take a ride on the Reading." This can be done when playing the board game Monopoly, or (more literally) by boarding a Southeastern Pennsylvania Transportation Authority commuter train in the Philadelphia area. Today, the Reading (pronounced "Redding") would be termed a regional carrier, but in the classic era, it had a much larger presence on the railroad scene than its approximately 1,300 route-mile would suggest.
Reading Company freight trains hauled tonnage along a broad path that stretched from Williamsport and Shippensburg, Pa., in the west, south to Cape May, N.J., and north and east to Allentown, Pa., and Port Reading, N.J.
Reading freight trains and passenger trains often passed through Philadelphia and, of course, Reading, Pa.