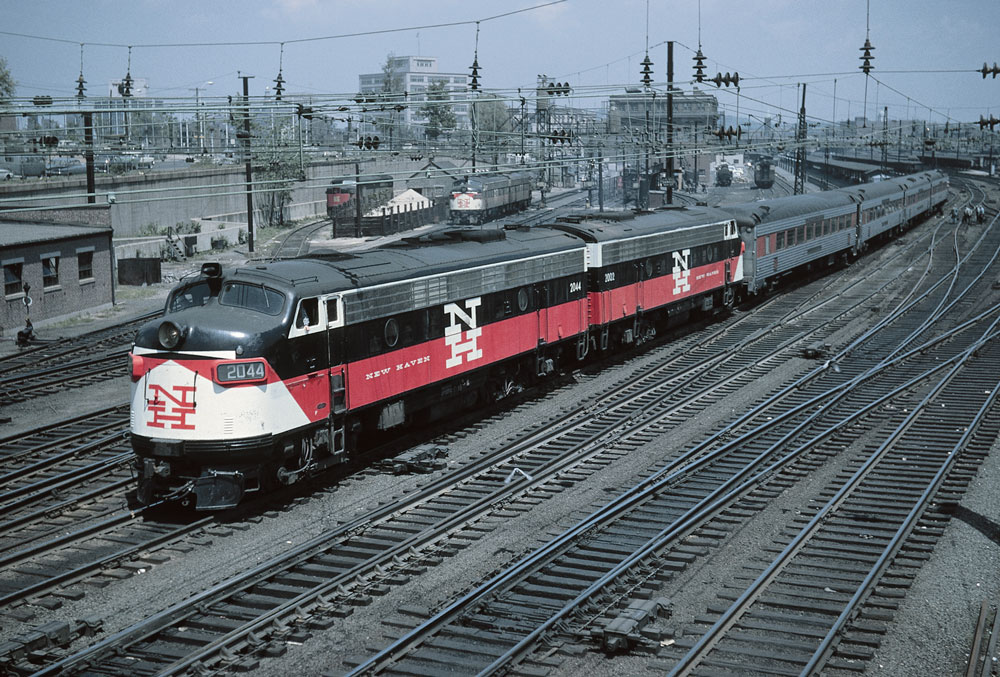 History of the New Haven Railroad
New Haven Railroad history reveals that the New York, New Haven & Hartford was a railroad of many different faces, depending on which part you saw.
The double-track Shore Line between New Haven and Boston was home to famous trains such as the Merchants Limited and Yankee Clipper, hauled by streamlined I-5 Hudsons or members of the largest fleet of Alco DL109 diesels, or the later Alco PAs and Fairbanks-Morse C-Liners. The four-track, electrified "West End" between New Haven and New York City was filled with intercity name trains and much suburban-zone M.U.-car activity. The New Haven shared Grand Central Terminal with the New York Central, but the intercity trains to and from south of New York used Pennsylvania Railroad's Penn Station by way of the giant Hell Gate Bridge.
New Haven's freight artery across Connecticut and New York State to the Maybrook (N.Y.) gateway was heavy­duty "mountain" railroading, with big L-1 2-10-2s pulling and pushing long drags across a sawtooth profile. They would be succeeded by matched sets of Alco FAs, and finally by almost any mix of freight diesel power imaginable (including borrowed off-line units).
The great glass and steel trainshed at Boston's South Station saw the largest concentration of passenger traffic in the U.S. in the early 1900s, including the famous Fall River Boat Train which met palatial New Haven-owned steamships to and from New York for 90 years. New Haven's interurban-like early D.C. electric operations featured open cars and closed cars carrying the multitudes to Nantasket Beach, Mass., Providence, R.I., or New Britain, Conn. Further, New Haven railroaders were at the helm of numerous steam and diesel tugs in New York Harbor, delivering car floats to connections west of the Hudson River. Scenic country branch lines were another face of the New Haven, including trains through the Berkshire Hills to Pittsfield, Mass., which boasted parlor cars into the 1960s.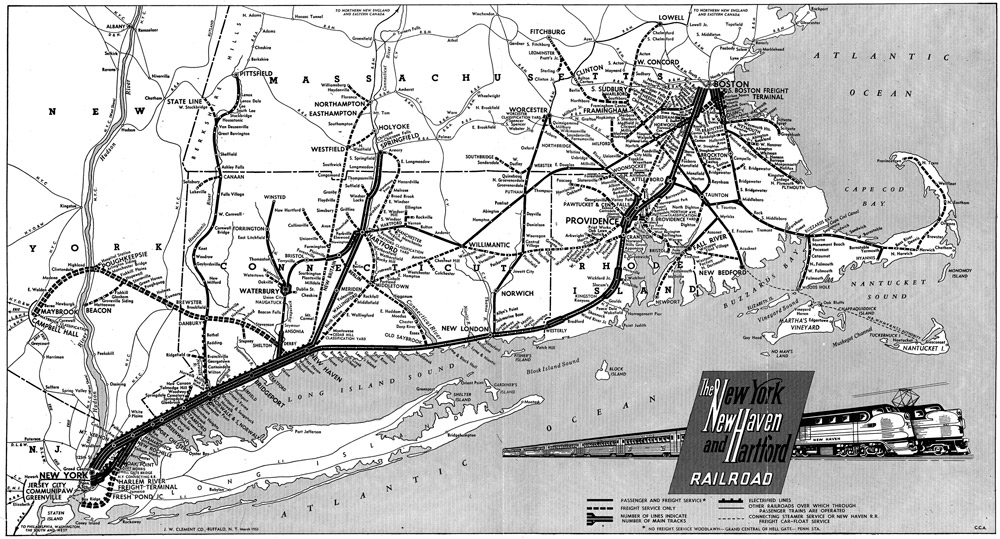 New Haven Railroad history: Formed by merger in 1872
The New York, New Haven & Hartford Railroad was formed in 1872 by the merger of the Hartford & New Haven and the New York & New Haven. The fledgling NYNH&H owned just 85 locomotives and was surrounded by competitors, both rail and water. Under the 1887–99 reign of its most able president, Charles Peter Clark, the New Haven mushroomed in size and profitability by taking over railroads large and small. One was the fabled Old Colony, which secured the final Providence–Boston link of NH's Shore Line route from New York. Meanwhile its most dangerous threat, the partly parallel New York & New England, was absorbed by 1898, giving the New Haven an almost-total rail monopoly in southern New England.
The New Haven was a financial powerhouse at the start of the 20th century, but from 1903 to 1913, the road was driven to near bankruptcy under President Charles S. Mellen and financier J. P. Morgan. One gain in this period, though, was control of the Central New England Railway, which included the Hudson River bridge at Poughkeepsie, N.Y., and the link to Maybrook and nearby Campbell Hall. This was New Haven's gateway to the west, also served by trunk lines Erie; New York, Ontario & Western; and bridge lines Lehigh & Hudson River and Lehigh & New England.
World War I government control and the Roaring 1920s boom times saved the New Haven, but not enough to survive the Great Depression, and bankruptcy came in 1935. World War II traffic allowed recovery and rebuilding, but soon all was lost by mismanagement and bankruptcy came again in 1961. The postwar New Haven faced not only highway and airline competition but also the almost total erosion of New England's heavy industrial base. Just a shell of the once-mighty railroad was forced into a reluctant Penn Central on Jan. 1, 1969.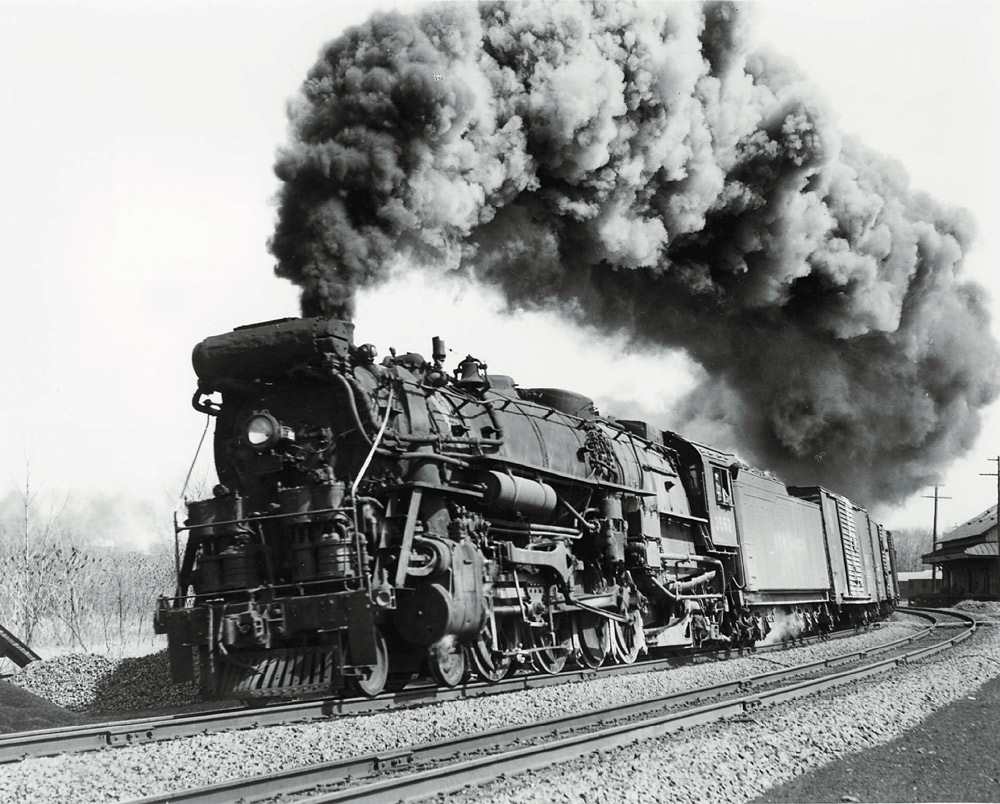 New Haven steam locomotives
Throughout its history, the New Haven ran a variety of equipment, both rail and non-rail. Its early steam power was mostly 4-4-0s for its heavy passenger traffic, but acquisition of so many other railroads resulted in a roster potpourri, from low-wheeled, Belpaire-boilered 2-8-0s built for NY&NE drag freights to exotic double-ended Old Colony Mason "Bogie" 2-4-6Ts that would have looked at home on the Denver, South Park & Pacific.
Until the Morgan-Mellen regime's cost cutting resulted in shoddy power, New Haven locomotives were customarily spit-shined, with gold leaf and polished brasswork. Meanwhile, early Pacifics and high-drivered Atlantics of 1907 were supplemented by heavier power, culminating in 50 class I-4 4-6-2s of 1916. Ahead of their time in design, they pulled the road's best trains for more than two decades until the Hudsons arrived. Freight steam power ranged U.S. Railroad Administration 0-8-0s and 4-8-2s to three-cylinder 4-8-2s with water-tube fireboxes.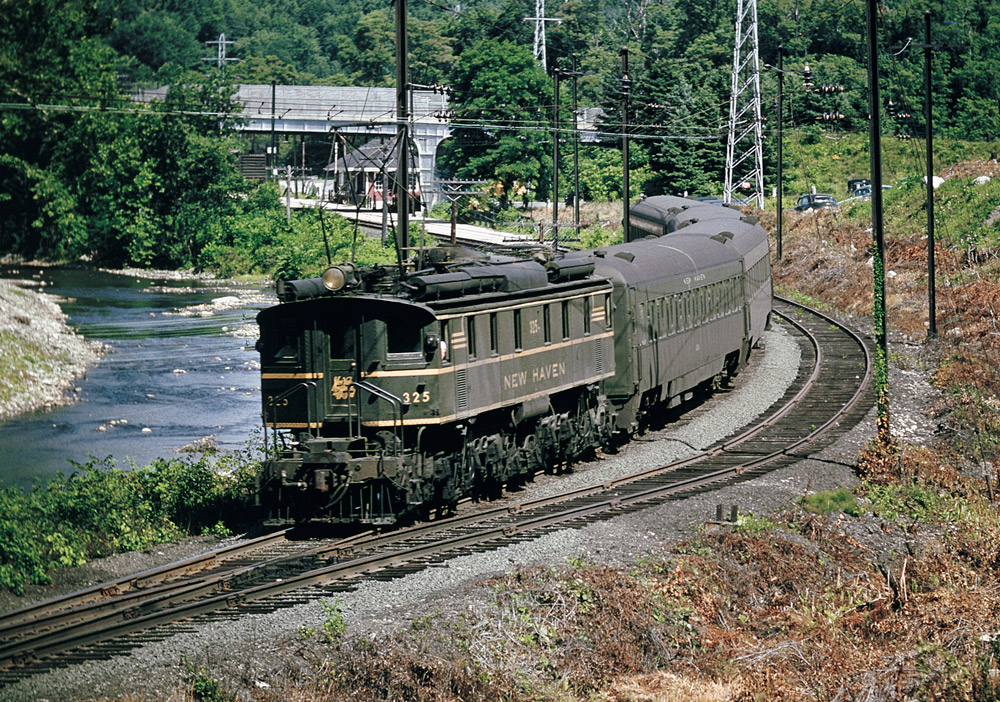 New Haven electrification and electric locomotives
The New Haven's 1907 electrification from its New York Central connection at Woodlawn, N.Y., to Stamford, Conn., was a bold, risky, pioneering commitment to 11,000-volt A.C. catenary, which required the use of dual-voltage locomotives to operate on NYC's conventional 650-volt D.C. third rail from Woodlawn into Grand Central. New Haven passenger electrics had to change at speed between the two systems, raising or lowering pantographs and third-rail shoes as required, a daunting technical challenge for the time.
Eventually 673 New Haven track-miles were under wire, including all electric-zone freight and switching. A succession of electric locomotive types culminated in the EP-5 rectifier passenger motors of 1955.
New Haven diesel locomotives
A diesel pioneer from its first Alco switcher of 1931 to its 1952 elimination of steam, the New Haven stayed with Alco right up through 10 C425s of 1964. NH also had diesels from Lima­Hamilton, Fairbanks-Morse, GE-Ingersoll-Rand, and General Electric, the latter ranging from early 44-tonners to latter-day U25Bs. New Haven had no EMD locomotives, though, until SW1200s and GP9s arrived in 1956.
Perhaps NH's most famous latter-day locomotives were its 60 dual­power (diesel- and third­rail-electric) FL9s, the last of which was EMDs final F unit, built in 1960. Gas-electrics, Budd RDCs, and unsuccessful low-slung lightweight trains added variety. Innumerable paint schemes, including many versions of the flashy red­white-and-black introduced in 1955 during the brief tenure of controversial President Patrick B. McGinnis, assured that NH's locomotive fleet would never be all in the same livery.
Detailed information about the New Haven for historians and model railroaders is available from the New Haven Railroad Historical & Technical Association.