When created in 1976, lowering the flags of several once-proud but troubled Northeastern railroads, it was shockingly new. But that was 44 years ago. Moreover, it's been more than two decades since Conrail itself became a fallen flag.
Here is a photo of classic Conrail. The train is eastbound at Canaseraga, N.Y., 13 miles west of Hornell on the Buffalo line, less than a year into the grand experiment. It is running on former Erie Lackawanna track (originally Erie Railroad), and it looks more like EL than Conrail. The semaphores stand guard over the double-track main as they did in Erie days. The depot, though lacking an agent at this point, still has the classic Erie paint and ambiance, even to the old upright telephone visible through the bay window.
But this is not the Erie or EL. The biggest giveaway, of course, is the train. The patched-out ex-Reading GP30 No. 2172 on the head end has three blue units trailing along behind. The second one, Conrail U28C 6524, has survived the Pennsylvania Railroad and Penn Central, but is already wearing Conrail blue. The third and fourth units are a couple of classics that perfectly show the transition which is taking place … "Paducah Geeps" that were built in the 1950s for the Pennsylvania as GP9s and are now wearing fresh coats of Conrail blue after being rebuilt as "GP10s" at Illinois Central Gulf's big diesel shop in Kentucky.
And, oh yes, the slow-order sign that is just visible at the left of the photo. By the time Conrail ended and Norfolk Southern took over in 1999, the line had been single tracked, welded rail had replaced the old 39-foot jointed rail, track speed had been raised to 50 mph, and modern wide-nose diesels ruled the road.
Classic Conrail, indeed!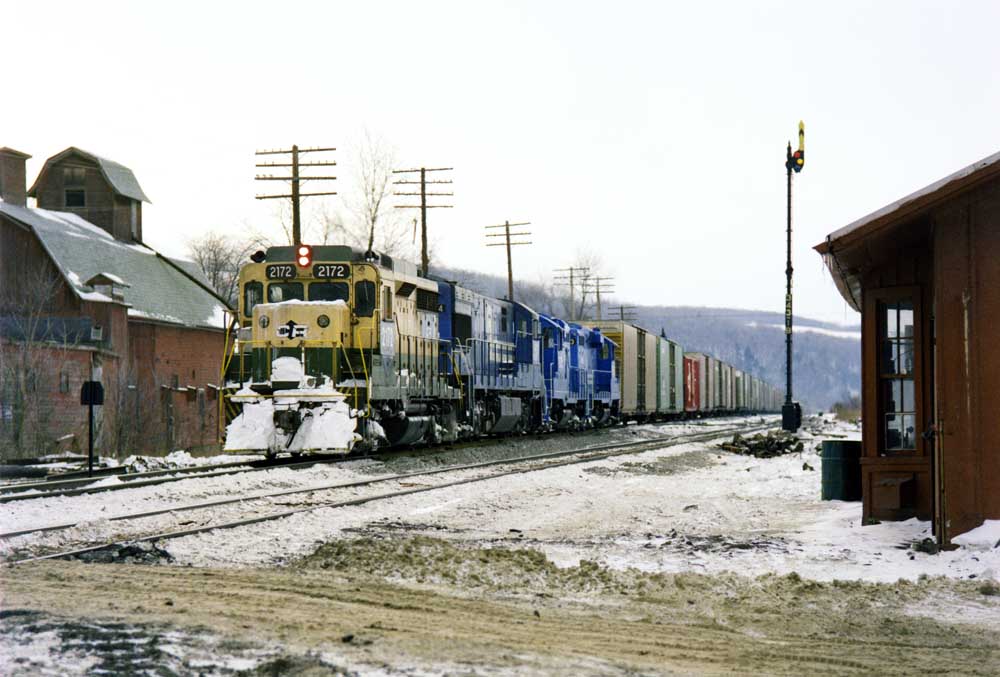 Conrail 2172, a former Reading EMD GP30, leads an eastbound freight at Canaseraga in early 1977. Ken Kraemer photo